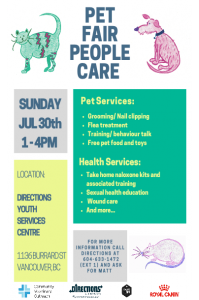 By Kelsi Jessamine
On May 4, 2017, a group of University of British Columbia (UBC) nursing students organized and directed Vancouver's second primary care clinic, providing care for marginalized individuals and their companion animals. The community partnered event, "Pet Fair and People Care" was held at the Veterans Manor, in partnership with the Evelyn Saller Community Center. The group of dedicated nursing students included Kelsi Jessamine, Liviana Cristea, Elena Benardi, Margaux Delattre, Kimberly Wilson, Jeffery Yu, Jessica Ardley, and Laura Gallager, along with UBC MPH candidate Dr. Doris Leung. The students practiced with the support of UBC faculty member Elsie Tan. Responsibilities of the students included providing blood pressure checks, cardiovascular teaching, and naloxone kit distribution, with associated training to 35 clients, while the animal care team delivered grooming services to 25 pets. The results of the clinic were significant; however, the impact of the event goes much beyond the quantitative results. A few months after the clinic, recreation manager, Mark Haracka stated, "Our clients are still talking about it."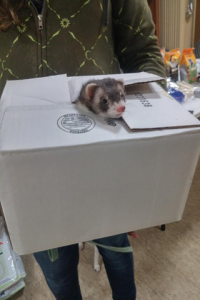 The "Pet Fair and People Care" event was done in collaboration with Community Veterinary Outreach (CVO).  CVO is a charity organization that operates under the "One Health" initiative, by providing free veterinary care to clients' pets, while connecting their marginally housed owners to health care and social services. This event was the second time the group of UBC students collaborated with CVO, after a very successful pilot clinic at Directions Youth Services on December 4, 2016. The pilot clinic was integrated into UBC School of Nursing's Synthesis project, and the group of students were awarded the "Excellence in Design and Innovation" for their community engagement project, in collaboration with CVO and Paws for Hope.
Since the events, the recent graduates plan to continue directing future One Health clinics. UBC School of Nursing graduate Kelsi Jessamine and UBC MPH Candidate and veterinarian Dr. Doris Leung will be coordinating efforts, but the commitment from volunteers and community partners is truly what allows these clinics to be the successes that they are. After the event, Kelsi and Doris were invited to talk about their experiences on the radio show "Impact" on Roundhouse Radio. A link the to interview could be found at: http://bit.ly/2r3jsgY.
Future One Health 2017 clinics will be held at Directions Youth Services, in an effort to continue to reach marginalized youth and their pets. The next two clinic dates are scheduled on July 30 and November 26, 2017, with goals of collaborating with UBC schools of Pharmacy and Nursing to support student learning. Additionally, with the support from community partners Three Bridges Clinic (VCH), Towards the Heart, as well as corporate sponsors Royal Canin and Warner Brothers' series "The Flash", the operation of the clinics have been a great success. Without the support of community partners, volunteers and sponsors these clinics would certainly not have been possible.
If you are interested in volunteering at future events at our One Health clinics, please visit http://vetoutreach.org or contact Kelsi Jessamine at kelsi.jessamine@alumni.ubc.ca.