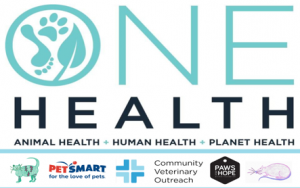 This fall, two recent UBC Nursing graduates, Kelsi Jessamine and Jessica Ardley, were invited to present their fourth-year nursing project and continued work in Vancouver, at the 2017 Community Engagement Healthcare Improvement (CEHI) Conference, in San Antonio Texas.  Jessica and Kelsi, along with a team of UBC graduate RNs, and MPH Candidate, Dr. Doris Leung, work with Community Veterinary Outreach to coordinate primary care clinics for marginalized clients and their pets.
Community Veterinary Outreach (CVO) is a Canadian charity that operates in partnership with Paws for Hope Animal Foundation (PFHAF) to expand the "One Health" initiative in the Vancouver region.  One Health is the connection between people, pets and their shared environment.   The One Health Vancouver clinics have been extremely successful in reaching the city's most marginalized individuals and connecting them and their pets to care. Jessica and Kelsi attended the CEHI to present this care-model, with the results of the Vancouver pilot clinics.
UBC Community Instructor, Ranjit Dhari, was the one who encouraged the team to apply to present their work at the 2017 CEHI conference, and with their application the two recent graduates were awarded a scholarship from the University of Texas, to attend the conference. The One Health care model and the structure of the Vancouver clinics were extremely well received by nurses, physicians and other healthcare professionals across the United States.  For any nurses, especially new graduates, this was a very proud moment. By presenting the project with honesty, knowledge, and kindness, the two CVO volunteers were even able to change and open a few minds along the way.
In addition to presenting their work at the CEHI conference, Jessica and Kelsi attended several presentations and educational workshops by current leaders and researchers in the field. Themes of the presentations and seminars included topics that focused on improving public health through community-based research, program development, and evaluation. These education seminars were of particular interest to the new RNs, given both their community-based nursing with CVO and additional work in inpatient care.
Jessica currently works at Fir Square, affiliated with BC Women's Hospital, an acute perinatal unit for socially at-risk women with addictions. Jessica is dedicated to providing compassionate care to these women and infants through harm-reduction.  At the CEHI conference Jessica was provided with the opportunity to promote the structure of care at Fir Square to clinicians, researchers and patients attending the seminars. Jessica also gained tremendous insight on what care looks like for at risk mothers and infants in various states across the US and the struggles they and their health care teams face.
Like Jessica, Kelsi also cares a highly vulnerable population in inpatient care.  Kelsi works in pediatrics medicine at Kelowna General Hospital (KGH), where she cares for both acute medical and psychiatry patients.  At the CEHI conference, Kelsi was able to share some of her new knowledge and experience caring for patients through the care continuum and learned added strategies to promote best possible patient and public health outcomes.  Having this opportunity to share their experiences and learn from leaders in the field was instrumental for the new graduates with their goals with CVO and their evolving careers.
The next One Health clinic will be held Nov 26, 2017 at Directions Youth Services. The two nurses plan to integrate what they learned from the CEHI conference into their approach and analysis of this upcoming CVO and PFHAF event.
Jessica and Kelsi would like to thank the School of Nursing, its faculty, and Community Veterinary Outreach for supporting their attendance to the 2017 CEHI conference.