Led by UBC nursing graduate Kelsi Jessamine, Community Veterinary Outreach (CVO) and Paws for Hope Animal Foundation (PFHFA) provided care for pets and their people as part of Evelyne Saller Center's Community Connect Event on October 12, 2017.  The team of volunteers was comprised of  fellow UBC School of Nursing alumni Elena Bernardi, Alexa McCarthy, and Blair Cramer. The team joined forces with current UBC School of Nursing students and faculty to deliver quality care and service to local community members. Blood pressure readings were completed as well as naloxone training and kit distribution. For those with four legged friends, pet food and products were distributed.  The CVO team deemed the event a success, indicating that 20 blood pressure readings and cardiovascular teachings were completed, 7 naloxone training sessions completed and kits issued, with over 35 bags of pet food distributed from donations by Royal Canin.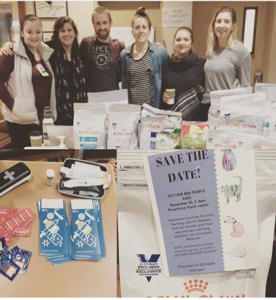 The aim of this event and the three preceding Pet Fair and People Care clinics throughout the past year, have been to connect with people that may not otherwise be connected with health care in the community. Event organizer Kelsi Jessamine and the Community Veterinary Outreach team place this ability of animals to transcend or positively build upon potentially negative experiences impacting individuals of the downtown eastside community at the center of their mission. Jessamine explains saying "often within this population the pet is the one grounding factor in a person's life. If they've experienced a lot of judgment or trauma in their lives – whatever their story is – the pet is often a very positive influence."
Additionally, at the Community Connect Event the nursing team showcased and provided referrals to the "One Health" Clinic at Direction's Youth Services on November 26th. The One Health will take place from 1:00-4:00pm and will offer a range of human health services provided by CVO nursing volunteers and UBC School of Pharmacy, in combination with free veterinary services delivered by Paws for Hope Animal Foundation.  This event will include clothing, blankets, food items and pet product distributions for those in need.
Looking forward to the November event and others in the future, event organizer Kelsi Jessamine sees boundless opportunity for Community Veterinary Outreach and the One Health care model in Vancouver.  "The human-animal bond is a powerful thing- and one that seems to transcend socioeconomic, health status and other potentially marginalizing factors—it is apparent that the Pet Fair and People Care events continue to leverage this special relationship and serve those most in need within our community" , says Jessamine.