Posted on behalf of Ariel Lee, Tiffany Zhong and Sasha Honcharova, Student Communications Services
With vaccines on the way, Vancouverites are once again looking forward to travelling. Spending your days at home planning your next adventure? Student Communications Services has your back.
Norway

Known for its stunning views of fjords and glaciers, Norway can be a great place to visit whether you'd like to reconnect with nature, immerse in the vibrant art scene in Oslo, or taste a wide variety of seafood offered in many coastal cities. 
Between regions of Oslo packed with interesting modern architecture and more cozy, historical neighbourhoods, demanding hikes with sublime views and soothing, refreshing adventures on the water, delicious starchy meals and a variety of drinks—this beautiful and peaceful country has got it all!
Things to do
Pay a visit to the vibrant

Bergen Fish Market 

Hike up to see the glaciers in the northern part of Norway

Drive up to the famous

Vøringfossen

waterfall

 

Enjoy a spectacular ride on a

Flåm Railway

Camp overlooking the fjords resting between the mountains, and enjoy those picturesque sunrises!
Best time to visit
To see the Midnight Sun: visit the North of Norway between April 22 and August 22
For the Northern Lights: visit the North of Norway in the winter
Otherwise May – June, and September – October

Tulum, Mexico
Trips to Mexico often bring to mind vacations at a fancy resort, complete with 24/7 meals and snacks. Tulum, however, offers the opportunity to enjoy local living in a beautiful, safe city. Enjoy a bike ride and stroll along its stunning shorelines, or hop on a bus or taxi to take a dip in a cenote. If you're up for sightseeing, order a full-day cab service or find a tourism package to see the famous Chichen Itza, Coba Ruins, Balankanche Caves, and other great archaeological sites rich with Mayan history.
Things to do
Swim in a

cenote

, a natural underground reservoir of water found throughout Yucatán

Get a taste of local living: try quesadillas, tacos al pastor, pozole, tostadas, and mole

Visit the nearby

Tulum Ruins

and walk along the shores
Best time to visit
October – December

Try to avoid the Christmas holidays due to influx of tourists
Iceland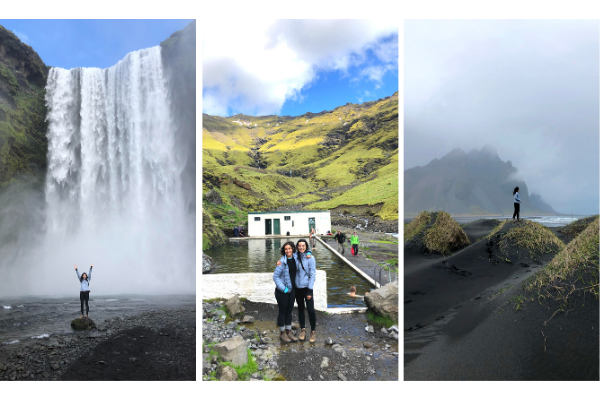 If you're a fan of Game of Thrones, you'll be amazed to see these dramatic locations in person. We highly recommend driving around the country in a camper van with your work bestie and getting to know each other a bit too much. If you want to chase those waterfalls, mountains, glaciers, and geysers—there's really no place like Iceland.
Things to do
Best time to visit
End of spring or start of fall
Anytime else might be too frozen and summer will be too busy
Taiwan
Known as Formosa ("Beautiful Isle"), Taiwan is home to magnificent mountains, captivating beaches, lush forests, mouthwatering Asian cuisine, bustling shopping centres, and vibrant night markets.
Food-lovers can rejoice—find breakfast shops and bubble tea stores at nearly every corner, and try culinary delights like takoyaki, crepes, and beef noodles at street food vendors. For those interested in Taiwan's art, culture, and history, enjoy the beautiful architecture of a Taoist temple, drop by a museum or art gallery, and browse local artisan vendors or shops.
Things to do
Grab a bite at one of Taiwan's many breakfast shops, often open 6 am to noon
Stroll through a night market in the evening, usually found in the neighbourhood close to a university
Journey to the south (Little Liuqiu) to snorkel with sea turtles, or visit Hualien County for wondrous sights and hikes
Best time to visit
March – May

September – December

Avoid the summer as it gets HOT!