A food anthology by SSA
Richard Ho:  Homemade chili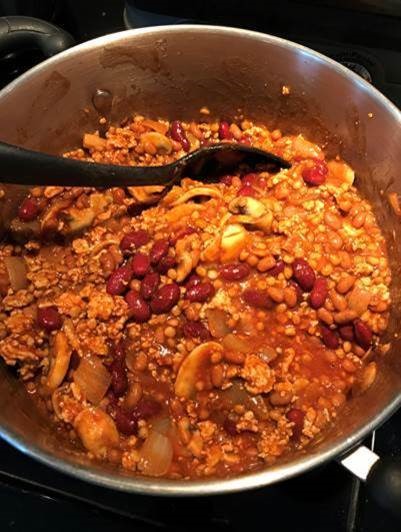 What is it?
Homemade Chili. I make it with mushrooms, onions, ground meat (beef or turkey), Club House chili seasoning, red kidney beans, baked beans, lentils, and tomato sauce. Hot Sauce is optional if you want a lil' kick (I made it up to habanero at one point).
Where can you get it?
From home. I'm sure you've made your own before and if not, you can use my recipe above. All ingredients total about $15-20/week. On campus, you can likely get some (runny and overpriced) chili at Tim Horton's, and I believe the Delly has chili as well, but I've never tried it.
Rating (out of 5)
Honestly, I'd give it a 3/5 and there are a couple of reasons why. First, as you may know (or have seen me) eat this like 90% of the time for lunch so it's a bit repetitive. Second, if I had my way, I'd eat Chili with white rice and shredded cheese on top (trust me, try it with both). And finally, it's not a good Summer meal when you have a short lunch because of an afternoon meeting. Imagine scooping down a bowl of lava in 15 minutes on a 30 degree day and then go to a meeting, it's not a very accommodating summertime meal.
Recommendation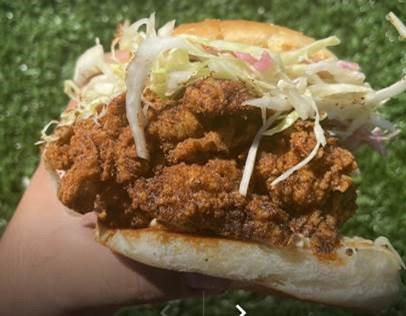 I recommend this lunch for anyone who doesn't know what else to eat or doesn't want to have simple carbs in their diet/lunch. I do not recommend this for summertime and/or if you have an adverse reaction to consuming beans for five meals per week.
So the "interesting" story behind my years' long chili fiesta is that it originally met the dietary restrictions of a diet I was on; basically it's a meal that contains slow carbs only. Then, after months of eating it every weekday for lunch, it became a routine to make it on Sundays and portion out five lunches and not have to think about making other lunches or purchasing anything during the week. Chili became my reliable standby, and to some degree a calling card in the lunchroom. Alas, since working from home, I have dialed back my Chili (it had a short revival in the Spring), but after 40 degree weather it was not a desirable choice. Now with the weather starting to cool down, I anticipate its faithful return this Fall.
Heather Mitchell: Downlow Chicken Shack
What is it?
A fried chicken sandwich along the lines of Popeyes, Hi Five, Juke or Mary Browns
Where can I get it?
Downlow Chicken Shack, a new food outlet on campus located on University Blvd at the old Bao Down location.
Rating (out of 5)
3.5. I had the "The Original Sando" for $13 + tax and tip, no sides or drink. Let me just say that this thing was tasty. And messy. And gigantic.
The chicken:  Basically a whole chicken breast on a bun. I could easily have traded this for half the chicken and some attempt at flatting it out.
The coating:  Great crunch, good seasoning. The coating was somewhat like Juke chicken except with gluten and slightly thinner crust. I prefer a thinner coating that doesn't pull away from the chicken as you bite it (think A&W Nashville Hot Chicken Sandwich or Mary Browns).
Oh and I ordered it medium spicy but there was zero detectable spiciness. That might just be me.
The toppings:  Shredded slaw and pickles. Provided good acidic and cooling balance to the overall flavor. Major contributor to the major messiness of the burger.
The bun: Unique bun, very soft and irregular shaped, maybe potato?
The fries: While I didn't order the fries, Allison Beardsworth has vouched for their spicy, coated deliciousness.
Recommendation:
I recommend trying Downlow Chicken Shack at UBC for the novelty of it and because it's quite delicious overall. I'm glad I tried it but don't recommend repeat visits. First, it's entirely untenable for social settings. Chances are you're going there with a work friend and you don't want to be picking lettuce off your pants and sponging sauce from your shirt (again, that might just be me). Second, it's expensive to eat here. I get that food and labour costs are high and am happy to support local business and tip well, especially to students. But, I have spent quite a bit of time talking to students about budgets as well as working on food insecurity projects, so prices like these at convenience-style food outlets on campus are red flags for me.
Scottford Price: My lunchbox
What is it?
Fruit Salad with Cottage Cheese and Greek Yoghourt
Where can I get it?
Persia foods, Costco and Superstore
Rating (out of 5):
5/5
Recommendation:
This has been my lunch/dinner for all of covid and still not bored. Usually paired with another meal throughout the day and a snack here and there and I worry less about getting enough fiber/protein.
Drew Senay: Soylent, a food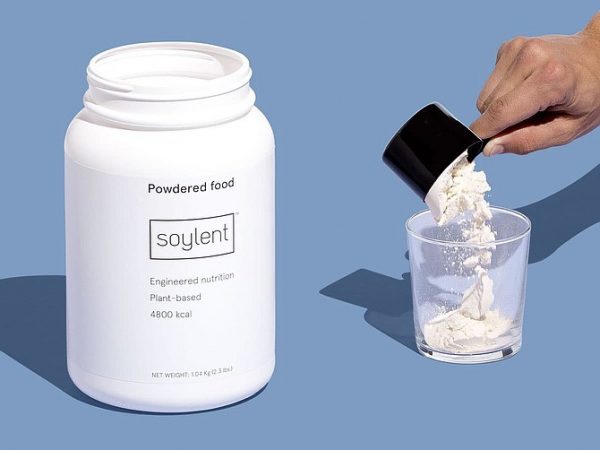 In 2014, I heard about a craze sweeping the 20-somethings: Soylent.  For reference, I am no longer eating it but it is by far the most conversation I've ever had about a meal.  Those conversations included "what is that?" and "what is wrong with you?".  Sure, it was a gross powder named after a Charlton Heston film and yes, it was briefly banned in Canada for not meeting the requirements to be classified as a 'food'.  But can you really put a price on convenience?
What is it?
Soylent, a food*
Where can I get it?
https://www.soylent.ca/ (but this is not an endorsement.  Other variations include Joylent and Hol food.  They're all questionable).
Rating (out of 5)
Convenience: 5, Taste: 1-2, Legality: TBD
Recommendation:
If you find that eating is an enjoyable pastime, this probably isn't the choice for you.  But if you're strapped for time and in a rush between emails, it kind of hits the spot.  I would say the novelty alone is worth a try but you won't likely be replacing every lunch with it.  Bon appetit!
Nikki Reine:  The compost lunch
Contents:
Whatever ends up leftover from making lunch for your kids, but not quite ready to put in the compost
Prep time:
The time it takes to make your kids lunch (5-10 mins)
Common Ingredients: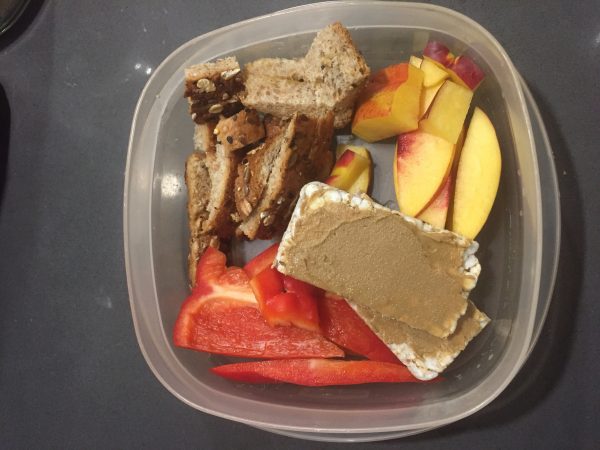 Bread crusts with a smidgen of nut butter
The ugly pieces of fruits and vegetables
The leftover overnight oats
All the broken crackers
If lucky, a piece of cheese or baked good
How to make:
Find a Tupperware container and put it all together.
You can snack throughout the day, or eat all in one go – flexible just like our work from home schedule!
Rating out of 5:
A 2.5. It's a time saver and no food gets wasted in our house, but depending on what's available, might not be as satisfactory as you would like.
Laura Beaulac:  Kid's lunches, a whole other story
What the heck to pack for your lunch? Never mind, just throw an apple in your bag and a slice of burnt toast that you don't want to waste. Your kid's lunches, now that's a whole other story. What do you have in the fridge, what will they actually eat and how much time do you have to delicately prepare your angelic child's lunchbox. We go with a few easy things, like pre-cut up raw veggies and leftovers, and try to include as little sugar as possible. Since schools are nut free, getting some protein in there is a plus too. Let's divide the lunches here shall we? In the first one, for my 6-year-old son we have raw carrots, cucumbers, next to cherry tomatoes and cubes of pepperoni, slices apple with cinnamon, Siegels bagel with cream cheese, next to the very popular 'fishy crackers at and chopped up cheddar cheese. The middle is the treat section with honey O'S cereal and a smart sweet treat.
Notes:
Get 'day old' Siegels bagels on the weekend in the morning, cut in half and freeze them for weeks of yummy bagels!
smart sweets (https://smartsweets.ca/products/build-a-box)
cut up raw carrots on Sunday and have lots of fresh water added to them throughout the week.
use a paper towel or something to divide wet from dry ingredients or you'll get yourself a bad lunch review and soggy crackers
if you want to either embarrass your child or earn best parent of the day bragging rights, make a heart shaped note in the lunchbox
lunch box is called yumbox (https://www.westcoastkids.ca/yumbox-original-6-compartments1)
2nd Lunch for my 3 year old:

Raw veggies and apple with my fancy green olives I like to save for martinis, baby bel cheese, leftover green beans, pancake with cherry tomatoes, leftover sweet potato fries. Middle section is the same cereal with a gummy bear smart sweet. This lunch box comes back completely empty because let's face it, girls rule! Also, my daughter loves food more than me!
Notes:
Pancakes are made in batches and then frozen
another recipe I like to use is a spinach banana muffin, recipe here: https://thenaturalnurturer.com/oatmeal-green-smoothie-muffins/
packing lunches the night before makes life easier, and if possible, getting them to help you with it can be fun, it can also make you want to pull out your hair!
Happy lunch making!!
Hung Mai: (The infamous) Cheezy pizza bun
What is it? The infamous cheezy pizza bun. You've no doubt experienced the olfactory pleasure and the auditory bliss of hot sizzling beckoning you towards the kitchen as you walk by. What you fill it with is entirely up to you, but my preference has always been black forest ham and genoa salami and some form of spicy mustard.
Where can I get it?
My favourite variety comes from Save-On.
Ratings (out of 5):
Taste: 5/5, but only if it's been on the office panini press. At home in my toaster oven, it's only 4/5 due to the lack of adequate compression resulting in a non-crusty top layer.
Ease of prep: 5/5. It takes less than 5 minutes to slap this together the night before coming into the office and does not require extensive clean up afterwards.
Jennifer Chin:  Two different realities
Hi everyone, for those that may have noticed my eating habits, you are well aware that my diet largely consists of coffee and whatever is convenient. For as long as I can remember, I don't have the discipline to pack a lunch and I secretly struggle when I go to the grocery store.
If you see me starring intensely at vegetables at Save on Foods, rest assured that I am not planning my meals for the week, but really, I'm trying to remember if chips and cookies are on sale.
I often come home wondering how I spent $80 on 'groceries' but still have nothing for dinner that same night and wind up at the McDonald's drive-thru. My regular grocery items are chips, pie, cookies, pie, chips, cheese and chips. I like pie and chips.
What I should have for lunch and what I actually eat for lunch are two different realities.
I know I should eat fruits, veggies, lean proteins and complex carbohydrates, but often my meals come from the vending machine in Brock Hall or from The Delly. When I am organized, I will get lunch early in the day to avoid the student line ups. There are drawbacks to this approach as getting lunch early means that I'm usually not hungry, but it's better than waiting until I'm starving which leads to me to overeat and messing up my dinner. (#firstworldproblems)
I have a great group of colleagues that enable my less than ideal eating habits. I think they feel sorry for me and offer to pick me up something so I don't resort to eating candy at my desk. I want to give them a special "Thank You" for getting me something to eat – I appreciate it more than you know!
P.S. Today, I had a muffin!