Shawn A-in-chut Atleo
National Chief Shawn A-in-chut Atleo is a Hereditary Chief from the Ahousaht First Nation. In July 2009, A-in-chut was elected to a three-year mandate as National Chief to the Assembly of First Nations.
A-in-chut served two terms as Regional Chief of the BC AFN. In this time, he committed to the principles of working together through inclusion and respect. In March 2005, a historic Leadership Accord was signed, overcoming decades of discord among First Nations leadership in BC.
A-in-chut graduated in 2003 with a Masters of Education in Adult Learning and Global Change from the University of Technology, Sydney, Australia (in partnership with University of British Columbia, University of the Western Cape South Africa, and University of Linkoping Sweden). In 2008, A-in-chut's commitment to education was recognized in his appointment as Chancellor of Vancouver Island University, becoming BC's first indigenous Chancellor.
A-in-chut is supported by and gains strength from his partner of 24 years Nancy and their two adult children, Tyson and Tara. Traditional teachings have guided A-in-chut to serve First Nations as a leader, facilitator, mediator, planner and teacher.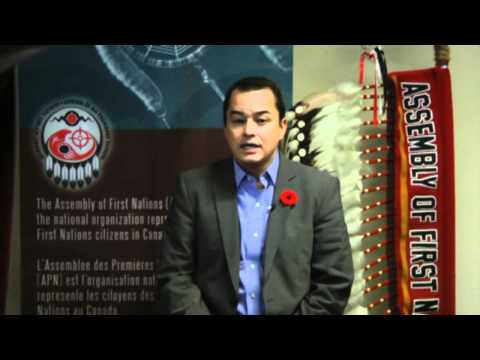 National Chief Atleo uses Youtube to keep in touch with communities across the country. He has a monthly address on line.
Cpl. Francis Pegahmagabow of the Parry Island Band in Ontario was decorated three times for the marksmanship and scouting skills he displayed in Belgium and France. Known as 'Peggy' to other members of his battalion, he survived the war and later became chief of his band. This portrait of him by artist Irma Coucill was commissioned for the Indian Hall of Fame collection, housed in the museum of the Woodland Cultural Centre in Brantford, Ontario. (Woodland Cultural Centre) The most highly decorated Canadian Native in the First World War was Francis Pegahmagabow
http://www.vac-acc.gc.ca/remembers/sub.cfm?source=history/other/native/peaceful
http://www.cier.ca
Centre for Indigenous Environmental Resources (CIER)
They are a national, First Nation-directed environmental non-profit organisation with charitable status. They were established in 1994 by a group of First Nation Chiefs from across Canada. Through their programs, we take action on climate change, build sustainable communities, protect lands and waters, and conserve biodiversity.
They  envision "Sustainable First Nation Communities and a Healthy Environment". Their mission is to "assist First Nations with building the capacity to address the environmental issues they face".
They are guided by the values of: Respect, Integrity, Innovation and Excellence, Balance and Teamwork.
http://fnbc.info
Indigenous Views – A Blog covering issues affecting First Nations people and communities.. Very interactive blog with good discussions and resources available.Good example of First Nations communities working together and using technology to share important information.
Partnering with Indigenous Peoples to Defend their Lands, Languages and Cultures is the theme of this website.  Their work under the guidance of our Indigenous-led Program Council, Cultural Survival partners with Indigenous communities to defend their rights and sustain their cultures. They have helped develop the knowledge, advocacy tools, and strategic partnerships they need to protect their rights. Every Cultural Survival program is designed to become self-sustaining and run entirely by the Indigenous community.
http://www.culturalsurvival.org/?gclid=CK-p7_CuraUCFQITbAodUDzqYA