Panel discussion on peer review of teaching
December 2016
This panel discussion aimed to help participants be more informed and proactive throughout their own PRT process by clarifying procedures around PRT, as well as showcasing best practices, support and existing models at UBC. Mark Schaller (SAC) discussed the significance of PRT at the SAC level. Simon Bates discussed CTLT's Peer Review of Teaching Initiative and the support it offers for formative and summative PRT.  Paul Bartha (Philosophy) and Sunita Chowrira (Botany) presented the PRT practices used in the tenure, promotion and reappointment processes in their respective departments.
Though attendance was hampered in part by snow, we recorded the event and you can see it on YouTube, here: https://youtu.be/jkPJz1xSI60
**************
The Tyranny of the Lecture
UBC's Institute for the Scholarship of Teaching and Learning presents Eric Mazur, who will be speaking about "The Tyranny of the Lecture." Click the image to read the details. Note the option to watch the live stream!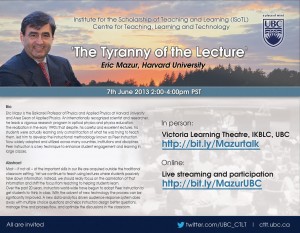 ************
What Flexible Learning Looks Like
Simon Bates has invited you to participate in a session titled 'What Flexible Learning Looks Like' on Wednesday, May 8, from 10:30-12:30 in the Earth Sciences Building (2207 Main Mall) in Room 1012 (you can find more information and register here http://www.events.ctlt.ubc.ca/events/view/2439).  Faculty and students will share examples of work being done in the area of Flexible Learning across campus. Participants will have the opportunity to ask questions of the speakers and the Flexible Learning Implementation Team and to discuss the support available for course redesign. Professor Toope will also speak at the event.
************
3M National Teaching Fellowship Meeting
On behalf of Carol-Ann Courneya, UBC 3M Council Chair and Simon Bates, CTLT Academic Director, we would like to invite you to the 3M National Teaching Fellowship: Information and Q&A Sesion.
Please find the details of an upcoming event here: 3M National Teaching Fellowship April Meeting. The purpose is to provide information and support for applications, planned, potential or future, for 3M National Teaching Fellowships (http://www.stlhe.ca/awards/3m-national-teaching-fellowships/). Please would you circulate it to Heads of Departments, Chairs of Awards Committees and faculty members.
Registration for the event, to be held on Thursday, April 4th from 10am-12pm in the Irving K Barber Learning Centre, Room 2.22, is online at http://events.ctlt.ubc.ca./events/view/2351
************
Transforming Student Learning Through Technology (Dr. Mats Selen, UIllinois)
Students' unprecedented access to content on the Web is providing a unique opportunity to transform the role of lectures in education, moving the focus from content delivery to helping students synthesize content into knowledge. The University of Illinois Physics department has introduced a variety of activities to facilitate this transformation, including Web-based preflight assessments of student understanding before lecture, Web-based multimediapre-lectures designed to provide students with content before lecture, and peer instruction (clickers) to assess and facilitate student understanding during lecture. In this presentation, Dr. Selen will discuss the pedagogical motivation for introducing these activities, and the impact they have had at their courses, including published outcomes data that demonstrate the effectiveness of using Web-based activities to enhance learning. This event is brought to by the TLT series and i>Clicker. We encourage your active participation. Ample time will be provided for discussion and building cross-discipline connections.
When: March 25, 2013, 11:30am-1:00pm
Where: Irving K. Barber Learning Centre – Lillooet Room, 301
Register: http://www.events.ctlt.ubc.ca/events/view/2243
Mats Selen, Professor of Physics, earned a B.S. in Physics from the University of Guelph (1982), an M.Sc. in Physics from Guelph (1983), and an M.A. in Physics from Princeton University in 1985. He received his Ph.D. in Physics from Princeton in 1989. He was a research associate at the Cornell Electron Storage Ring (CESR) at Cornell University from 1989-1993. He joined the Department of Physics at Illinois in 1993 as an assistant professor, was promoted to associate professor in 1997, and to full professor in 2001. Since coming to Illinois, Dr. Selen has been a prime mover behind the massive curriculum revision of the calculus-based introductory Physics courses (Physics 211-214), and he was the first lecturer in the new sequence. He developed Physics 123, a hands-on Physics course taken by about 100 elementary education students each spring. He also started the Physics Van, an award-winning community outreach program that introduces grade school children to the fun and excitement of Physics, and is a regular on local morning television as "The Whys Guy." As an experimental high-energy physicist, Dr. Selen has made significant contributions in several research areas including the study of charmed meson production and decay, and the design and construction of high-speed electronics.
************
What does "Educational Leadership" mean at UBC? Insights from Dr. Simon Bates
What does Educational Leadership mean? What about Teaching Excellence? Innovation in Teaching? These terms are increasingly part of the teaching landscape at UBC, but what do they mean in the context of our careers? Come and hear Dr. Simon Bates, Professor of Teaching, Senior Advisor on Teaching and Learning, and Academic Director of CTLT speak about what these key terms can entail. (Hint: They're much broader than you might think!) This session will help you develop ideas about how to engage in educational leadership, teaching excellence, and innovation, as well as how to represent these actions on your annual reports, promotions files, and award applications.
Join us on Wednesday 27 March 2013, 3-4:30pm, Dodson Room at the Irving K. Barber Learning Centre. Instructor track faculty, research track faculty, heads and directors, and other interested parties are welcome to join us.
************
Enriched Educational Experiences (E3s) – What are they and how can you implement them?
We hope your year has kicked off brilliantly. Come to Angus Room 241, on Thursday November 1, 2012 from 2-3:30pm… and be inspired! Join us to hear an interdisciplinary panel discuss their experiences designing and implementing Enriched Educational Experiences at UBC. Here are the panelists:
Dr. Janet Giltrow, Senior Associate Dean Students, Faculty of Arts – an overview of what Enriched Educational Experiences (E3s) are and where they fit in UBC's mandate
Dr. Sunaina Assanand, Instructor, Faculty of Arts – on Community Service Learning (local and International) in a third year gender psychology course
Dr. Joanne Fox, Senior Instructor, Faculty of Science ­- on using Peer Review in a first year seminar in science
Dr. Pete Ostafichuk, Senior Instructor, Faculty of Applied Science – on implementing Team Based Learning and flipped classrooms in Engineering
Mr. Jim Sibley, Director, Applied Science's Centre for Instructional Support – on Team Based Learning across the disciplines
Thursday 1 November 2012 Angus Room 241, 2-3:30pm
Also please note, some of us are heading to Mahoney's at 4pm for informal drinks, appetizers, and conversation. We'd love for you to join us!
************
Celebrating the end of the year!
Please join us for a friendly and informal celebration of the end of year. Bring a story – perhaps a success or a teaching tip — to share as you (re)connect with our fellow Instructors and Senior Instructors.
Tuesday May 22 in the Buchanan Penthouse, 4:30-6pm
Appetizers will be sponsored by the Faculty of Arts. To help us with ordering, please RSVP using this website: http://www.doodle.com/kr3znm68xg5f2p3n
Hope to see you there!
************
Mark your calendars for the next Instructor Network Lunch and Learn… you won't want to miss this!
Where: Dodson Room (room 302) in IKE Barber on November 15, at 12:30
Topic: The Cognitive Psychology of Learning – Ever wonder how to best promote long-term retention in our students? How to maximize the efficacy of testing situations? Join us as Dr. Eric Eich leads a fascinating tour of research from the fields of learning and memory that is immediately applicable to our classroom contexts.
By Dr. Eric Eich, FRSC, former Psychology Department Head, Current Editor-in-Chief of Psychological Science (psychology's leading journal)
************
"BRING YOUR OWN LUNCH AND LEARN" ON PROMOTION TO SENIOR INSTRUCTOR
The UBC Instructor Network invites you to a "Bring Your Own Lunch and Learn" panel session and discussion on Promotion to Senior Instructor"!
The event will be held on Monday, September 26th from 12:00 – 12:50 in the Dodson Room in the Irving K. Barber learning Center. We have the room until 1:30, so those without other meeting or teaching obligations are welcome to stay for further discussion past 12:50.
Our panelists:
Susan Boyd: Chair, Senior Appointments Committee
Vanessa Auld: Chair, Faculty of Science Promotions and Tenure Committee
Deena Rubuliak: Executive Director, UBC Faculty Association
Paul Bartha: Head, Department of Philosophy
Christina Hendricks, Senior Instructor (Philosophy) and Chair of the Arts One Program
We expect the session to be of great interest to Instructor ranks across UBC. Discussion will include promotion and tenure procedures and process, assembling your materials, learning portfolios, referee letters, and much more!
Please distribute this notice to your colleagues who might be interested!
The Instructor Network
P.S. At our initial meeting of Instructors last Spring, a number of people indicated interest in a series of "Lunch and Learn's," lunchtime meetings where we would discuss issues of interest to Instructors. We sent out a survey recently to determine which topics are of greatest interest, and this one had significant interest. Others are on the way, including promotion to Professor of Teaching, scholarship of teaching practice, links between research and teaching, student health and learning, and more.