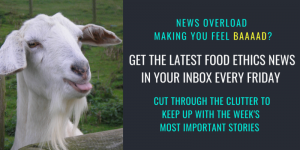 Sign up here for the weekly news roundup from the Berman Institute's Global Food Ethics and Policy Program.
Speaking of Food Ethics – Registration is now open for the CHOOSE FOOD SYMPOSIUM! 
The CHOOSE FOOD PROJECT aims to help producers and consumers make ethical food choices by giving them access to easy to use, high-quality information about food. Please see details below, and on our website.  
Help us spread the word! Please share this information with those listed in the
"Who Should Attend" section below.