I hope you're having a wonderful week. I'm reaching out to inform you of two Indigenous student events we will be hosting to build relationships with Indigenous students going through UBC 23 24. It would be great if you could distribute this to Indigenous students in your program. I have attached the poster to this email and have included the information and registration link below. 
UBC 23 24 Indigenous Student Building Connections Events
The UBC 23 24 Indigenous Cultural Safety (ICS) Program is delighted to welcome Indigenous Students in Health Professional Programs to the Indigenous Student Building Connections events. We invite you to share a meal, do a crafting activity, learn about UBC 23 24, participate in some icebreakers, and build relationships with the UBC 23 24 team.
In-person Event
Online Event
Date: September 7th, 2023

Time: 5:00 pm – 7:00 pm

Place: SPPH 424, 2206 East Mall, Vancouver Campus

Food and refreshments will be provided.

Date: September 14th, 2023

Time: 12:00 pm – 1:00 pm

Place: Online (Zoom)

A $15 SkiptheDishes gift card will be sent to participants to share lunch during the event.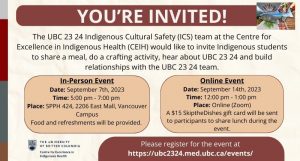 We ask that students register for the event at https://ubc2324.med.ubc.ca/event/ubc-23-24-indigenous-student-building-connections/
Please let me know if there is any other information I can provide. Thank you again!
With gratitude,
UBC 23 24 Team
Faculty of Medicine | Centre for Excellence in Indigenous Health
The University of British Columbia | Vancouver Campus | Musqueam Traditional Territory
2206 East Mall | Vancouver British Columbia | V6T 1Z3 Canada
23.24@ubc.ca
https://health.indigenous.ubc.ca/home-page/programs/ubc-23-24/
The UBC Vancouver campus is situated within the traditional, ancestral and unceded territory of the xʷməθkʷəy̓əm (Musqueam).