If you like interesting stuff, have a passion to learn more about how the world works, and love things that move, then Mechanical Engineering is for you; and we want you!
The Mechanical Engineering Department hosts a first year networking event every term. This event gives student the opportunity to connect with Alumni, Professors and current students and talk about their great experiences. This event is a great chance to learn more about things you wouldn't find in a recruitment brochure, such as student teams, research opportunities, and the industry at large. When I was in first year, I didn't have the chance to attend these types of events because I wasn't aware they existed. I have to say I re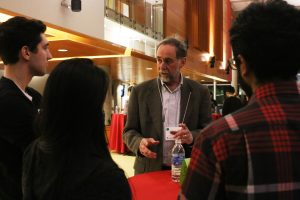 ally wished I had because it would have helped prepare me for my second year of mechanical engineering at UBC.
As a transfer student from Langara College, I can say that there is a big difference between college and university education. Classes, professors and grading are very different. It took me a while to get used to this, and get familiar with the kinds of different study methods to become the student I am today.
The students who come to these events really get firsthand knowledge and the inside scoop on the program from current students, professors and alumni. So, if you are in first year engineering in UBC or other colleges, then keep an eye out for opportunities like these.
You can check out the mechanical engineering website for future opportunities, such as Networking Events, Lab Tours, or Student Blogs.
If you have any questions, email me at: ambassadors@mech.ubc.ca