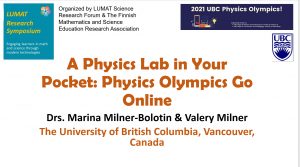 Today Valery  and I had an opportunity to present together at the International LUMAT Research Symposium in Helsinki Finland.  It was a very special presentation for me for many reasons. First of all, I am very excited about using smartphones to do science. I think this is something positive that came out of this year of home schooling and remote teaching and learning. The smartphone devices our students carry in their pockets can become tools for creative and meaningful science investigations thanks to the use of the phyphox app – – an app designed by physics educators at the University of Aachen in Germany: https://phyphox.org/ .
Second, our talk was about first ever virtual UBC Physics Olympics. We were lucky to start using phyphox. While many of us (including me) were hesitant about organizing our very hands-on event virtually, I am so glad we did. It was a very successful event because we had to rethink where our students can do science and phyphox was the tool we needed to make it happen. It forced us to see something that the students have had all along and yet we ignored it – their smartphones. Now we know how useful they can be for doing science.
Third, it was a presentation with my husband – Dr. Valery Milner. I am always inspired by him and I am so glad he is so passionate about science teaching. While his main research is in the Ultrafast Quantum Coherent Control of Matter, he is always interested in basic science our students learn in schools and how to make science interesting and inspiring for them. Doing this presentation together was also very interesting and inspiring, even though we had to present at 5 am Vancouver time. It was all worth it. I know that next year, I will definitely will be doing phyphox experiments with my teacher candidates.
You can find our presentation slides below.
LUMAT2021_MilnerBolotin_Milner