Friday July 10th, 2009 (9:30 AM) SFU Harbour Centre (Fletcher Challenge Room 1900)
Presenter: Heather Morrison, Project Co-ordinator, BC Electronic Library Network – Session abstract
Heather's presentation was recorded.  It's available here.
Session Overview
In this session, Heather Morrison presented an overview of the economic environment in which scholarly publication currently exists, focusing her attention on potential effects of the growth of the Open Access (OA) movement on this environment.
The Macroeconomics of Scholarly Publishing
Heather began by framing her discussion with the modern definition of economics, that is, the study of our behavior and the means by which we achieve certain ends given limited resources.  This was used to raise the following question: "Where is the money to help with the transition to fully OA publishing?"
The current economic situation was then explored with a description of the estimated costs of per-article publishing in the domains of science and technology.  These estimates range widely from one publisher to the next;
BMC – 1500$/article
PLoS One – 1300$/article
Springer Open Choice – 3000$/article
Hindawi – 800$/article
These costs, among not-for-profit publishers, are broken down in the following way:
In the realm of highly profitable for-profit publishing, the per-article cost is broken down in the following manner (as per Heather Morrison's research).  Alarmingly, in this economic model, nearly 50% of the per-article revenue goes to profits and taxes.  Perhaps most interestingly, she pointed to a number of examples where for-profit publishers charged from 6 to 7 times more for publications that were actually less cited than similar journals put out by not-for-profit publishers.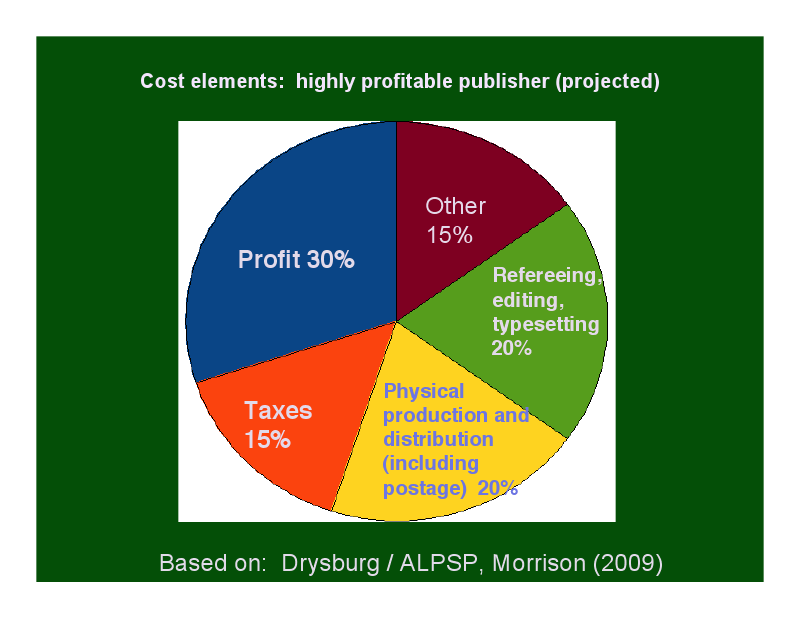 Alternative to the current model
Looking at these numbers allows an examination of costs that may be reduced through a transition to fully OA publishing and the introduction of a number of efficiencies.  OA technology such as Open Journal Systems could offer the following benefits;
reduction in the costs of coordinating the refereeing process
elimination of typesetting and printing costs
reduced systems and staffing costs
elimination of authentication, hosting and troubleshooting costs
dropping the need for copyright policing
Other less direct efficiencies introduced by the adoption of fully open-access publishing include a rethinking of the rejection process, with a reduction in the need to resubmit rejected articles to additional journals.
With these new efficiencies and cost savings, Heather suggests, libraries would have additional resources to allocate to building collections, rather than buying collections; to funding institutional repositories rather than spending on inter-library loans and to digitizing and preserving electronic collections rather than shelving print journals.
What if the subscription-based scholarly publishing industry were to collapse?
The concern has been raised by a number of publishers that the introduction of fully open access publication may threaten the viability of the current subscription-based model.  Heather contends that although they are unlikely to fail any time soon, if the major publishers collapsed, there is sufficient open-access support available to help journals carry on with their publishing activities.  She argues that this collapse (again, however unlikely) would provide an opportunity to rethink, renew and rebuild our publishing system.
Commentary
Not surprisingly, this presentation gave rise to a healthy amount of discussion.  Questions were directed both to Heather Morrison and Frederick Friend who gave a talk on the future of scholarly publishing.  The following questions were raised;
How would fully open-access publishing be cheaper than the subscription-based system? The savings are thought to come from the wresting of control of costs from the publishers into the hands of academics.  In order for the savings to materialize, however, academics will need to focus on transforming several aspects of the economics of publishing.
If libraries are already struggling to cope with the rising costs of subscriptions, how can they set aside money for open-access initiatives? This will likely require a multi-faceted approach.  Librarians will need to set priorities along with researchers in order to make decisions about which subscriptions are most needed.  If needed, they may also need to consider canceling "one big deal" in order to leave room for OA funding.
Related links
Imaginary Journal of Poetic Economics
– Heather Morrison's Blog
Canadian Libraries Association Position Statement on Open Access
Scholarly Communication for Librarians – Heather's new book
References
Morrison, H. (2009). Open access and the economics of scholarly communication. PKP Scholarly Publishing Conference 2009. Retrieved 2009-07-08, from http://pkp.sfu.ca/ocs/pkp/index.php/pkp2009/pkp2009/paper/view/136
July 11, 2009 Comments Off on Open Access and the Economics of Scholarly Communication: The Session Blog
When: Friday, July 10, 2009
Room: Main Concourse – Fletcher Challenge Room 1900
Time: 9:30 am – 10:30 am
Presenter: Frederick "Fred" Friend
Fred Friend studied history in Kings College, London.  Next, he obtained a post graduate library qualification at the University College in London.  Fred's library career has spanned from Manchester University, to the University of Leeds, to the University of Nottingham and finally at University College in London.  He currently holds the title of Honorary Director of Scholarly Communication at the University College in London.  He is an OSI Open Access Advocate and a JISC Consultant.
Session Overview:
Friend is here today to discuss the future of scholarly journal publishing with the movement towards the Open Access model.  He begins the session by letting the audience know that the publishers in the UK are saying Open Access will destroy scholarly publishing.  He continues by listing the assumptions that the publishers have.  Some publishers see Open Access as a threat, while others see opportunities in the new model.  Many publishers want the change in model to support rather than weaken journal publication.  Publishers put the emphasis on the quality of the journal, while researchers put the emphasis on the article.  They want to see public money to help increase publication.  Friend asks the questions, "What kind of business models can be made viable in the future?  Which models will enable high and effective use of published research?"  There are large areas of agree and disagreement.
This is where the Joint Information Systems Committee (JISC) comes into the conversation.  It is a national committee in the UK that provides universities and researchers with information that they need in order to make the right choice.  JISC is a strong supporter of open access and want to help maintain the existing model.  They want to help promote innovation especially in helping universities decide which are the best innovative approaches.  JISC supports both "green" and "gold" open access development alongside support for licensing deals.  They want to collaborate with other stakeholders of scholarly journal publishing within the UK and world.  Friend is here today to see JISC have more collaboration with the Public Knowledge Project.
The one key factor about providing information is the choice about cost and impact factor.  JISC commissioned a report on the economic implications of alternative scholarly models.  It also looked at how it would help the UK economy.  Findings from the report showed that the UK benefited from moving towards either a self-archiving model or the gold Open Access model.   It can get very fast returns by moving top open access (either green or gold).  The Netherlands and Denmark have made similar reports.  JISC also examines how much it will cost for institutions to switch models.  They are trying to work with publishers on offering authors a choice between copyright and licensing.
Many policy statements in Europe have supported Open Access.  Collectively, the European Union committed to an Open Access policy research funded through FP7.  Local European institutions are considering how to manage these Open Access changes.  There is stronger interest in gold Open Access in Europe than in the United States.  Globally, countries with newer growth economies and less established publishers do not appear to be more advanced in Open Access developments than ones with established economies.
In future developments, Friend believes that there has to be a lot more in advocacy.  Many researchers are concerned that their favourite journals will disappear.  Fred says that academic journals will not collapse because of their importance to the research community.  He believes their survival will come through changes in the repository.  The academic community will take more control over the research dissemination process while publishers will act as service providers.  Changes will happen, there will be variations and hybrids of new and old models.  There will not be one model that will be able to dominate such as the subscription model has.
Analysis:
Friend recognizes that changes will need to be made to the subscription model in order for scholarly publishing to remain.  His presentation provides a positive outlook for publishers in a world with Open Access.  Both models can survive together, but changes will need to be made by both.  The key word in the presentation is "change."  Things cannot stay the same; changes will have to be made to the traditional scholarly publishing model.  Friend encourages everyone to go out and advocate for these changes.  He believes that is the way to change the traditional model.
Session Questions and Answers:
1) One audience member said, "There are some green Open Access advocates who are very vocal about researchers …giving money to publishers when they can do it for less themselves. What is the cost of building institution repositories?
Reply: "Green Open Access is the best value for money of the 3 models, which is evident at the national level in the UK, Netherlands, and Denmark." Friend doesn't believe it will be the sole model used.
2) How do you get over the problem of having researchers demand certain journals?
Reply: Friend's suggestion is to cancel subscription and buy gold Open Access journals.
3) Addressing the awareness of difference economies.
Reply: Friend says that charges to each model are based on their cost in the current system.  He thinks that the costs will settle down over time.  There will still be variations in models because there are different costs involved.
4) Friend comments on the voluntary labour in the publishing models. Voluntary labour is not free because mostly the institutions subsidize it. Problems occur with certain inefficiencies such as people not skilled in what they are doing. People are spending time doing something that someone else can be doing better.
5) What makes you think that the cost will be better controlled in the new models?
Reply: Friend believes that the academic community will control costs.
Related Links:
July 10, 2009 Comments Off on Towards A New Future for Journal-Article Publishing: The Session Blog
Presenter: Dr. John Willinsky – Director, Public Knowledge Project. Professor, Stanford University and the University of British Columbia. Bio
July 8, 2009, 7:30-pm. Morris J Wosk Centre for Dialogue
Session Overview
Dr. Willinsky  set  the context for his address by using adoption of  Open Journal System to illustrate the expansion of open access. He noted that at the 2007 PKP conference, 1000 journals used OJS. Now, at  the 2009 conference, there are approximately 3000 OJS journals. Of these, he noted that 29% spend $0 on expenses and 24% reported no revenue at all. Dr. Willinsky noted that these figures indicate the emergence of a new, third kind of independent journal that can run on a zero budget economic model.
However, Dr. Willinsky asks us not to focus on this knowledge being free (as in beer). After all, scholarly work is not free: it is very labour intensive. Through the entire domain of research, curriculum development,  writing, editing, reviewing, and publishing in journals, scholarly work is expensive. Consequently, he argues for expanding the conversation about open access to scholarly publishing beyond the question of it being free. Instead, he asks us to reach back in time and recall how learning has long been treated as a type of (intellectual) property that is distinct from other (economic) properties.  "There is a distinction between the type of intellectual property we produce in education and that produced by Michael Jackson or Justin Timberlake, so why should it be treated the same?"
Using a number of examples to illustrate the point, Dr. Willinsky recounted the historical consistency of the university being recognized as something outside of the regular economy. He pointed out that by the 12th century there was already such recognition in that university members had many special rights including some rights of the clergy, the right of safe conduct, and the right to bring manuscripts across borders without paying tax. He also spoke about how scholarly contributions were recognized through acts of patronism from royalty and how rent controls were used in Oxford to protect students from being exploited by greedy landlords.
In particular, Dr. Willinsky notes that this different view of the property of education is rooted in John Locke's  work on property. Locke spoke about property in two different ways: that we are given the work in common, and  that every man has property in his own body.  To Locke, because we labour (work), we have some claim to property based on the notion of  the right to exclude (enclosure). The intellectual property of learning is founded in these basic Lockean principles (e.g. labour invested and held in common), but it is somewhat different because it's  value is not realized in the principle of exclusion. Instead, if we enclose intellectual property,  we reduce it's value.  So the value of intellectual property is realized when it is shared and that value increases the less restrictive it is. Dr. Willinsky summarized this Lockean  argument about the intellectual property of learning as follows: we hold all this knowledge in common and we realize it's value in the unrestricted circulation of this intellectual property.
Turning to some of the relevant legal aspects of the argument, Dr. Willinsky began by recounting the  fight over the licensing of books. In the 17th century, there was such excessive piracy that it removed the financial incentives for produce and publish books. Consequently, in 1710 the first copyright act (Statute of Anne) was passed to specifically recognize the rights of authors. Significantly, this statue was noted as an   "act for the encouragement of learning".  Additionally, the act also recognized the right of universities to publish what ever they wanted and required publishers to provide to university libraries with 9 copies, on the best paper, of each book they published.
Moving to modern times, Dr. Willinsky  illustrated this special place that intellectual properties of learning have been given  with a number of examples:
Fair dealing (fair use in US) exceptions to copyright law. These include the  right to quote for non-commercial, critical and parody use and provides protection under the law for students and scholars.

The academic exception to intellectual property rights. Scholars have the natural ownership rights to all the  works they produce, unlike  other non-educational industries where workers don't have those rights.

Patent law allows us to use patented material for learning without paying a fee.

Tax exemptions for university endowments in the US.
In closing, Dr. Willinsky asked the audience to take up the challenge as follows:
In our work he asks us to focus not on  making things free, but to promote the notion that the value of the work we do in education is realized in it's sharing.

He asks us to look for opportunities to defend and experiment, to take advantages of opportunities to share our work, to expand our own policies moving toward open access, and to demonstrate the ways that intellectual properties of learning are different.
Related Links
July 10, 2009 1 Comment