Establishing a New Open Access Journal in Africa: The Case Study of the African Journal of Primary Health Care & Family Medicine (PHCFM): The Session Blog
Presenter: Pierre de Villiers
July 10th, 2009 at 2:00 p.m
Webstream
Background info
As a new discipline to Africa, Family Medicine needed a forum to communicate scholarly work throughout Africa.  Ten countries in the neighbouring area of the Sub-Sahara joined together and through academic support and affiliation with well known academic associations started a new journal, The African Journal of Primary Health Care & Family Medicine (PHCFM).  Their mandate was to ensure 20-30 publications were accepted and published per year.  It delves into family medicine for the primary health care giver using African context.  They use Open Journal Systems, and Creative Commons licence to ensure accessibility over the ten participating countries.  They have multiple citations in Google scholar.  The editor-in-chief is Professor Gboyega A Ogunbanjo from the University of Limpopo, South Africa.  He is a specialist family physician.
The journal is mainly supported by the Flemish Inter-university Council (VLIR), a department for University Cooperation for Development, through the project VLIR-ZEIN 2006 PR320, but also has local support from Africa as well.
View Participating Partners in the new African journal, PHCFM in a larger map
Session Overview
Dr. de Villiers starts this session describing why he started this new journal.  He has been the editor of the South African Academy of Family Practice/Primary Care journal (SAAFP) for the past ten years (the journal has fifty years of experience).  Since that time, South Africa (SA) has made family practice into a specialty and now there is a great emphasis on primary health, care not only in SA but all over Africa.
He recognized many problems in communicating the knowledge of Family Practice in Africa:
There were no full African journals at the time
Most research was published in non-African-run journals
It was difficult for African scholars to get published
SAAFP went online in 2005 as the first journal in Africa to do so.  Open access to the journal started in 2006 and saw a dramatic effect on increased submissions to this journal as well as those articles sent to NEJM.  Submissions were too numerous by far to publish solely in SAAFP and the need for a new journal was finally realized.
Once Dr. de Villiers decided to start this journal (PHCFM), he had standards he needed the journal to commit to.
Published in English
Peer reviewed
Open access
Onlne – for global visibility
Rolling publication – articles could be published as they became available
DOI – Crossref
Ability to print on demand at end of every year
Copyright – would use creative commons licencing to keep it open
Credible Editorial board – Large African component as well as international made for highly visible editors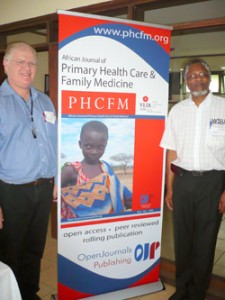 On November 18th, 2008, the official launch was in Kampala (picture above).  Since then, the statistics on the journal have been staggering.
Submitted 74
Published 16
Edited and accepted 11
Declined 27 (36%)
In-review 15
Days-to-review 55, and days-to-publication 126
People are reading this journal, mostly from SA but a strong component are from Nigeria and the rest of the developing world.  The website has registered  over 2000 unique visitors this year, with 3.42 visits/person.  People like what they see and 77% of people come back through internet bookmarks.
When Dr. de Villiers asked, what did we do right?  He believes he had many good things working for him:
Credibility of his editorial board – this gives the author/reader trust to submit articles as well as to use the journal as a reference tool
Quality of editorial process (maybe too good with 36% rejection rate?)
Sponsorship of funding and support
OJS/online availablity
Professional publishing service
This journal was endorsed by the World Association of Family Doctors (WONCA) at their 2009 conference and has been indexed in African Index Medicus.  African Journals on Line (AJOL) will be accepting the journal this year, and they hope to be indexed in PubMed next year.
He states some of the challenges he has seen as well as anticipates seeing are:
Need for continued funding (>5 years)
High rejection rate
Author support may be needed
Additional funding to publish more articles (costs 500 euros per article)
When talking about the future of what he thinks the journal needs to do to stay visible and expand:
Accreditation – needed from the Department of Education in order to get more funding (their application is being considered now)
Continuing Professional Development credits needed
XML publishing (under review)
Thesis abstracts  will start to be published July 2009
French abstracts/articles will be started to help readership
Related Links