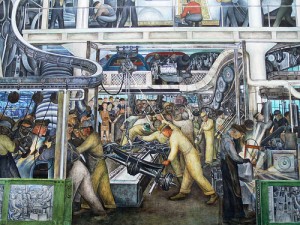 [Above image: "Detroit Industry" – Detroit Institute of Arts ( Diego Rivera ) – View 1, from DetroitDerek's Flickr photostream.]
Over the past decade or so, I've visited Detroit many times, so as I read Mark Binelli's profile of this dying city in the most recent Rolling Stone (#1073) there was a lot of resonance with my Motown experiences.
The article, of course, focuses on the auto industry, the government bailouts and Binelli uses a visit to the Detroit Auto Show to explore the decline of the industry and the city. But the most compelling part of the article describes a tour of the deindustrial wastelands of downtown Detroit that Binelli takes with Detroitblogger John to see abandoned factories, houses, and office buildings; grassy fields, which used to be crowded working and middle class residential neighborhoods and are now homes to coyotes and other wild life.
Check out photos at DetroitBlog.org or KenTakesPictures "Detroit" Flickr photoset or Derek Farr's "Detroit Ruins" Flickr photoset to get an idea of what Detroit looks like these days. (KenTakesPictures describes the areas around the old GM factories as resembling scenes from 28 Days Later and Mogadishu)
You can also explore disappeared Detroit here and here.
Binelli vaguely hints at but doesn't explore Detroit's spirit of resistance, which is too bad because the history of the city is in many ways a history of resistance. There's no doubt that Detroit is ground zero of the urban crisis in the US, but it is also home to many people who have and continue to work against racism, labor exploitation, and other inequalities.
Detroit's also the birthplace of The Rouge Forum, which drew inspiration for it's name from Detroit's River Rouge and the River Rouge auto factory, which at one time was the largest factory in the world.
"The Rouge is both nature and work. The Rouge has never quit; it moves with the resilience of the necessity for labor to rise out of nature itself. The river and the plant followed the path of industrial life throughout the world. The technological advances created at the Rouge, in some ways, led to better lives. In other ways, technology was used to forge the privilege of the few, at the expense of most–and the ecosystems, which brought it to life, The Rouge is a good place to consider a conversation, education, and social action."
Join us at the Rouge Forum annual conference this May, we'll be meeting at Eastern Michigan University in Yspilanti, close enough for a quick trip to Detroit.
[Rich Gibson has a good collection links that explore the urban, and particularly the educational, crises in Detroit at his web site.]