This year's 3 Minute Postdoc Slam was a great success! Over 40 postdocs, faculty, staff, and students gathered in the LSC3 lecture theatre in the Life Sciences Institute to hear 7 postdocs, from 7 different departments, present their research in only 3 minutes with the aid of a single PowerPoint slide.

This year we started out the event with a special guest talk from Craig Jones, winner of the UBC 3 Minute Thesis competition and a finalist in the Canadian National 3MT competition. He gave a fantastic and engaging talk titled "The War Lawyers", and set the stage for a great afternoon of presentations.
Our first contestant in the competition was Dr. Elisa Wong from Pharmaceutical Sciences, who presented her talk "The story of a powerful mutant population". Next up was Dr. Kais Dridi from Electrical and Computer Engineering with a talk on "How Can Nanotechnology and Nanostructured Materials Revolutionize Solar Energy Conversion Systems?". Dr. Noushin Nabavi from the department of Urologic Sciences then presented her work "Understanding Mesothelioma: inter- and intra-tumor heterogeneity". The last talk of our first half was "Reward cues and decision-making" by Dr. Mariya Cherkasova from the Faculty of Medicine. Following a short coffee break, Dr. Amir Sharafian from Mechanical Engineering spoke on "Liquefied Natural Gas (LNG): A Green Transportation Fuel". Dr. Jennifer Rowland from Michael Smith Labs spoke on "Remote control: Bacteria modify epigenetics to take over your cells", and our final contestant of the day was Dr. Carly Priebe from the department of Kinesiology who gave a presentation titled "Run to Quit".
All our postdoc presenters were judged by our 3 judges: Dr. Cara Haney from Michael Smith Labs, Dr. Jonas Beaudry from the Allard School of Law, and Dr. Tara L Klassen from Pharmaceutical Sciences.  The judges evaluated each presentation on comprehension, communication and engagement, and made numerous comments about each presentation, which were given to the presenters following the competition. Prizes were awarded to the top three presentations as scored by our judges, as well as to the "People's Choice" presenter, which was determined by the audience.
Following the presentations from our contestants, we had an excellent and informative talk from Dr. Tara L Klassen on the topic of communication – "Car Salesman or Professor: Communicating your Message".  The event was finished off with a networking reception – good food, drink, and conversations!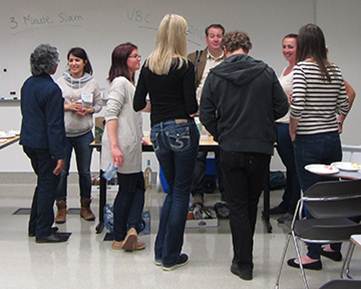 Thanks to all that presented, and attended, in making the day such a success!
Congratulations to our award winners!
1st place ($100): Dr. Carly Priebe
2nd place ($75): Dr. Mariya Cherkasova
3rd place ($50): Dr. Jennifer Rowland
Peoples' choice ($25): Dr. Elisa Wong