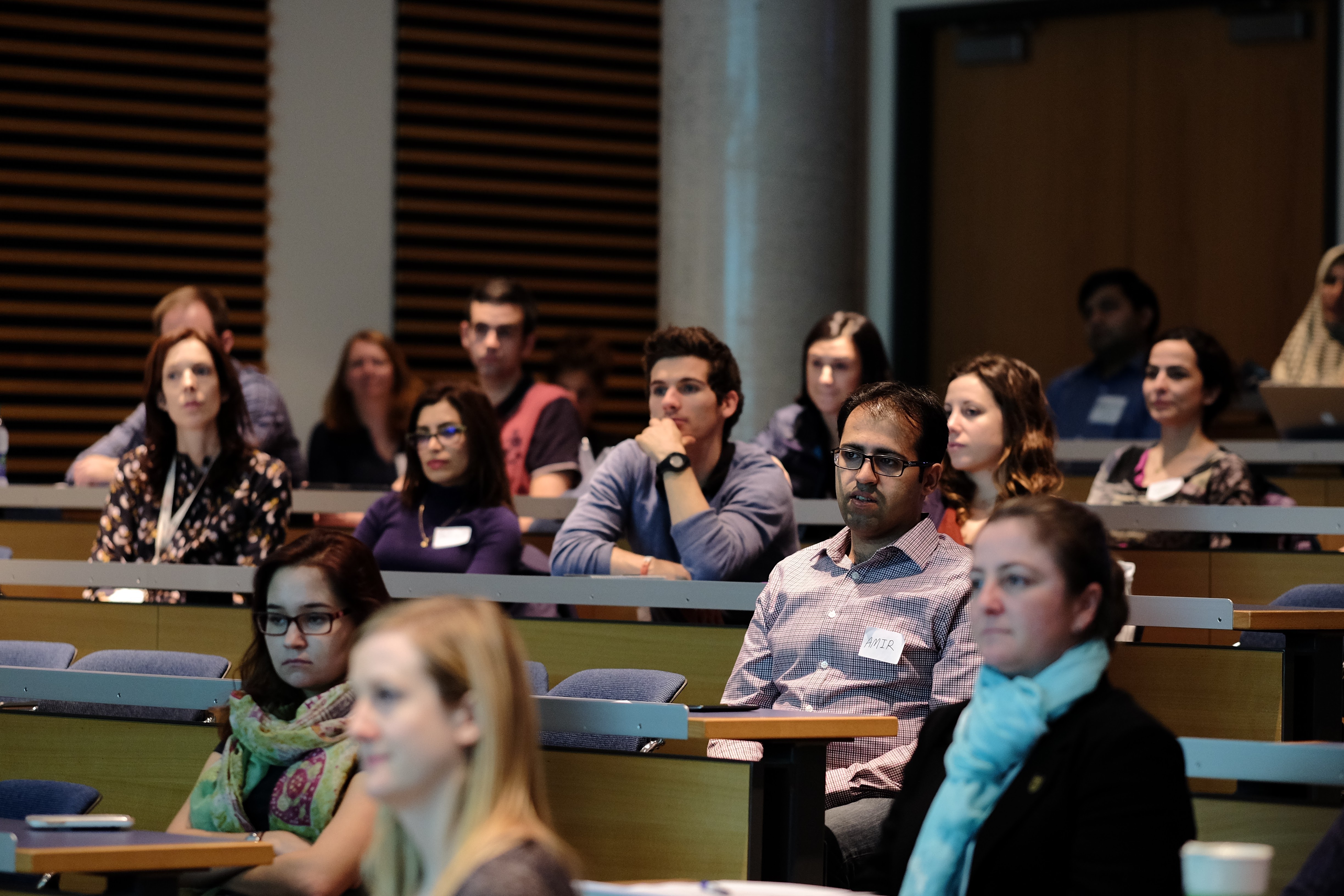 Written by: Houra Loghmani Khouzani, Alexander Smith and Jenny Chik
The UBC PDA Research Day 2016 was a resounding success! This annual event brings together postdocs from a wide range of disciplines to showcase their cutting edge research in a variety of projects at UBC. We had over 60 postdocs, faculty, staff, and students join us at the Life Sciences Institute for 6 postdoc oral presentations and the following poster session on November 24, 2016.
Our first speaker was Dr. Jenn Bossio from Obstetrics & Gynaecology, who presented a fascinating talk on "Innovations in sex therapy and mindfulness at UBC: Development of a novel treatment approach for couples dealing with sexual dysfunction after prostate cancer treatment". Dr. Bossio spoke about the effects of prostatectomy (surgical removal of the prostate), its effect on sex and relationships, and how her team uses couples-based therapy to increase sexual intimacy. Dr. Bossio was awarded the first prize for her excellent oral presentation.
The next speaker was Dr. Michael Irvine from Mathematics, who gave a great talk about "Linking models of infectious diseases to policy". Dr. Irvine spoke about how disease modelling and web tools for policy-making were making an impact in the fight to eradicate a number of neglected tropical diseases such as lymphatic filariasis.
Dr. Esther Maas from the School of Population and Public Health (Partnership of Work, Health and Safety) then gave a very well received talk focused on the idea that "Return-to-work is not a single event". The crux of Dr. Maas' talk was how returning to work after suffering a musculoskeletal injury is a complicated process. Often times there are lingering issues that may necessitate modified work schedules or other shifts to accommodate workers.
This was followed up with a very engaging talk from Dr. Paula MacDowell, a postdoc in the Department of Curriculum and Pedagogy. Her talk was entitled "#GirlsHack@UBC". Dr. MacDowell centred on how women are marginalized in the technology industry, despite gains made in other fields, and that girls are underrepresented in the ranks of technology creators and innovators. She concluded her talk with an interactive game allowing the audience to participate using an Internet connected device, which received much positive feedback.
Dr. Amir Sharafian gave the penultimate talk about "Using low-carbon fuels with minimum environmental impacts in transportation: Green solutions to mitigate climate change". He won second place in the oral presentations for his captivating talk. He spoke about the importance of low carbon fuels and renewable energy sources. He concluded by noting that cattle farming is one of the worst sources of methane, so to save the plant we should all cut back on burgers!
We ended our presentations for the day with a talk from Dr. Alexander Weber from Pediatrics on "Diffusion Imaging Reveals White Matter Damage in Ice Hockey Players for Up To Two Months Post-Concussion". Dr. Weber's work is focused on traumatic brain injury seen in varsity hockey players, using different MRI interpretation techniques to better quantify the type, extent, and duration of brain injury following a concussion. He found that healing may not be complete 2 months post-concussion. Dr. Weber was the recipient of the third place award for his oral presentation.
Our talk presentations were judged by: Dr. Abby Collier, an Associate Professor in Pharmaceutical Sciences, Dr. Leonard Foster, Professor and Interim Head of Biochemistry and Molecular Biology, and Dr. Emilie Lameignère, a Research Associate in the Centre for Blood Research. The judges evaluated each presentation on comprehension, communication, engagement, and visual aids.
The fascinating presentations were followed by the poster session and reception. 6 judges evaluated nearly 15 posters. While all the posters were excellent and showcased the innovative projects happening at UBC, ultimately the poster/ presentation that scored the best on the criteria of: comprehension, engagement, delivery and visual quality were: Katharina Rothe from the department of Medicine Genetics, Mariya Cherkasova from the department of Neurology and Heidi Wolfmeier form Microbiology and Immunology. During the announcement for prizes and awards, light refreshments were made available as postdocs networked and discussed their research in a relaxed setting.
All and all, it was another successful event by the PDA and of course with the participation of all our presenters, attendees and judges. We would like to extend our special thanks to our judges (for the oral presentation and poster session) and to all the PDA members that dedicated their time to making this event a success!