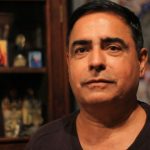 Thanks to everyone who took part in last week's discussion of Nelson Garrido's work. It was an interesting and thought-provoking conversation, and we will have many questions for Nelson when he joins us on Wednesday.
Many thanks again to María Julieta Cordero for inviting him, and for organizing this cycle of discussions and readings.
In the meantime, recent blog posts include two from Rodolfo Ortiz:
This week, we will be looking at more images and texts by and from Garrido, in anticipation of our discussion with him.
Then we recommend two other texts:
We also continue to recommend an article that we discussed last Wednesday:
We will meet on Wednesday, August 26, from 4pm Pacific.
All this will take place on Zoom, of course. Because it's 2020.
As always, however, feel free to join us later in the evening (from around 5:30pm onwards), without any expectation of having done any of the reading, and drink in hand if you so wish, for a more social check in.
Also as always, please do feel free to invite others (whether they are in Vancouver or not) to join us. Virtual Koerner's is fully in Phase Four of lockdown, and we are delighted to see our "bubble" continuing to expand. If anyone wants to be added to the list, they can be in touch with me.
And again, we very much welcome and invite suggestions of texts, speakers, discussion topics, and so on. We especially welcome a) texts written by VK participants (short texts can be posted to our blog), and b) suggestions for linked "cycles" of sessions that might, like María Julieta's current cycle, include different kinds of texts on a common theme.
You will hear information about subsequent meetings very shortly.
We look forward to seeing you this week.