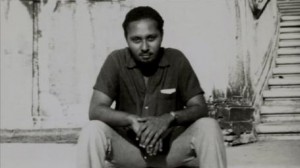 Beautiful Mind, 1932-2014
Rykesha Hudson & Elizabeth Pears, The Voice, February 10, 2014–  JAMAICAN CULTURAL theorist Stuart Hall has died aged 82, according to reports.
Hall, who grew up in Kingston, Jamaica, studied at Oxford and emerged as one of the Britain's leading sociologists.
Last autumn, Hall was brought to the big screen, in The Stuart Hall Project, a documentary and labour of love from acclaimed director John Akomfrah, for whom the academic is a personal hero.
Akomfrah said: "Stuart Hall was one of the few people of colour we saw on television who wasn't crooning, dancing, or running…he was a kind of rock star for us [black teenage bookworms], a pop icon with brains whose very iconic presence on this most public of platforms – television – suggested all manner of 'impossible possibilities'."
Hall retired from public life in recent years due to health problems including kidney failure.
One of the first to pay tribute to the "intellectual giant" was Professor Gus John. He told The Voice: "I have been hugely influenced by his work.
"In the last half a century or so, he was an intellectual giant. His work on the state and its relationship with people has been very influential in our struggles.
"His work on culture and imperialism was powerful and influential. He is a huge loss to Britain and the world."
Also paying tribute to his life and work, Martin Bean, vice-chancellor of The Open University said: "His loss will be felt right across the world of academia and sociology as a whole.
"Stuart was one of the intellectual founders of cultural studies, publishing many influential books and shaping the conversations of the time.
"It was a privilege to have Stuart at the heart of The Open University – touching and influencing so many lives through his courses and tutoring.
"He was a committed and influential public intellectual of the new left, who embodied the spirit of what the OU has always stood for; openness, accessibility, a champion for social justice and of the power of education to bring positive change in peoples' lives."
PRAISED: Members of the academic world have hailed Hall's contribution
Dubbed the godfather of multiculturalism, Hall was born on February 3, 1932, in Kingston, Jamaica, to a light-skinned, middle class family.
From an early age, Hall identified himself as an outsider. In his own home, he was quite literally the black sheep being "at least three shades darker" than the rest of his family – "the first social fact I knew about myself", he admitted.
Educated at the all-male Jamaica College, one of the island's elite establishments whose alumni includes the late Jamaican Premier Norman Manley and late PM Michael Manley, Hall was different from the majority of young men of his age.
And unlike his fellow West Indians who formed the Windrush Generation, Hall arrived in Britain in 1951 not looking for menial work but as a Rhodes scholar – a recipient of funding from the Jamaican Government – to read English Literature at Merton College, University of Oxford.
Read More: The Voice