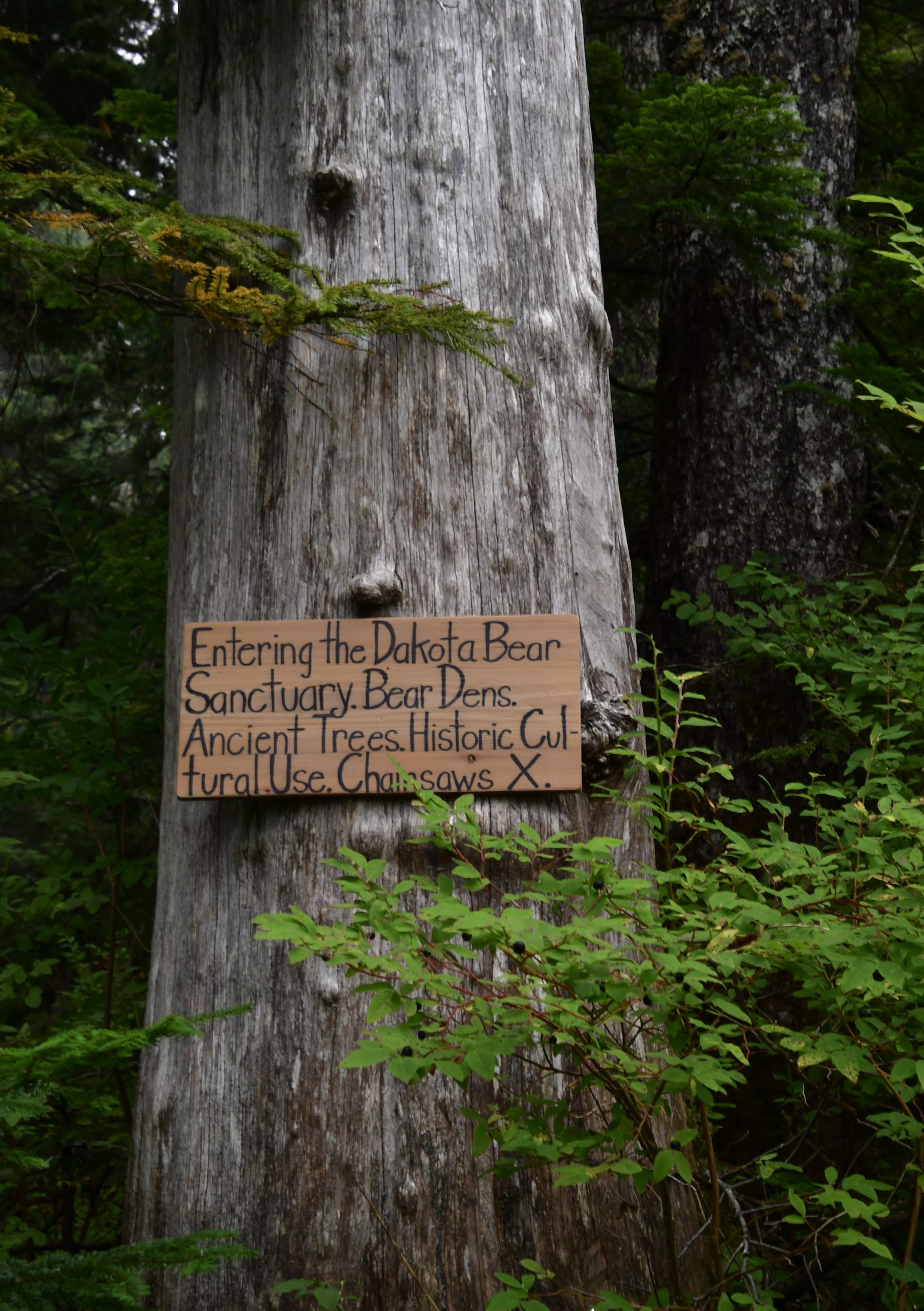 Welcome to this interactive, immersive 360° educational tour to the Dakota Bear Sanctuary. A little context: Located on the unceded lands of the Sechelt (shíshálh) and Squamish (Skwxwú7mesh Úxwumixw) Nations, the Dakota ridge falls within the Coastal Western hemlock (Tsuga herophylla) and the Mountain hemlock (Tsuga mertensiana) zones of BC's Biogeoclimatic Ecosystem Classification system, with Western yellow cedar (Cuppressus nootkatensis) subzones (variants). Unique for its concentration of large Yellow cedars, it is one of the most spectacular and ancient forests of its kind in BC.
Characterized as "ancient" rather than simply old-growth, Dakota escaped the widespread logging pervasive in BC coastal forests, thanks to its steep slopes and difficult access for large machinery (thought, apparently BC Timber Sales felt these challenges were no longer insurmountable!). Neither has it been subject to large scale fire in its recent ecological history (too rainy/foggy!), nor, across much of the landscape, major mass movements (landslides). It therefore supports trees that are older than 1500 years, according to recent tree ring core studies. The oldest documented individual was estimated to be over 1820 years old when it died, and its cross-section is now displayed at the Iris Griffiths Centre. The forest is home to a variety of wildlife (see below), and hosts a number of bear dens within its mature tree trunks.
Of cultural significance, a large number of  Culturally Modified Trees (CMT), have been identified. These are Western yellow cedar (and elsewhere, Western redcedar, Thuja plicata) individuals that have been involved in an Indigenous practice of bark stripping to access inner bark for materials such as ceremonial garments and mats. The practice is non-destructive – over time, trees seal over the affected area with cambial cell growth. Each CMT records this sustainable relationship between first peoples and the forest and is a legacy of the importance of Western Yellowcedar and Redcedar to Indigenous peoples including the Sechelt (shíshálh) and Squamish (Skwxwú7mesh Úxwumixw) Nations. In Dakota, CMT's pre-date the colonial era (many were dated to the late 1500's Current Era), and document the long human history in the ecosystem.
The Dakota Bear Sanctuary was recently the focus of conservation efforts to prevent logging of its massive trees. In Sept 2020, the province took it off the logging menu, for a time; and in March 2021, the province announced an agreement with the Squamish Nation to preserve the tract for good. Logging of BC's old-growth forests is an ongoing concern that needs attention.  I was privileged to tour this forest, and learn about it from long-time forest advocates, Ross Muirhead and Hans Penner of Elphinstone Logging Focus (ELF; I was on the trip documented here!). This interactive tour shares that experience.
Google map of tour stops [Scroll down past this map window to see the tour window]
View the Map of stops along the tour of the forest sanctuary. Use +/- to zoom in or out; click on the icon in the header, top left, to reveal stops, then click each marker to see a description.
This tour documents sites observed on a trip led by Ross Muirhead (ELF Founder and Director) on a smoky afternoon in Sept 12, 2020.
Instructions:
In the "TOUR WINDOW", below, listen to the 2 audio clips in the first frame of the tour (click speaker icons starting with the left one). You will hear Ross Muirhead discuss the Dakota Bear Sanctuary location and regional context. These audio clips were recorded below the Dakota Bowl forest (red marker in the Google map), prior to arriving at the trailhead

Other audio is included throughout the tour, featuring Ross' interpretive narrations from the Sept 12, 2020 trip. Ensure your sound is turned on. Play audio clips in the same scene in order from left to right.
Launch full screen with the icon, top right (esc to exit); Click the black arrows * to move forward to the next site/scene. Click the ⊕ icons to see popups of  focus scenes or species in each scene.
There are 6 sites/scenes in total; three of the scenes are 360° photos (scenes 3, 4, and 6). Use your cursor to scroll around them to explore the landscape and to reveal popups.

* NB: To avoid confusion, there are no arrows to move backward through the tour/scenes – reload to start over and proceed forward to revisit sites/scene.
Enjoy!
Biodiversity: What's Cool
Plants:  Can you identify the understorey herb species in the popups throughout the tour? They are unique and special to needle-leaf forests of this kind. There are a number of online identification tools to assist you such as iNaturalist, PlantSnap and others. Download the apps, take a photo or screenshot of the pictures here, and match them to their name. Perhaps you will later upload your own photos to these crowd-sourced, "citizen science" biodiversity archives.
Animals: The frog photo that pops up in the 4th scene is a Coastal tailed frog, an incredible species that is federally listed as Special of Concern on the Species at Risk Act and ranked as priority 1 by the B.C. Conservation Framework. I snapped the picture on September 12th, 2020, at the location shown. Another member or our tour group, inspiring documentary film-maker Trent Maynard, identified the species for me, and did some digging to find it lives  "15-20 years, …. and spends up to 5 years just as tadpoles suction-cupped to rocks in mountain streams. Apparently that slightly drunk, clumsy hopping it displayed is due to the frog's primitive anatomy". Just one more reason to protect this valuable forest from logging!
[New: Dr. Wayne McRory, the biologist, author of the bear den report, will include the siting in a scientific report on the Dakota Bear Sanctuary's biodiversity (he commented: "Was that a tailed frog and from Dakota? If so, its really quite important… a good example of the high elevation biodiversity" (pers. comm. WC).]
For information about the bear activity in this forest, and the role of Indigenous cultural tree use in contributing to viable bear den habitat (large trees with some central rot) listen here (at about 1.5 minutes)
And, in large predator news: bears are not the only ones tramping these woods. Trent Maynard captured this footage in November 2020:
View this post on Instagram
Other Resources:
There are a variety of videos and other resources about the forest, aimed at sharing its splendour and promoting its preservation.
Here is a video containing awesome footage of the forest, and commentary by Squamish Nation member, Xwechtaál I (Dennis Joseph), wildlife biologist Wayne McCrory, ELF director Hans Penner and more (Coastal tailed frog footage at 2.5 minutes). The video was created by documentary filmmaker Trent Maynard who also created the video contained within the tour, linked here.
This video by Sophia Dagher of The Only Animal is worth watching to get a richer view of the forest (included with Sophia's permission – thanks Sophia!).
Other resources on the Living Forest Institute website.
---
Acknowledgements: Thanks to the folks at Elphinstone Logging Focus for organizing and leading this trip, especially Ross Muirhead and Hans Penner for sharing their knowledge, and Sarah Lowis for getting us there. Ross graciously allowed audio of some of his tour narrations to be shared here for others to experience. Special thanks to Trent Maynard for videography of the tree core footage, for informed discussions about natural history along the ridge, and for sharing wildlife footage; Sophie Woodrooffe of "Coast Reporter" for sharing audio footage from the trip. Stepan Wood for providing photographic assistance; UBC Geomedia Commons for the use of the 360 camera; Tara Moreau of UBC Botanical Garden for sharing news of this tour. The 360 tour was developed in Tapestry.tool and draws on skills gained via a Teaching and Learning Enhancement Fund (TLEF) project, "Immersive Tools for Field-Based Geoscience Education in Large Undergraduate Courses: Pacific Spirit Forest Augmented Reality field trip and Alpine Ecosystem Virtual Reality tours"  (to N Hewitt).
This Dakota Bowl Forest and Bear Sanctuary Virtual Tour (Sept 20, 2020) by Nina Hewitt is licensed under a Creative Commons Attribution-NonCommercial-ShareAlike 4.0 International License.