As a UBC student, at some point you have probably seen someone holding a 'free hugs' sign somewhere around campus.  I have often seen a lot of different reactions to these signs; anywhere from people smirking and laughing to walking by with their heads looking down at their phones. I have always wondered how or who started this, and why someone would subject themselves to something like this, which can be viewed as a desperate act by some. After doing some research I found that 'free hugs' is actually a campaign that was launched by an Australian man who goes by the name Juan Mann. Juan noticed how a hug had made him feel better after a depressing day and so he launched this campaign to help eradicate social disconnectivity and to spread happiness to others around him. Hugging and and its correlation to a happier mood is not something that's completely new or unknown. Research has shown that hugs do increase happiness by lower levels of certain hormones like cortisol, often termed the stress hormone. Bringing it back to UBC, it makes a lot of sense that we see many of these signs pop up during exam times, a time when UBC students are the most stressed. But, can these sign wielders be doing more than just improve their mood? Based on the results of a recent study, the answer to this question is yes. A study done by Cohen et al. on hugging and the common cold,  shows that hugging does not just elevate a persons mood, but may benefit or improve our immune system.
In their study, Cohen and his team talk about something they call social support. This term describes the physical and physiological resources that are provided to us by our social group of friends and family to help us cope with stressful situations. Their study has found that this social support can be beneficial in protecting against illnesses, which can be caused by stress. Specifically, these stressors being emotional stress from experiences like interpersonal conflicts. Cohen and his team of researchers believe social support can help with this emotional stress because it can provide emotional support in the form of physical contact like hugs. Hugs this study says is a means of showing compassion and empathy towards someone and their current state, which ultimately helps someone get over their negative state.
How this was discovered was through a survey of more than 400 participants, who were studied and followed for two weeks. The team working on this project surveyed these participants and asked questions surrounding their interpersonal relationships. Specifically, asking about how many hugs they gave and received and how frequently they were in conflict with others. These same participants were then exposed to the common cold virus which would increase their risk of becoming sick. What was found was that those with stronger interpersonal relationships and those who gave or received hugs more frequently were less likely to get sick, or if they did, their symptoms were not so severe.
Here is Youtube video by DNews that talks about how hugs can help fight the common cold. This video does reference the research study that was conducted by Cohen and his team.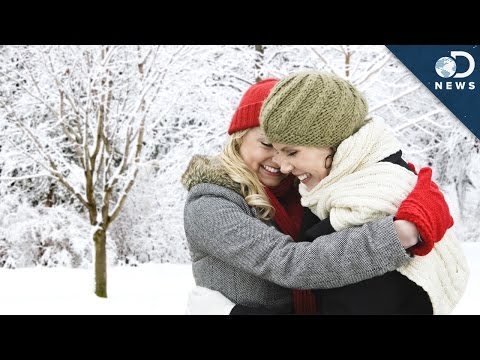 So overall, 'free hugs' has more benefits than many people think. In addition to helping the sign wielder feel energized and more emotionally connected to others it has now been found that it also helps protect them from colds. So next time you see someone with a free hugs sign during exam time, instead of laughing or looking the other way, hopefully you take the time to appreciate the positive effect it is having on their immune system during this very stressful time period.
For more information on hormones that are released during hugging like oxytocin, and how they affect our mood, refer to the Youtube video by BuzzFeedYellow below.