Listed below are selected teacher resources, picture books, and non-fiction related to communities.
Teacher Resources
Neighborhoods & Communities: More Than 30 Perfect Poems with Instant Activities to Enrich Your Lessons, Build Literacy, and Celebrate the Joy of Poetry, by Betsy Franco and friends

Grades: K-2. Collection of easy to read poems that celebrate the places and faces that make up a community including, neighborhood helpers, the firehouse, the grocery store, cars and trucks, and homes. Includes literacy-building activities and cross-curricular projects.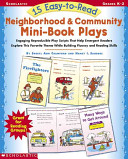 15 easy-to-read neighborhood & community mini-book plays, by Sheryl Ann Crawford and Nancy l. Sanders
Grades: K-2. Every class will have fun developing reading skills, fluency, and confidence as they read these delightful mini-book plays. Titles include We Bring the Mail, Many Ways to Get Around, Fire Fighters, Follow the Map, Good Neighbors Help, and many more! Rhyme, repetition, predictable text, and irresistible illustrations help make these perfect read-aloud plays for beginning readers.
Social studies: Innovative approaches for teachers, by Nancy A. Maynes and Jennifer M. Straub
Grades: K-6. The authors focus on two important approaches to teaching social studies: the value and flexibility of social studies as a broad medium for teaching a range of skills and concepts, including literacy and numeracy; and the human aspect of social studies, in its relation to people and their activities, challenges, and choices. Includes a chapter on using the community as a resource.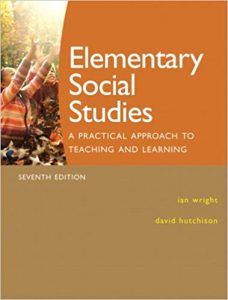 Elementary social studies: A practical approach to teaching and learning, by Ian Wright and David Hutchinson
Grades: K-7. Activities based text that emphasizes the need to be involved in social studies teaching and learning to offer effective instruction. Focuses on the process of teaching, and includes relevant information about emerging technologies, media literacy and environmental education.
–
2016 Census teacher's kit: Teacher's guide, by Statistics Canada
Grades: 5-6. Four detailed activities which emphasize the value of collecting census data in a variety of subjects. Activity 2 "Our class, our community" specifically touches upon how data can be used to understand and serve community needs. eBook only.
–
–
Picture Books
In Lucia's neighbourhood, written by Pat Shewchuk, illustrated by Marek Colek
Inspired by the work of urban studies writer and activist Jane Jacobs, seven-year-old Lucia takes readers on a daylong tour of her own bustling city neighborhood, commenting on all the people and their activities that she encounters along the way.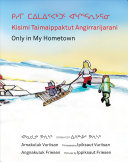 Kisimi Taimaippaktut Angirrarijarani/Only in My Hometown, written by Angnakuluk Friesen, illustrated by Ippiksaut Friesen, translated by Jean Kusugak
The northern lights shine, women gather to eat raw caribou meat and everyone could be family in this ode to small-town life in Nunavut, written in English and Inuktitut. Sisters Angnakuluk Friesen and Ippiksaut Friesen collaborate on this story about what it's like to grow up in an Inuit community in Nunavut. With strong social studies curriculum connections, Only in My Hometown introduces young readers to life in the Canadian North, as well as the Inuit language and culture.


Carmela full of wishes, written by Matt de la Peña, illustrated by Christian Robinson
Carmela wakes up on her birthday and is finally old enough to join her big brother as he does the family errands. The two travel through their neighbourhood, past the crowded bus stop, the fenced-off repair shop, and the panadería, until they arrive at the Laundromat, where Carmela finds a lone dandelion growing in the pavement. Follow along as Carmela tries to think of the perfect birthday wish while exploring her community.
Look where we live! A first book of community building, written and illustrated by Scot Ritchie
In this book, five young friends — Nick, Yulee, Pedro, Sally and Martin — spend the day traveling around their neighborhood and participating in activities designed to raise money for their local library. Along the way, they learn about the people and places that make up their community and what it means to be a part of one.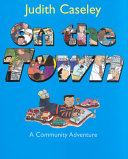 On the town: A community adventure, written by Judith Caseley
Charlie's homework was to explore the people and places in his community. "What is my community?" he asked his mother. So they took a walk to find out. Charlie and his mother take a walk that can be taken by anyone with a keen sense of fun — and open eyes and an inquiring mind.
–
Up home, written by Shauntay Grant, illustrated by Susan Tooke
A heartwarming portrayal of the Nova Scotian community of Preston past and present, including real models from the community. Grant's memories of growing up reflect a magical place where landscape, food, history and, most of all, people come together in a community filled with love and beauty. A powerful story with positive images of one of Nova Scotia's most important black communities.
–
Non-Fiction
In your community, by Janet Gurtler
Grades: K-1. Explores what it means to be part of a community as well as the responsibility that brings. Part of the Relationships and Responsibilities series.

–

Indigenous Communities in Canada series, by various authors
Grades: 2-4. The thirteen books in this series – Inuit Community, Mi'kmaq Community, Mohawk Nation, Nakota Community, Nisga'a Nation, Odawa Community, Nuu-chah-nulth, Tlingit Nation, Dene First Nations, Haida Nation, Salish Community, Métis Community, and Cree Community, – discuss the history, language, and cultural practices of different Indigenous communities across Canada, both in the past and in current times.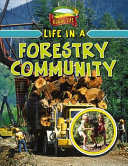 Life in a forestry community, by Lizann Flatt
Grades: 3-4. People who work in sawmills, logging camps, and in the forestry industry live in small towns close to the forests. This books follows the daily lives of families living in Mackenzie, British Columbia and shows life is changing as the town`s main industry changes. Part of the Learn About Rural Life Series.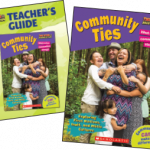 Community Ties, part of the Take Action for Reconciliation series
Grades: 3-8. Created by Indigenous educators and advisors from across Canada, these inquiry-based books explore what makes First Nations, Inuit, and Métis communities strong. Includes 16 student books and a teacher's guide.
–
---
Finding More Resources
To find more resources in this area, try the following:
Search using the General tab on the UBC Library website to look for material in all UBC Library branches.
Search using "Search Education Resources" box in the left hand bar on the Education Library website to limit your results to materials in the Education Library.
Use specific search terms to narrow your results, such as, "Communities–Juvenile literature.", "Community Life–Juvenile Literature.", "Community life–Fiction.", "Neighborhoods–Juvenile Literature.", "Neighborhoods–Fiction."
To find lesson plans, include "lesson plans", "lesson planning", or "activity programs" in your search terms.
For more help with searching, please visit the Library Service Desk or e-mail ed.lib@ubc.ca.