Listed below are selected teacher resources, picture books, fiction, and non-fiction related to geometry and spatial sense.
Teacher Resources
Taking shape: activities to develop geometric and spatial thinking. Grades K-2, by Joan Moss et al.
Grades: K-2. The authors begin by presenting background and research on why spatial reasoning matters in the early years, and a review of spatial reasoning concepts and processes. They then share activities on symmetry; composing, decomposing, and transforming two- and three-dimensional shapes and objects; locating, orienting, mapping, and coding; and perspective taking.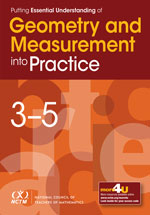 Putting essential understanding of geometry and measurement into practice in grades 3-5, by Kathryn B. Chval et al.
Grades: 3-5. This book focuses on the specialized pedagogical content knowledge that teachers need to teach geometry and measurement effectively in grades 3-5. The authors demonstrate how to use this multifaceted knowledge to address the big ideas and essential understandings that students must develop for success with geometry and measurement–not only in their current work, but also in higher-level mathematics and a myriad of real-world contexts.
Math for real life: Teaching practical uses for algebra, geometry and trigonometry, by Jim Libby
Grades: 7-12. This book presents hundreds of practical applications for mathematics—from baseball statistics to the theory of relativity—that can be understood by anyone with a knowledge of high school algebra, geometry and trigonometry. It will help teachers to answer the inevitable question "When are we ever going to use this?"
Understanding geometry for a changing world, edited by Timothy V. Craine
Grades: K-12. Articles in this yearbook examine expanding visions of geometry, the latest thinking about the development of students' geometric learning and new perspectives on effective practices for teaching geometry in elementary through high school.
–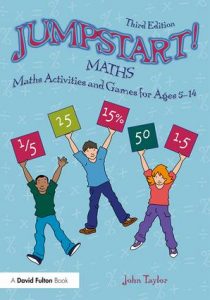 Jumpstart! Maths: Maths activities and games for ages 5-14, by John Taylor
Grades: K-8. The author presents a collection of simple-to-use, multi-sensory games and activities which will jumpstart students' understanding of mathematics in action. It will help students to explore and learn math both through technology and without, in an atmosphere of fun, mutual support and tolerance. Topics include number and place value, fractions, ratios, algebra, measurement, geometry, and more. (E-book only)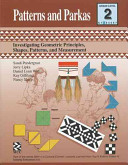 Patterns and parkas: Investigating geometric principles, shapes, patterns, and measurement, by Sandi Pendergrast et al.
Grades: 2. Grade two students learn about the properties of shapes including squares, rectangles, triangles, and parallelograms. They learn a variety of ways to make those shapes and how Yup'ik elders use these shapes to create patterns. As the students make shapes, they learn about geometrical relationships, symmetry, congruence, proofs and measuring. Part of the Math in a cultural context series.
Geometry as objective science in elementary school classrooms: Mathematics in the flesh, by Wolff-Michael Roth
Grades: K-6. This study examines the origins of geometry in and out of the intuitively given everyday lifeworlds of children in a second-grade mathematics class. The author explains how geometry, an objective science, arises anew from the pre-scientific but nevertheless methodic actions of children in a structured world. (E-book only)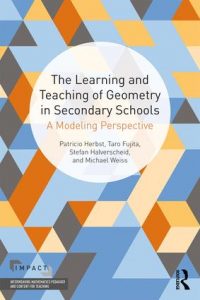 The learning and teaching of geometry in secondary schools: A modeling perspective, by Patricio Herbst et al.
Grades: 9-12. This book reviews past and present research on the teaching and learning of geometry in secondary schools and proposes an approach for design research on secondary geometry instruction. Areas covered include the representations of geometric figures; students' cognition in geometry; and teaching strategies, instructional improvement, and classroom interventions. (E-book only)
Fostering geometric thinking: A guide for teachers, grades 5-10, by Mark Driscoll et al.
Grades: 5-10. This book presents research-based ways to improve how students conceptualize and apply geometric ideas. The authors share practical ideas for helping students cultivate geometric habits of mind that lead to success in this subject. The book focuses on rigorous, problem-based teaching that encourages students to deepen their thinking in three key geometric strands: geometric properties, geometric transformations, and measurement of geometric objects.
–
Picture Books

Shaping up summer, written by Lizann Flatt, illustrated by Ashley Barron
What if animals and plants knew math, just like us? Would spiders draw pictures in their webs? Would narwhals sort blocks of ice by shape? Would insects know what's above and what's below? In this book, nature comes to life to help children grasp concepts of geometry, symmetry, and spatial sense.

If you were a quadrilateral, written by Molly Blaisdell, illustrated by Francesca Carabelli
What could you do if you were a quadrilateral? You could have four straight sides. You could be a checkerboard, a kite, or a yoga mat. What else could you be if you were a quadrilateral? Part of the Math fun series.
What's your angle, Pythagoras? A math adventure, written by Julie Ellis, illustrated by Phyllis Hornung
Young Pythagoras can't seem to stay out of trouble. Every time he tries to help, people get angry. What's a curious kid to do? On a trip to Egypt, Pythagoras's curiosity helps him discover the secret of the right triangle.

Sir Cumference and the great knight of Angleland: A math adventure, written by Cindy Neuschwander, illustrated by Wayne Geehan
To earn his knighthood, Radius must find and rescue a missing king. His father, Sir Cumference, and his mother, Lady Di of Ameter, give him a circular medallion (a protractor) that he uses to find his way through a maze of many angles.

Circles, stars, and squares: Looking for shapes, by Jane Brocket
Through vivid photographs, young readers can explore the difference between flat and solid shapes, and identify objects with these different shapes, including rectangular bricks and cube-shaped candies.
Starring shapes!, by Tania Howells
Shapes play supporting roles in the world around us, but which one will be the star of Shapeston Elementary School's play? Triangle has experience as a traffic sign, and Square moonlights as a postage stamp. Circle has been a lemon slice, Rectangle the cover of a magazine and Diamond a kite, while Oval has played a surfboard. Who gets the big role?
Non-Fiction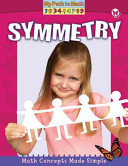 Symmetry, by Lynn Peppas
Grades: K-3. Familiar two- and three-dimensional geometric shapes from home and school are used to introduce children to symmetry and asymmetry, lines of symmetry, and congruence. Part of the My path to math series.
–

Geometry, by Penny Dowdy
Grades: K-3. This book offers the young reader a clear insight into understanding geometry. Colorful photographs show the reader how they can understand the properties and relations of points, lines, surfaces, solids, and higher dimensional analogs. Part of the My path to math series.
–

What shape is it?, by Bobbie Kalman
Grades: K-3. Almost every shape can be found in nature. The sun, moon, and Earth are circles and spheres. The wings of butterflies contain triangles, the cells of honeybees are hexagons, and the hood of the hooded mantis has a diamond shape. This book explains both flat shapes and 3-D shapes and shows examples of them all.
Shapes in math, science and nature: Squares, triangles and circles, written by Catherine Sheldrick Ross, illustrated by Bill Slavin
Grades: 4-7. The three most basic shapes — squares, triangles and circles — are all around us, from the natural world to the one we've engineered. Full of fascinating facts about these shapes and their 3D counterparts, as well as puzzles and activities, this book introduces young readers to the basics of geometry and reveals its applications at home, school and everywhere in between.
---
Finding More Resources
To find more resources in this area, try the following:
Search using the General tab on the UBC Library website to look for material in all UBC Library branches.
Search using "Search Education Resources" box in the left hand bar on the Education Library website to limit your results to materials in the Education Library.
Use specific search terms to narrow your results, such as "mathematics – study and teaching", "mathematical ability – testing", "geometry – study and teaching",   "trigonometry – study and teaching", or "shapes – juvenile literature".
To find lesson plans, include "lesson plans", "lesson planning", or "activity programs" in your search terms.
For more help with searching, please visit the Library Service Desk or e-mail ed.lib@ubc.ca.