Listed below are selected teacher resources related to student self-assessment and peer feedback.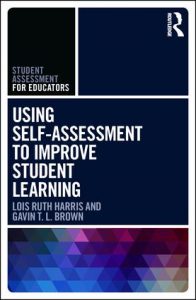 Using self-assessment to improve student learning, by Lois R. Harris and Gavin T. L. Brown
Grades: K-12. This book synthesizes research on self-assessment and translates it into actionable guidelines and principles for pre-service and in-service teachers and for school leaders, teacher educators, and researchers.The authors explore self-assessment's complexities and substantial promise to strategically move students toward self-regulated learning and internalized goals. (E-book only.)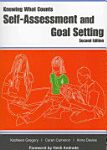 Self-assessment and goal setting, by Kathleen Gregory, Caren Cameron, and Anne Davies
Grades: K-12. The authors describe ways for teachers to create more involved students by including them in the assessment of their own work. The book provides ten self-assessment activities for students and details how to introduce the purpose of the activities to students, implement the activities, and provide different opportunities for practice. How to make goal setting a logical extension of self-assessment is also explored. Part of the Knowing what counts series.
The chameleonic learner: Learning and self-assessment in context, by Roseanna Bourke
Grades: 6-9. What do you say to a young person who tells you her brain is an eighth full? Or to the one who says he only knows he has learned something when he receives a stamp or a sticker? This book is about how learners conceptualize learning, how they self-assess their own learning and why context matters. It shows how, just as a chameleon changes colour, learners change and adapt their approach to learning depending on the situation.
Student self-assessment: A powerful process for helping students revise their writing, by Graham Foster
Grades: K-12. This book focuses on students' self-assessment of their written work, including the type of criteria that can be used for assessment in different genres of writing. The author also explores the links between self-assessment in writing and self-assessment in other areas of the curriculum.
–
Beyond testing: Seven assessments of students and schools more effective than standardized tests, by Deborah Meier and Matthew Knoester
Grades: K-12. This book focuses on a range of non-traditional ways in which teachers (and others) can assess students and school programs, including a chapter dedicated to student self-assessment.
–
Becoming reflective students and teachers: With portfolios and authentic assessment, by Scott G. Paris and Linda R. Ayres
Grades: K-6. The authors encourage teachers and parents to reflect on their own ideas about education and to encourage greater self-assessment by students through deeper engagement with meaningful learning in classrooms. They describe a variety of possible activities to provoke students' review of their own work, analyses of their motivation, appraisal of their learning strategies, and collaboration with others.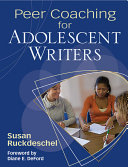 Peer coaching for adolescent writers, by Susan Ruckdeschel
Grades: 8-12. This book shows teachers how to teach students to articulate a purpose for their writing, formulate questions for feedback, provide constructive comments to their peers, and incorporate the critiques of their peers into their writing. It offers clear, step-by-step tips for implementing the peer coaching process, as well as ideas for using peer coaching across content areas.
Peer feedback in the classroom, by Starr Sackstein
Grades: 7-12. Peer feedback gives students control over their learning, and increases their engagement and self-awareness as learners. This book will help teachers establish a respectful, student-led learning environment that supports risk taking and honest sharing, and teach students to be adept peer strategists who can pinpoint areas of needed growth and move forward with specific strategies for improvement. (E-book only)
Effective peer learning: From principles to practical implementation, by Keith Topping et al.
Grades: K-12. Peer learning allows a positive use of differences between pupils, turning them into learning opportunities. This book will help practitioners establish well-structured and effective peer learning projects using a variety of methods. It introduces and defines cooperative learning (mutual peer interaction) and peer tutoring (directional peer interaction) – outlining general organizational principles that will help practitioners implement peer learning in either of these forms. (E-book only)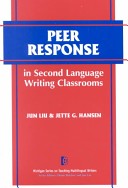 Peer response in second language writing classrooms, by Jun Liu and Jette G. Hansen
Grades: 6-12. The authors present a comprehensive survey of the research on peer response in second language writing instruction. They provide teachers with practical guidelines for making peer response effective in the classroom and offer a theoretical grounding on the purposes and importance of peer review, or feedback, as it relates to current writing instruction pedagogy.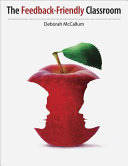 The feedback-friendly classroom: How to equip students to give, receive, and seek quality feedback that will support their social, academic, and developmental needs, by Deborah McCallum
Grades: K-6. This book explores using feedback to help students become better learners, examines the crucial use of verbal and nonverbal language to engage and guide students, and shows strategies and activities to establish and promote effective feedback within the classroom. It explores all types of feedback: from teacher to student, between students, and from student to teacher.
---
Finding More Resources
To find more resources in this area, try the following:
Search using the General tab on the UBC Library website to look for material in all UBC Library branches.
Search using "Search Education Resources" box in the left hand bar on the Education Library website to limit your results to materials in the Education Library.
Use specific search terms to narrow your results, such as "self-assessment", "Students–Self-rating of", "peer feedback", "peer teaching", or "peer coaching".
To find lesson plans, include "lesson plans", "lesson planning", or "activity programs" in your search terms.
For more help with searching, please visit the Library Service Desk or e-mail ed.lib@ubc.ca.