Listed below are selected teacher resources, picture books, and non-fiction related to the water cycle. You may also find useful resources on our Earth Sciences booklist.
Teacher Resources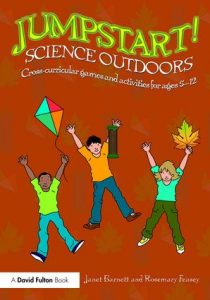 Jumpstart! Science outdoors: Cross-curricular games and activities for ages 5-12, by Janet Barrett and Rosemary Feasey
Grades: K-6. This collection of engaging and simple-to-use activities will jumpstart students' understanding of science by taking teaching and learning outdoors and linking it to a specific area of the curriculum. A wealth of practical activities in the book cover all areas from identifying, classifying and grouping to pattern seeking, making observations and comparative and fair testing. Includes a section on the water cycle. (E-book only)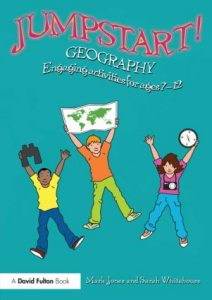 Jumpstart! Geography: Engaging activities for ages 7-12, by Mark Jones and Sarah Whitehouse
Grades: 2-6. This collection of simple to use and fun activities will jumpstart pupils' understanding of the geographical skills of inquiry, outdoor learning, understanding graphic representations, and communication. Pupils will develop their knowledge and understanding of people, places and issues through being encouraged to 'think geographically' about the world they live in.  Chapter 4 contains activities related to the water cycle. (E-book only)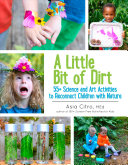 A little bit of dirt: 55+ science and art activities to reconnect children with nature, by Asia Citro
Grades: K-6. Through activities such as investigating the health of local streams, making acrylic sunprints with leaves and flowers, running an experiment with backyard birds, or concocting nature potions, this book suggests a range of ways to foster children's connection with nature. Includes activities related to the water cycle.
Integrating science with mathematics and literacy: New visions for learning and assessment, by Elizabeth Hammerman and Diann Musial
Grades: 3-9. Defining new visions for science, mathematics, and language arts education, the authors provide a clearly articulated set of performance assessments, allowing teachers to assess students' knowledge and abilities through investigation, problem solving, inventiveness, and inquiry. Chapter 8 focuses on the water cycle.
Picture Books

The great big water cycle adventure, written by Kay Barnham, illustrated by Maddie Frost
Follow the amazing journey water takes, from rivers and oceans, to raindrops, to rain, and back to the beginning again.
–
All the water in the world, written by George Ella Lyon, illustrated by Katherine Tillotson
Water comes from many places – taps, wells, rain, lakes, and more. But where does it go? This book illustrates the flow of this great world's life story.
–
Water land: Land and water forms around the world, written and illustrated by Christy Hale
Die-cut pages identify and contrast types of water bodies and their corresponding land masses to help young readers understand how connected the earth and the water really are.
–
Non-Fiction
The water cycle, by Frances Purslow
Grades: 2-3. This book introduces the cycle of water on the Earth's surface and discusses why water is so important to life on the planet. Includes information about how water molecules move, access to fresh water, water pollution, and more. Part of the Water science series.
–
What's so fresh about fresh water?, by Ellen Lawrence
Grades: 2-6. Earth is covered in water, yet just a tiny amount of that liquid is actually fresh water. Readers will learn about where liquid fresh water can be found on Earth's surface, the differences between fresh water and salt water, why water is essential for life on Earth, and what we can do to protect it.
–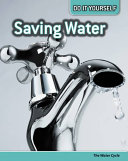 Saving water: The water cycle, by Buffy Silverman
Grades: 3-6. How much water should you drink in a day? Where does rain go? How does water shape the land? Explore the answers to these questions and more through experiments and activities, and learn more about the world around us. Part of the Do it yourself series.
–
Water wow! An infographic exploration, written by Antonia Bayard and Paula Ayer, illustrated by Belle Wuthrich
Grades: 4-7. Where did water come from before it got to Earth? Why is the water you drink the same stuff that was around when dinosaurs were alive? If water can't be created or destroyed, how can we run out? How does climate change affect water and vice versa? How are water access and girls' education worldwide connected? Find out the answers to these and many more questions through infographics.
Earth's water cycle, by Diane Dakers
Grades: 4-6. Water can be found in different forms all around us. This book explains how the Earth's supply of water moves from bodies of water, to the atmosphere, and to land in a process called the water cycle. The author explains such processes as transpiration, evaporation, condensation, and precipitation, as well as the important roles of sunlight and gravity in the water cycle.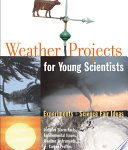 Weather projects for young scientists: Experiments and science fair ideas, by Mary Kay Carson
Grades: 4-7. From the everyday phenomena of wind and clouds to the awesome, destructive power of lightning, tornadoes, and hurricanes, children can explore weather in detail with this science activity book. More than 40 weather projects are included, such as building a model of the water cycle, creating a tornado in a bottle, calculating dew point, reading a weather map, building weather-measuring instruments, and more.
One well: The story of water on earth, written by Rochelle Strauss, illustrated by Rosemary Wells
Grades: 3-7. All water is connected. Every raindrop, lake, underground river and glacier is part of a single global well. Water has the power to change everything: a single splash can sprout a seed, quench a thirst, provide a habitat, generate energy and sustain life. How we treat the water in the well will affect every species on the planet, now and for years to come.
–
---
Finding More Resources
To find more resources in this area, try the following:
Search using the General tab on the UBC Library website to look for material in all UBC Library branches.
Search using "Search Education Resources" box in the left hand bar on the Education Library website to limit your results to materials in the Education Library.
Use specific search terms to narrow your results, such as "water–juvenile literature", "hydrologic cycle–juvenile literature", "weather", or "science–study and teaching".
To find lesson plans, include "lesson plans", "lesson planning", or "activity programs" in your search terms.
For more help with searching, please visit the Library Service Desk or e-mail ed.lib@ubc.ca.