Listed below are selected teacher resources for teaching the Science disciplines.
Inspiring young minds: Scientific inquiry in the early years, by Julie Smart
Grades: K-3. This book provides a concrete guide to using research-based principles of inquiry to help children explore their world, using case studies to focus on the teacher's interaction with children.
–
–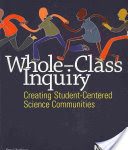 Whole-class inquiry: Creating student-centered science communities, by Dennis Smithenry and Joan Gallager-Bolos
Grades: 7-12. The authors present ideas, techniques and resources for implementing whole-class inquiry in the middle and high school science classroom.
–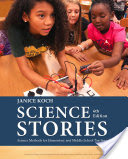 Science stories: Science methods for elementary and middle school teachers, by Janice Koch
Grades: K-8. Through narratives about science teaching and learning in real-world classrooms, this text demonstrates learning, important content, and strategies in action. Koch's approach guides teachers in discovering and exploring their scientific selves, enabling them to learn from students' experiences and become effective scientific explorers in their own classrooms.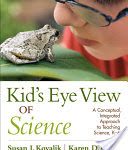 Kid's eye view of science: A conceptual, integrated approach to teaching science, K-6, by Susan J. Kovalik and Karen D. Olsen
Grades: K-6. The authors demonstrate how to teach science conceptually through the lens of "big ideas" such as change, interdependence, and adaptation. The book includes charts, graphics, forms, and summaries that help teachers translate abstract concepts into concrete lessons; a comprehensive discussion of brain research, including helpful tips to assimilate 10 body-brain-compatible elements into the classroom; and practical hands-on guidance for enriching science programs and improving student outcomes.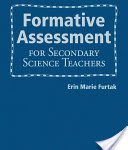 Formative assessment for secondary science teachers, by Erin Marie Furtak
Grades: 7-12. The author demonstrates how to create and implement formative assessments in all science content areas – physics/physical science, life science/biology, earth and space science, and chemistry – in middle and high school science classrooms. Five types of formative assessments are discussed: big idea questions, concept maps, evidence-to-explanation, predict-observe-explain, and multiple choice.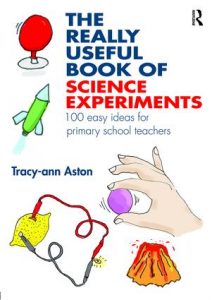 The really useful book of science experiments: 100 easy ideas for primary school teachers, by Tracy-ann Aston
Grades: K-6. This book provides simple-to-do science experiments that can be carried out by any teacher in a primary school classroom with minimal or no specialist equipment needed. Each experiment is accompanied by a subject knowledge guide, as well as suggestions for how to adapt each experiment to increase or decrease the challenge. (E-book)
–
Teaching science for understanding in elementary and middle schools, by Wynne Harlen
Grades: K-8. This book explores how to build on the ideas students already have to cultivate the thinking and skills necessary for developing an understanding of scientific aspects of the world, including investigating and drawing conclusions from data through analyzing, interpreting, and explaining.
Becoming scientists: Inquiry-based teaching in diverse classrooms, grades 3-5, by Rusty Bresser and Sharon Fargason.
Grades: 3-5. Using examples from classrooms where teachers practice inquiry science and engage students in science and engineering practices, the authors show teachers how to build on students' varied experiences, background knowledge, and readiness; respond to the needs of students with varying levels of English language proficiency; manage a diverse classroom during inquiry science exploration; and facilitate science discussions.
Differentiated science inquiry, by Douglas Llewellyn
Grades: K-8. The author gives teachers standards-based strategies for differentiating inquiry-based science instruction to more effectively meet the needs of all students. This book takes the concept of inquiry-based science education to a deeper level with the author's unique model, including fresh ideas for engaging students and practical tools for differentiating inquiry instruction.
99 jumpstarts for kids' science research, by Peggy J. Whitley and Susan Williams Goodwin
Grades: 4-8. The authors' pathfinder approach aids students in the research process, helping them define important terms, offer beginning questions to help narrow their topic, furnish source ideas, and engage in fun activities to explore each topic.
–
Science formative assessment: 75 practical strategies for linking assessment, instruction, and learning, by Page Keeley
Grades: K-12. This book presents 75 specific formative assessment classroom techniques (FACTs) to help K–12 science teachers determine students' understanding of key scientific concepts.
–
–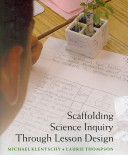 Scaffolding science inquiry through lesson design, by Michael Klentschy and Laurie Thompson
Grades: K-8. The authors explore the approach taken in the El Centro, California school district to create a well-designed, inquiry-based science curriculum, which raised student achievement in K-8 science across the district.
–
100 ideas for secondary teachers: Outstanding science lessons, by Ian McDaid
Grades: 9-12. This book presents 100 practical ideas and activities for science teachers to use in their daily lessons, as well as teaching and planning strategies for those lessons.
–
–
Arguing from evidence in middle school science: 24 activities for productive talk and deeper learning, by Jonathan Osborne, Brian M. Donovan, J. Bryan Henderson, et al.
Grades: 5-8. The authors share strategies and activities to help engage students in arguments about competing data sets, opposing scientific ideas, applying evidence to support specific claims, and more. The activities are drawn from the physical sciences, life sciences, and earth and space sciences.
---
Finding More Resources
To find more resources in this area, try the following:
Search using the General tab on the UBC Library website to look for material in all UBC Library branches.
Search using "Search Education Resources" box in the left hand bar on the Education Library website to limit your results to physical materials in the Education Library.
Use specific search terms to narrow your results, such as "science – study and teaching", "creative ability in science", "science – examinations, questions", etc.
To find lesson plans, include "lesson plans", "lesson planning", or "activity programs" in your search terms.
For more help with searching, please visit the Library Service Desk or e-mail ed.lib@ubc.ca.