Listed below are selected teacher resources, picture books, fiction, and non-fiction related to forces and motion.
Teacher Resources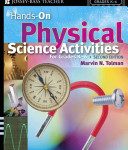 Hands-on physical science activities for grades K-6, by Marvin N. Tolman
Grades: K-6. This book's activities follow the discovery/inquiry approach and encourage students to analyze, synthesize, and infer based on their own hands-on experiences. Topics include the nature of matter, energy, light, sound, simple machines, magnetism, static electricity, and current electricity.
Explaining primary science, by Paul Chambers and Nicholas Souter
Grades: K-6.  The authors cover all the major areas of science relevant for beginning primary/elementary school teachers, explaining key concepts from the ground up. Topics include forces, matter, energy, biodiversity and ecosystems, water, light, sound, and more.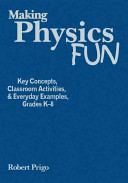 Making physics fun: Key concepts, classroom activities, & everyday examples, grades K-8, by Robert Prigo
Grades: K-8. The author provides fun and engaging activities using safe, available materials that educators can easily incorporate into lesson plans. Extensive examples, sample inquiry questions, and ideas for initiating units are available for teachers to pick and choose from to meet student needs. This resource addresses specific areas of physical science, including motion and force, waves and sound, light and electromagnetic waves, and more.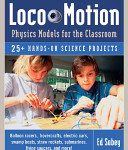 Loco-motion: Physics models for the classroom, by Ed Sobey
Grades: 5-8. This activity book contains  instructions and guidelines for building physics models that fly through the air, drive on the ground, or paddle through water. Each model is presented in a specific educational context, so teachers can instruct with hands-on experimentation. Students will explore science concepts such as gravity, air pressure, kinetic energy, Newton's laws, electrical circuitry, buoyancy, and inertia.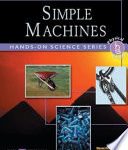 Simple machines, by Steven Souza and Joseph Shortell
Grades: 7-12. This book allows students to investigate force and motion through 17 activities that explore the mechanical advantage of the six types of simple machines: inclined planes, pulleys, gears, screws, levers and the wheel. The concepts of force, work and power are also explored.
The big ideas in physics and how to teach them: Teaching physics 11-18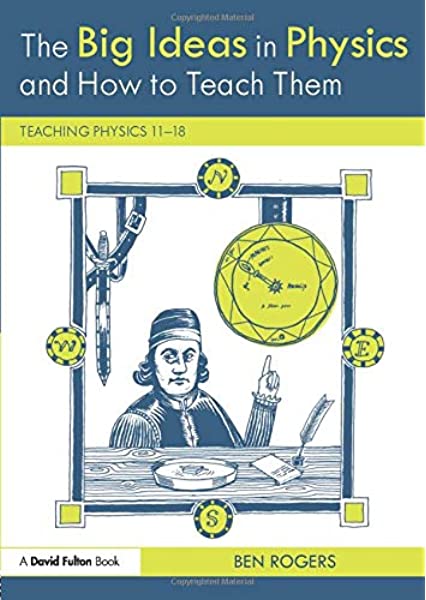 , by Ben Rogers
Grades: 7-12. Each chapter of this book provides the historical narrative behind a Big Idea, explaining its significance, the key figures behind it, and its place in scientific history. Accompanied by detailed ready-to-use lesson plans and classroom activities, the book contains not only a thorough explanation of physics, but also the applied pedagogy to ensure its effective translation to students in the classroom. Each of the five big ideas in physics are covered in detail: electricity, forces, energy, particles, and the universe. (E-book only.)
Picture Books
 I fall down, written by Vicky Cobb, illustrated by Julia Gorton
What happens when you trip or when you drop a ball? When something falls, which way does it fall? Down, down, down! Explore the force of gravity through this book.
Bird builds a nest, written by Martin Jenkins, illustrated by Richard Jones
Follow Bird as she spends the day building her nest, making sure that everything is in the right place to hold it together. Using a falling twig as an example, this book provides an introduction to physical forcers for early readers.
Fiction
 A crash course in forces and motion with Max Axiom, super scientist, written by Emily Sohn, illustrated by Steve Erwin and Charles Barnett III
Grades: 3-9. Zoom along as Max Axiom rides his way through a lesson in speed, acceleration, inertia, friction, and gravity. Young readers will discover the complex forces that keep the world running. Part of the Graphic Library series.
Non-Fiction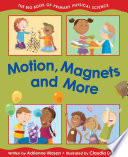 Motion, magnets and more: The big book of primary physical science, written by Adrienne Mason, illustrated by Claudia Dávila
Grades: K-6. Where do the bubbles come from in a piece of cake? Why do triangles make a structure stronger? And how come magnets don't stick to the wall? This introduction to the physical sciences gives young readers an easy-to-understand overview of such concepts as materials, forces, structures, solids, liquids and gases.
What is motion?, by Natalie Hyde
Grades: K-3. This book explores how objects are moved by a change in energy. Simple activities show young readers how energy is changed by applying a force, either by coming in contact with an object or by a force that does not touch it physically, like gravity.
Changing direction, by Natalie Hyde
Grades: K-3. This book explains how forces can change the direction of an object in motion. Simple explanations and activities help children understand the science behind forces.

Pushing and pulling, by Natalie Hyde
Grades: K-3. This book explains how a force, such as a push or a pull, can put an object in motion. Simple activities show how a force can move an object that is not moving or stop one that is moving.

Amazing forces and movement, by Sally Hewitt
Grades: 3-6. This new book introduces children to the concepts of push and pull, friction, and gravity, as well as how our own muscles use force to push us along. Examples include a huge magnet that attracts or pulls iron, wind pushing a water wheel to make it turn, and a skydiver's parachute slowing down the pull of gravity toward the ground.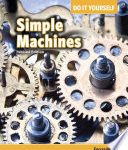 Simple machines: Forces in motion, by Buffy Silverman
Grades: 3-6. How did the Ancient Egyptians build the pyramids? What is an Archimedes' screw? Which wedge do you use every time you eat? This book helps you answer these questions and more through experiments and activities. Part of the Do it yourself series.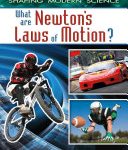 What are Newton's laws of motion?, by Denyse O'Leary
Grades: 5-8. This book examines how Sir Isaac Newton developed three basic laws that explain the way in which objects move. Readers will learn how Newton expanded on the work of other great scientists to make his important discovery, as well as how Newton's laws have influenced modern science and technology in areas such as sports and transportation. Part of the Shaping modern science series.
Forces and motion, by Casey Rand.
Grades: 5-8. This book explores questions such as how friction helps you ride a bicycle, how submarines keep from sinking, and what equilibrium is. Part of the Sci-Hi series, which presents middle-school science topics in a format appropriate for less skilled readers.
---
Finding More Resources
To find more resources in this area, try the following:
Search using the General tab on the UBC Library website to look for material in all UBC Library branches.
Search using "Search Education Resources" box in the left hand bar on the Education Library website to limit your results to materials in the Education Library.
Use specific search terms to narrow your results, such as "force and energy–juvenile literature", "motion–juvenile literature", or "physics–study and teaching".
To find lesson plans, include "lesson plans", "lesson planning", or "activity programs" in your search terms.
For more help with searching, please visit the Library Service Desk or e-mail ed.lib@ubc.ca.