Listed below are selected teacher resources, picture books, and non-fiction related to maps and mapping.
Teacher Resources
Dynamic social studies, by George W. Maxim
Grades: K-6. This book presents a range of effective ways to teach social studies to elementary school students, with the hope of inspiring them to become informed, rational, and culturally responsive citizens. It focuses on motivation, creativity, and the examples of experienced teachers to help readers breathe life into their social studies teaching. Includes multiple sections on maps and mapping specifically.
Learning and teaching with maps, by Patrick Wiegand
Grades: K-8. A comprehensive and authoritative account of how primary school children and teachers can use maps to enhance learning and deepen understanding of this essential skill. Includes all aspects of map use, such as reading and interpreting maps and using maps to find the way, covering maps of all scales, including globes and atlases. eBook
–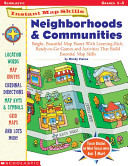 Instant map skills: Neighborhoods & Communities, by Wendy Vierow
Grades: 1-3. Includes a large wall map and accompanying activities to teach map skills such as cardinal directions, reading a map key, and following a route.
–
–
Picture Books

Mapping Sam, by Joyce Hesselberth
An adventurous cat named Sam explores her neighbourhood at night, with maps of all types revealing the spots she visits and different points of view.
–
–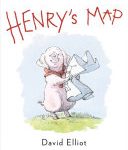 Henry's Map, by David Elliot
Henry the pig makes a map to show where everything goes on the farm he lives in. But after he's done, he and the other animals discover a problem!
–
–

Quest, by Aaron Becker
Two children must follow a map given to them by a mysterious king to save both him and his kingdom from dark forces.
–
–
Mapping Penny's world, by Loreen Leedy
When Lisa's teacher tells the class that they can make a map of anywhere, Lisa decides to map all of her dog Penny's favourite locations.
–
–
Non-Fiction

Rookie read-about geography: Map skills series, by various authors
Grades: K-1. The four books in this series – Latitude and Longitude, Map Keys, Looking at Maps and Globes, and Map Scales – each highlight a different aspect of map reading.
–
–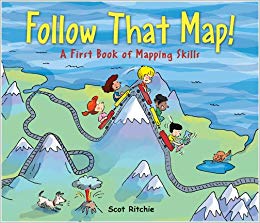 Follow that map! A first book of mapping skills, by Scot Ritchie
Grades: K-3. Using maps, learners can follow Sally as she searches for her missing cat and dog, and can try making a map of their own bedroom at the end of the book.
–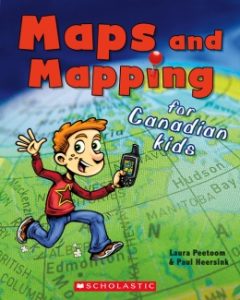 Maps and mapping for Canadian kids, by Laura Peetom & Paul Heersink
Grades: 1-4. Discusses concepts such as scale, symbols, and colour and how they relate to reading maps. Also touches on basic principles of navigation and how they're used to explore and chart the world.
–
–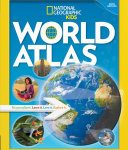 National Geographic Kids World Atlas, by National Geographic Society
Grades: 3-8. The 5th edition of this well-known atlas includes new features such as a thematic map on endangered species, a map about the region of Central Africa, and an expanded Antarctica section.
–
–
 How does GPS work?, by Leon Gray
Grades: 4-6. When taking a road trip today, some sort of GPS device is essential. It may be built into the car's dashboard, or perhaps it's just an app on a smartphone. But GPS is used for more than just finding your way! Readers will be fascinated by its many uses, such as catching criminals, predicting earthquakes, and creating maps.
–
 Map types, by Ann Becker
Grades: 4-8. This book explores what maps are, what kinds of maps there are – like road maps, topographical maps, and globe – and how maps are created and used. Part of the All over the map series.
–
–
 Map parts, by Kate Torpie
Grades: 4-8. This book examines the essential parts of maps through carefully chosen examples. Part of the All over the map series.
–
–
 Drawing maps, by Kate Torpie
Grades: 4-8. The author demonstrates how maps are made at different scales and for a variety of purposes, and gives easy-to-follow instructions on how to draw maps. Part of the All over the map series.
–
–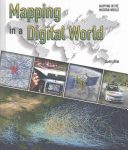 Mapping in a digital world, by James Bow
Grades: 4-8. This book explores how map making is changing due to new developments in technology: from satellite data, to videos from the internet, to computer game technology. Part of the Mapping in the modern world series.
–
---
Finding More Resources
To find more resources in this area, try the following:
Search using the General tab on the UBC Library website to look for material in all UBC Library branches.
Search using "Search Education Resources" box in the left hand bar on the Education Library website to limit your results to materials in the Education Library.
Use specific search terms to narrow your results, such as "Maps –Juvenile fiction", "Maps–Juvenile literature", "Atlases–Juvenile literature", or "Map reading–Juvenile literature".
To find lesson plans, include "lesson plans", "lesson planning", or "activity programs" in your search terms.
For more help with searching, please visit the Library Service Desk or e-mail ed.lib@ubc.ca.