Listed below are selected teacher resources, picture books, and non-fiction related to figurative language.
Teacher Resources
The writing strategies book: Your everything guide to developing skilled writers with 300 strategies, by Jennifer Serravallo
Grades: K-6. From the author of The reading strategies book, this book presents a wide range of techniques to allow teachers to develop individual goals for every writer, give students step-by-step instructions for writing with skill and craft, coach writers using prompts aligned with a strategy, present mentor texts that support a genre and strategy, and more. Goal 7 includes discussion of figurative language.
–
The reading strategies book: Your everything guide to developing skilled readers, by Jennifer Serravallo
Grades: K-6. This book presents a wide range of techniques to allow teachers to develop individual goals for every reader, give students step-by-step instructions for reading with skill, guide readers using prompts aligned with a strategy, adjust instruction to meet individual needs, and more. Goal 11 includes discussion of figurative language.
–
Poetry – From reading to writing: A classroom guide for ages 7-11, by Robert Hull
Grades: 2-6. The author uses poems from a range of authors to show how creative readings of poems can spark a child's imagination and lead to original writing. Students are encouraged to write different forms of poetry, including rhyming and non-rhyming poems, haiku, free verse, narrative poems, and more. Chapter 7 includes discussion of figurative language. (E-book only)
–
Let's poem: The essential guide to teaching poetry in a high-stakes, multimodal world, by Mark Dressman
Grades: 7-12. This guide presents multiple approaches to teaching poetry at the middle and high school levels. The author explores how to preserve the fun of poetry while also developing critical writing and analysis skills, how to introduce students to the basic formal elements of classic and contemporary poetry, and how to expand their repertoires through the use of digital technology and the Internet. The chapter on "Skin Poetry" discusses figurative language.
–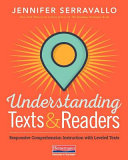 Understanding texts and readers: Responsive comprehension instruction with leveled texts, by Jennifer Serravallo
Grades: K-6. The author examines a number of areas of text comprehension, including how plot and setting, character, vocabulary and figurative language, and themes and ideas change as fiction become more complex; as well as how the complexity of main idea, key details, vocabulary, and text features increases in nonfiction texts.
–
Narrative writing: Learning a new model for teaching, by George Hillocks Jr.
Grades: 9-12. This book demonstrates how focusing classroom activities on producing content, rather than form, boosts students' engagement and makes them active learners. The author shows how "at-risk" kids' competencies increase significantly as they are taught how to complete important writing tasks such as incorporating detail and figurative language, creating dialogue, expressing inner thoughts, portraying people and action, and more.
–
Picture Books
The cat's pajamas, by Wallace Edwards
This book depicts 26 idioms, bringing new meaning to familiar sayings and tickling your funny bone with a surreal illustration on each page. To ensure you get the hang of it, each expression is used in a sentence and explained at the back of the book.
–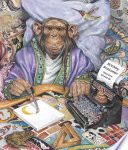 Monkey business, by Wallace Edwards
From a fish opening a "can of worms" to a tap-dancing octopus putting his "best foot forward," these familiar idioms are re-imagined in hilarious and unexpected ways. The idioms are used in a sentence that accompanies each illustration, and the meaning of each one is explained at the end of the book.
–

My grandma likes to say, written by Denise Brennan-Nelson, illustrated by Jane Monroe Donovan
Thousands of proverbs and idioms can be found in the English language – like "a horse of a different colour" and "a bull in a tea shop". Derived from many different sources, these expressions are a link to history and culture, and can be an instructive tool in language education.
–

My teacher likes to say, written by Denise Brennan-Nelson, illustrated by Jane Monroe Donovan
Students often hear maxims and sayings on a regular basis in the classroom. From "Do you have ants in your pants?" to "Stick together!" and "Great minds think alike," readers will be intrigued by the history of these adages, told in poetry form as well as expository text, and amused by the illustrations, depicting these sayings as a child might imagine them.
–

My momma likes to say, written by Denise Brennan-Nelson, illustrated by Jane Monroe Donovan
Parents say strange things sometimes – what does it REALLY mean when your mom says "Hold your horses", "I have eyes in the back of my head", or "Money doesn't grow on trees"?
–
There's a frog in my throat: 440 animal sayings a little bird told me, written by Loreen Leedy and Pat Street, illustrated by Loreen Leedy
This book goes hog-wild with this collection of animal sayings. From lucky ducks to odd ducks to sitting ducks to just plain quacks, this book presents a wealth of sayings alongside fun-filled art bursting with color and energy. Each expression is clearly explained so no reader feels like a silly goose.
–

Picture the sky, by Barbara Reid
Wherever we may be, we share the same sky. But every hour, every day, every season, whether in the city or the forest, it is different. The sky tells many stories: in the weather, in the clouds, in the stars, in the imagination. This book envisions the sky above and around us in all its moods.
–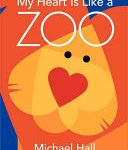 My heart is like a zoo, by Michael Hall
A heart can be hopeful, or silly, or happy. A heart can be rugged, or snappy, or lonely. A heart holds every different feeling, and for each one, the author an animal out of heart shapes, from "eager as a beaver" to "angry as a bear" to "thoughtful as an owl."
–
My best friend is sharp as a pencil: And other funny classroom portraits, by Hanoch Piven
When her grandma asks her about school, a girl draws a class portrait, adding details – using unexpected objects to illustrate her point – that show what makes each person special.
–
The day the crayons quit, written by Drew Daywalt, illustrated by Oliver Jeffers
Duncan opens his box of crayons and finds…only letters! The personified crayons are fed up, and they've all quit. What can Duncan do to make them all happy, so he can get back to colouring?
–
What noise do I make?, by Brian McLachlan
We all know dogs woof and cats meow — but what noises do ostriches or peacocks or kookaburras make? Look no further for the onomatopoeic answers than this book. For instance: did you know alligators go WOARRRRGH, walruses go HOARF, and zebras go squirp squirp?
–
Red sings from treetops: A year in colors, written by Joyce Sidman, illustrated by Pamela Zagarenski
These poems bring the colours of the seasons to life in a fresh light, personifying them and combining the senses of sight, sound, smell and taste. The interpretations go beyond the concrete, allowing readers to not just see colour, but feel it.
–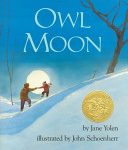 Owl moon, written by Jane Yolen, illustrated by John Schoenherr
Late one winter night a little girl and her father go owling. The trees stand still as statues and the world is silent as a dream. Whoo-whoo-whoo, the father calls to the mysterious nighttime bird. But there is no answer. Wordlessly the two companions walk along, for when you go owling you don't need words. You don't need anything but hope.
–
Even more parts: Idioms from head to toe, by Tedd Arnold
A young boy is worried about what will happen to his body when he hears such expressions as "I'm tongue-tied," "Don't give me any of your lip," and "I put my foot in my mouth."
–
–
Non-Fiction
Understanding sayings, by Robin Johnson
Grades: 3-6. Idioms, adages, and proverbs are common expressions and sayings that have meanings beyond what can be understood by their individual words. This book identifies the purpose of each figurative language form and provides strategies to help young readers decode the meanings of these non-literal expressions.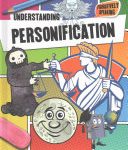 Understanding personification, by Robin Johnson
Grades: 3-6. Attributing human qualities to an object or idea is a form of figurative language called personification. This resource provides readers with strategies to recognize and decode this literary device. Examples and images make the words in this book "leap off the page!"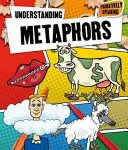 Understanding metaphors, by Robin Johnson
Grades: 3-6. This book helps children identify and understand the meaning of metaphors. Familiar examples are used to help them learn how to decode this often tricky figurative language form and distinguish it from a simile, which will expand children's reading comprehension and give them skills to add creativity to their writing.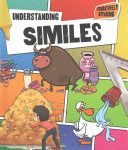 Understanding similes, by Robin Johnson
Grades: 3-6. This imaginative title helps children identify and decipher the meaning of similes. Accessible text and engaging examples support a solid understanding of this figurative language form, helping with both reading comprehension and creative writing.
---
Finding More Resources
To find more resources in this area, try the following:
Search using the General tab on the UBC Library website to look for material in all UBC Library branches.
Search using "Search Education Resources" box in the left hand bar on the Education Library website to limit your results to materials in the Education Library.
Use specific search terms to narrow your results, such as "English language–idioms", "figures of speech", or "English language–composition and exercises".
To find lesson plans, include "lesson plans", "lesson planning", or "activity programs" in your search terms.
For more help with searching, please visit the Library Service Desk or e-mail ed.lib@ubc.ca.