Listed below are selected teacher resources, picture books, fiction, and non-fiction related to persuasive texts.
Teacher Resources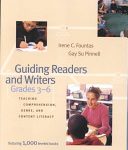 Guiding readers and writers, grades 3-6: Teaching Comprehension, Genre, and Content Literacy, by Irene C. Fountas and Gay Su Pinnell
Grades: 3-6. The authors explore six essential components of a literacy program: breakthrough to literacy, independent reading, guided reading, literature study, teaching for comprehension and word analysis, and the reading and writing connection.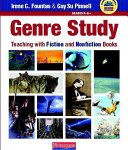 Genre study: teaching with fiction and non-fiction books, grades K-8+, by Irene C. Fountas and Gay Su Pinnell
Grades: K-8. This book uses an inquiry approach to engage students in exploring texts so that they can notice and name the characteristics of each genre and construct a working definition that guides their thinking of reading and writing.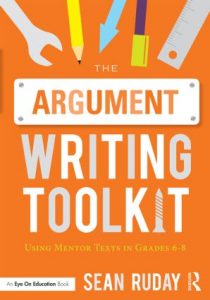 The argument writing toolkit: Using mentor texts in grades 6-8, by Sean Ruday
Grades: 6-8. The author explores how teach students to analyze the qualities of effective arguments using mentor texts, and then use those qualities as tools to improve their own writing. The book describes how to introduce high-interest topics to students to get them engaged in argument writing; teach students to look at multiple sides of an issue and critically evaluate evidence to construct informed, defensible arguments; and make argument writing an interactive, student-driven exercise. (E-book only)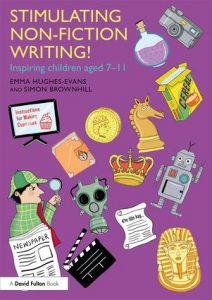 Stimulating non-fiction writing!: Inspiring children aged 7-11, by Emma Hughes-Evans and Simon Brownhill
Grades: 2-6. This book offers ways to engage children in non-fiction writing, giving teachers the confidence and practical advice that they need to support children in producing quality non-fiction texts in the classroom. Types of texts explored include instructions, persuasive texts, reports, and correspondence. (E-book only)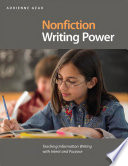 Nonfiction writing power: Teaching information writing with intent and purpose, by Adrienne Gear
Grades: K-6. This book is designed to help teachers develop a writing program that will enable their students to harness all of their nonfiction writing powers: to describe, to instruct, to compare, to persuade, to explain, and to report. It illustrates ways to encourage students to write because they have something to say, and to recognize that writing well means considering intent and purpose, and choosing the best form of expression.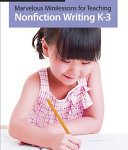 Marvelous minilessons for teaching: Nonfiction writing K-3, by Lori Jamison Rog
Grades: K-3. This book shows that even the youngest writers can consider audience and purpose as they use nonfiction writing to document their ideas and share those ideas with others. Forty minilessons offer strategies for writing informational, persuasive and procedural text. Each lesson starts with a learning goal and follows an "I do, We do, You do" format.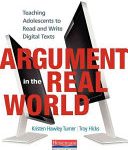 Argument in the real world: Teaching adolescents to read and write using digital texts, by Kristin Hawley Turner and Troy Hicks
Grades: 9-12. Digital texts influence what students buy, who they vote for, and what they believe about themselves and their world. In this book, the authors draw from real world texts and samples of student work to share insights and practical strategies in teaching students the logic of argument, whether those arguments are streaming in through a Twitter feed, a viral videos, or internet memes.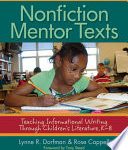 Nonfiction mentor texts: Teaching informational writing through children's literature, K-8, by Lynne R. Dorfman and Rose Cappelli
Grades: K-8. The authors identifying a wide range of mentor texts and show how these models illustrate the key features of good writing.The book guides teachers through a variety of projects, samples, and classroom anecdotes that demonstrate how teachers can help students become more effective writers of good nonfiction.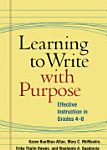 Learning to write with purpose: Effective instruction in grades 4-8, by Karen Kuelthau Allan et al.
Grades: 4-8. Communicating ideas and information is what makes writing meaningful, yet many students write without considering the aims of their writing or the needs of their readers. This book shares techniques to promote the skills and strategies need to write and revise effectively in a range of genres, including persuasive, expository and procedural writing; narratives; and poetry.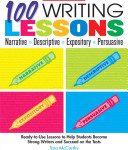 100 writing lessons: Narrative, descriptive, expository, persuasive, by Tara McCarthy
Grades: 4-8. This collection of quick writing lessons and activities will help teachers to find exactly what they need for teaching writing, whether it's a lesson on using exact words, writing an essay, developing a plot, or organizing a report. The author shares dozens of ideas for teaching students the persuasive, narrative, descriptive, and expository writing skills they need.
Picture Books Demonstrating Persuasive Writing
Click, clack, moo: Cows that type, written by Doreen Cronin, illustrated by Betsy Lewin
Farmer Brown's cows have found a typewriter in their barn, so they start typing out what they'd like the farmer to change about how the farm works. When he refuses to meet their demands, the cows go on strike.
The day the crayons quit, written by Drew Daywalt, illustrated by Oliver Jeffers
Duncan opens his box of crayons and finds…only letters! The crayons are fed up, and they've all quit. What can Duncan do to make them all happy, so he can get back to colouring?

 I wanna iguana, written by Karen Kaufman Orloff, illustrated by David Catrow
Alex wants an iguana. His mother doesn't think that's such a great idea. The two write an increasingly dramatic (and funny) series of notes back and forth explaining their positions on the issue.

Duck! Rabbit!, written by Amy Krouse Rosenthal, illustrated by Tom Lichtenheld
Sometimes it's hard to give up your side of an argument – especially when it's over the age-old illusion of whether this picture is a duck or a rabbit.
Have I got a book for you!, by Mélanie Watt
Al Foxword wants to sell you a book. A great book – not one of those books that leave you bored and uninspired. Not convinced? Just let Al persuade you…
–
–
Don't let the pigeon drive the bus!, by Mo Willems
When the bus driver needs to take a break, a pigeon volunteers to take over. But can he persuade you that he can do it?
–
–
Non-Fiction Related to or Demonstrating Persuasive Writing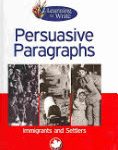 Persuasive paragraphs: Immigrants and settlers, by Frances Purslow
Grades: 3-7. For more books in the "Learning to Write" series, click here.
–
–
–
Can we save the tiger?, written by Martin Jenkins, illustrated by Vicky White
Grades: K-3. The tiger is just one of thousands of animals — including the ground iguana, the white-rumped vulture, and the partula snail — currently in danger of becoming extinct. This book looks at the ways human behaviour can either threaten or conserve the amazing animals that share our planet.
---
Finding More Resources
To find more resources in this area, try the following:
Search using the General tab on the UBC Library website to look for material in all UBC Library branches.
Search using "Search Education Resources" box in the left hand bar on the Education Library website to limit your results to materials in the Education Library.
Use specific search terms to narrow your results, such as "persuasive texts", "English language – composition and exercises", "persuasion (rhetoric) – study and teaching", or "composition (language arts)".
To find lesson plans, include "lesson plans", "lesson planning", or "activity programs" in your search terms.
For more help with searching, please visit the Library Service Desk or e-mail ed.lib@ubc.ca.