Listed below are selected teacher resources for selecting and presenting read-aloud books, as well as several picture books which are good for read-aloud time.
Teacher Resources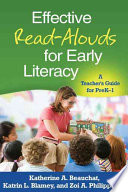 Effective read-alouds for early literacy: A teacher's guide for preK-1, by Katherine Beauchat et al.
Grades: K-1. This guide provides effective strategies for selecting books and using read-alouds to develop children's oral language, vocabulary, concepts of print, alphabet knowledge, phonological awareness, and comprehension. The authors take teachers step by step through planning and setting goals for read-alouds, as well as reflecting on each lesson to inform future instruction.
Unwrapping the read aloud: Making every read aloud intentional and instructional, by Lester L. Laminack
Grades: K-5. The author suggests that the read aloud for students can be one of the most potent instructional moments of the school day, but thoughtful planning is required. Intentional read alouds require purposely selecting texts and times with the intent to inspire students to read and write, invest in students' language and understandings, and instruct across the curriculum.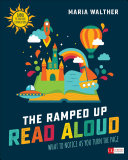 The ramped-up read aloud: What to notice as you turn the page, by Maria Walther
Grades: K-3. The author shares two-page read aloud plans for 101 picture books to help teachers consider what to notice, say, and wonder in order to bolster students' literacy. The intention is to spark instructional conversations around each book's cover illustration, enriching vocabulary words, literary language, and the ideas and themes vital to young learners.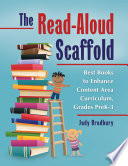 The read-aloud scaffold: Best books to enhance content area curriculum, grades preK-3, by Judy Bradbury
Grades: K-3. One easy way to provide content area instruction to very young readers is by scaffolding beneficial learning subjects within memorable read-aloud activities. This book offers teachers and librarians over 700 content area connections through carefully selected children's trade books, including both fiction and non-fiction titles.
The read-aloud handbook, by Jim Trelease
Grades: K-12. The sixth edition of this work imparts the benefits, rewards, and importance of reading aloud to children of a new generation. Supported by both anecdotes and the latest research, the author offers techniques and strategies—and the reasoning behind them—for helping children discover the pleasures of reading and setting them on the road to becoming lifelong readers.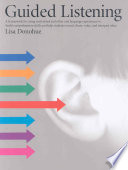 Guided listening: A framework for using read-aloud and other oral language experiences to build comprehension skills and help students record, share, value, and interpret ideas, by Lisa Donohue
Grades: K-6. This book illustrates how teachers can champion purposeful listening and help students better understand their language strengths and needs. It offers a practical framework that shows the value of recording and sharing the ideas of others; provides opportunities to identify the norms and conventions associated with oral language; and frees students to listen more attentively, organize their responses, and watch for the subtle cues that are an important part of listening.
–
Picture Books
The book with no pictures, by B. J. Novak
It's true – this is a picture book with no pictures. But the reader has to say every silly word that's on the page, no matter what…even if it's "BLUURF".
–
–
You don't want a unicorn!, written by Ame Dyckman, illustrated by Liz Climo
When a little boy throws a coin into a wishing well and asks for a pet unicorn, he has no idea what kind of trouble he's in for. Unicorns make the absolutely worst pets: they shed, they make a big mess, and they poke holes in your ceiling!
–

It's okay to be different, by Todd Parr
It's okay to need some help. It's okay to be a different colour. It's okay to talk about your feelings. Todd Parr shows lots of ways in which it's okay to be different – you can probably think of even more. (For more books by Todd Parr, click here.)
–
School's first day of school, written by Adam Rex, illustrated by Christian Robinson
Everyone gets a little nervous on the first day of school – including the school! What will the children do once they come? Will they like the school? Will they be nice to him?
–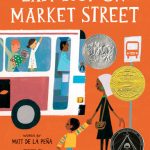 Last stop on Market Street, written by Matt de la Peña, illustrated by Christian Robinson
Every Sunday after church, CJ and his grandma ride the bus across town. But today, CJ wonders why they don't own a car like his friend Colby, and why doesn't he have an iPod like the boys on the bus. Each question is met with an encouraging answer from his grandma.
–
Chicken, pig, cow, by Ruth Ohi
Pig, Chicken and Cow think their barn home is perfect. The only thing that isn't perfect is Dog, whose drool makes it feel as if it's raining in the barn. One day, Pig and Chicken decide to go exploring, leaving Cow behind. When Dog tips the barn over, Pig and Chick must make a daring rescue.
–
Mr. Zinger's hat, written by Cary Fagan, illustrated by Dušan Petričić
When Leo is playing ball in the courtyard, he runs into Mr. Zinger, a man with a hat who makes up stories. Together, they build a new story, with Mr. Zinger providing most of the plot while Leo fills in the details.
–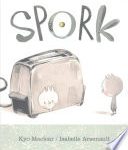 Spork, written by Kyo Maclear, illustrated by Isabelle Arsenault
His mum is a spoon. His dad is a fork. And Spork is a bit of both of them. He never gets chosen to be at the table at mealtimes until one day a very messy … thing arrives in the kitchen who has never heard of cutlery customs.

–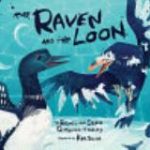 The raven and the loon, written by Rachel and Sean Qitsualik-Tinsley, illustrated by Kim Smith
In the time before animals were as they are today, Raven and Loon were both white. Raven spent his days swooping through the sky trying to fight off boredom, while Loon spent her days in her iglu sewing. One day, too bored to even fly, Raven visited Loon and suggested a sewing game that would give their feathers some much-needed colour.
–
---
Finding More Resources
To find more resources in this area, try the following:
Search using the General tab on the UBC Library website to look for material in all UBC Library branches.
Search using "Search Education Resources" box in the left hand bar on the Education Library website to limit your results to materials in the Education Library.
Use specific search terms to narrow your results, such as "oral reading", "reading (elementary)", or "children — books and reading".
To find lesson plans, include "lesson plans", "lesson planning", or "activity programs" in your search terms.
For more help with searching, please visit the Library Service Desk or e-mail ed.lib@ubc.ca.