Below are selected wordless picture books which can be used in the ELA classroom.

Flotsam, by David Wiesner
On a trip to the beach, a science-minded boy makes a discovery that sparks his imagination like never before.
–
The Journey Trilogy, by Aaron Becker
These three books – Journey, Quest, and Return – follow the adventures of a young girl who draws a door in her wall with a marker. She meets a strange boy, has to rescue a king and a kingdom, and eventually finds her way back home.
–

Wave, by Suzy Lee
A little girl is nervous during her first visit to the beach, but she gradually loses her fear of the roaring waves.
–
Unspoken: A story from the Underground Railroad, by Henry Cole
When a farm girl discovers a runaway slave hiding in the barn, she is at once startled and frightened. But the stranger's fearful eyes weigh upon her conscience, and she must make a difficult choice. Will she have the courage to help him?
–

Sidewalk flowers, story by JonArno Lawson, illustrated by Sydney Smith
A little girl collects wildflowers while on a walk with her distracted father. Each flower becomes a gift, and whether the gift is noticed or ignored, both giver and recipient are transformed by their encounter.
–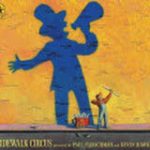 Sidewalk circus, story by Paul Fleischman, illustrated by Kevin Hawkes
A young girl watches as the everyday activities across the street from her bus stop – like putting up posters, washing windows, or climbing a ladder – become a circus.
–
Wolf in the snow, by Matthew Cordell
When a wolf cub and little girl are both lost in a snowstorm, they must help each other to find their way home.
–
The lion and the mouse, by Jerry Pinkney
After a ferocious lion in the Serengeti plains spares a cowering mouse that he'd planned to eat, the mouse later comes to his rescue, freeing him from a poacher's trap.
–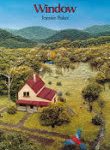 Window, by Jeannie Baker
The events and changes in a young boy's life and in his environment, from babyhood to grownup, are shown through wordless scenes observed from the window of his room.
–
The red book, by Barbara Lehman
This book is about a book: a magical red book without any words. It crosses oceans and continents to deliver one girl into a new world of possibility, where a friend she's never met is waiting.
–

Bluebird, by Bob Staake
Follow the journey of a bluebird who becomes friends with a lonely and bullied young boy, and ultimately saves the boy's life.
–
---
Finding More Resources
To find more resources in this area, try the following:
Search using the General tab on the UBC Library website to look for material in all UBC Library branches.
Search using "Search Education Resources" box in the left hand bar on the Education Library website to limit your results to physical materials in the Education Library.
Use specific search terms, such as "stories without words" or "stories without words – juvenile fiction".
To find lesson plans, include "lesson plans", "lesson planning", or "activity programs" in your search terms.
For more help with searching, please visit the Library Service Desk or e-mail ed.lib@ubc.ca.