Listed below are selected teacher resources, picture books, fiction, and non-fiction related to making and makerspaces.
Teacher Resources
The literacy of play and innovation: Children as makers, by Christiane Wood
Grades: K-5. This book demonstrates what innovative education looks like from a literacy perspective. Through an in-depth case study of a "maker" school's innovative design, the author shows demonstrates that children's inspiration, curiosity, and creativity is a direct result of the school environment. Readers will understand literacy learning through making and the creative approaches embedded in early literacy classroom practices. (E-book only)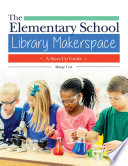 The elementary school library makerspace: A start-up guide, by Marge Cox
Grades: K-6. This guide shows librarians and teachers the specific steps to successfully starting an elementary school library makerspace without blowing the budget. The author offers dozens of makerspace examples for each grade level by content area, including ones for language arts, math, science, engineering, arts, social studies, and technology. (E-book only)
The big book of makerspace projects: Inspiring makers to experiment, create and learn, by Colleen Graves and Aaron Graves
Grades: K-12. This interactive, easy-to-follow guide describes classroom-tested, low-cost do-it-yourself and makerspace projects which foster creativity and inspire imagination. Projects range from paper and sewing circuits to e-textiles, and from musical instruments to 3-D printing.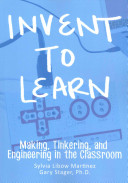 Invent to learn: Making, tinkering, and engineering in the classroom, by Sylvia Libow Martinez and Gary Stager
Grades: K-12. Children are natural tinkerers, and the maker movement overlaps with both their natural inclinations and the power of learning by doing. This book helps educators bring the opportunities of the maker movement to every classroom. Even without expensive hardware, the classroom can become a makerspace where students and teachers learn together through direct experience with an assortment of high and low-tech materials.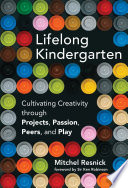 Lifelong kindergarten: Cultivating creativity through projects, passion, peers, and play, by Mitchel Resnick
Grades: K-12. To thrive in today's fast-changing world, people of all ages must learn to think and act creatively—and the best way to do that is by focusing more on imagining, creating, playing, sharing, and reflecting, just as children do in traditional kindergartens. The author argues that by providing young people with opportunities to work on projects, based on their passions, in collaboration with peers, in a playful spirit, they can be prepared for a world where creative thinking is more important than ever before.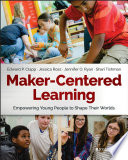 Maker-centered learning: Empowering young people to shape their worlds, by Edward P. Clapp et al.
Grades: K-12. The authors provide both a theoretical framework and practical resources for educators, curriculum developers, librarians, administrators, and parents navigating this growing field. The book identifies a set of educational practices and ideas that define maker-centered learning, introduces the focal concepts of maker empowerment and sensitivity to design, shares cutting edge research that provides evidence of the benefits of maker-centered learning for students and education as a whole, and more. (E-book only)
Worlds of making: Best practices for establishing a makerspace for your school, by Laura Fleming
Grades: K-12. This book explores the knowledge, planning and practices to take into account when starting a school makerspace, including background on the maker movement, planning and setting up the space, creating a maker culture in the school, and showcasing students' work from the makerspace.
Making makers: Kids, tools, and the future of innovation, by AnneMarie Thomas
Grades: K-12. This book explores the intersections of learning and making, and builds a case for why it is crucial to encourage today's youth to be makers. For those who are new to the Maker Movement, some history and introduction is given as well as practical advice for getting kids started in making. For those who are already familiar with the Maker Movement, the author highlights many of the attributes that make this a movement that so many people are passionate about.
The 20Time project: How educators can launch Google's formula for future-ready innovation, by Kevin Brookhouser
Grades: 7-12. To help inspire innovation and creativity, Google offers employees 20% of their time to work on a project of their choosing. The author suggests that "20time" in schools can meet learning goals while creating experiences that lead to increased motivation, creativity, and critical thinking. This book illustrates how to develop a 20time program in middle and high schools across curricula, effectively communicate the rationale of the program to administrators, parents, and students, and execute the program successfully.
STEM-rich maker learning: Designing for equity with youth of color, by Angela Calabrese Barton and Edna Tan
Grades: 8-12. In recent years, maker-centered learning has emerged in schools and other spaces as a promising new phase of STEM education reform. With a sharp focus on equity, the authors investigate community-based STEM making programs to determine whether, and how, they can address the educational needs of youth of color. The book features examples that show how youth of color from low-income backgrounds innovate and make usable artifacts to improve their lives and their communities.
Picture Books
Rosie Revere, engineer, written by Andrea Beaty, illustrated by David Roberts
Rosie seems quiet during the day, but at night she's a brilliant inventor of gizmos and gadgets. When her great-great-aunt Rose comes for a visit and mentions her one unfinished goal—to fly—Rosie sets to work building a contraption to make her aunt's dream come true. When her contraption only hovers for a moment and then crashes, Rosie deems the invention a failure – but was it really?
The most magnificent thing, by Ashley Spires
A little girl and her dog set out to make the most magnificent thing. When it doesn't turn out the way they expect, they step back and think about what they need to do next.
–
Marvelous Mattie: How Margaret E. Knight became an inventor, by Emily Arnold McCully
Mattie could make almost anything, like toys, sleds, or a foot warmer. When she was just twelve years old, Mattie designed a metal guard to prevent shuttles from shooting off textile looms and injuring workers. As an adult, she invented the machine that makes the square-bottom paper bags we still use today. Find out more about the life of Marvelous Mattie in this book.
Young Frank, architect, by Frank Viva
Young Frank is an architect. He lives with his grandfather, Old Frank, who is also an architect  Young Frank likes to build buildings that twist, chairs with zig zag legs and even entire cities using anything he can get his hands on; macaroni, pillows, toilet paper, shoes. But Old Frank disapproves, saying architects only build buildings. One day they visit The Museum of Modern Art in New York City, and both of them change their views about what architects do.

What do you do with an idea?, written by Kobi Yamada, illustrated by Mae Besom
A boy has an idea which makes him uncomfortable at first, but he discovers it is magical and that, no matter what other people say, he should give it his attention.
With my hands: Poems about making things, written by Amy Ludwig VanDerwater, illustrated by Lou Fancher and Steve Johnson
Building, baking, folding, drawing, shaping: making something with your own hands is a special, personal experience. Taking an idea from your imagination and turning it into something real is satisfying and makes the maker proud.
Fiction
The case of maker mischief, written by Liam O'Donnell, illustrated by Aurélie Grand
Grades: 1-5. Jordan and Danielle had been working on a robot for weeks for the upcoming Maker Faire Robot Maze Challenge. When the robot is stolen, Myron and his partner Hajrah pin down two suspects: Sarah "Smasher" McGintley, the school bully, and Lionel Amar, another robot builder who was caught with Jordan and Danielle's plans. But after investigating the case further, they find out the thief is someone entirely unexpected.
Non-Fiction
The Be a Maker! series has 15 books for students in grades 4-6 with various making-related interests, including photography, animation, electronics, fashion, and more.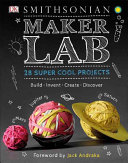 Maker lab – 28 super cool projects: Build, invent, create, discover, by Jack Challoner
Grades: 3-7. Each step-by-step activity is ranked easy, medium, or hard, with an estimated time frame for completion. Requiring only household materials, young makers can build an exploding volcano, race balloon rocket cars, construct a lemon battery, make sticky slime, and more.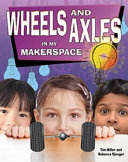 Wheels and axles in my makerspace, by Tim Miller and Rebecca Sjonger
Grades: 4-6. This book uses the principles of Makerspace to introduce students to the wheel and axle. Simple text describes the structure and uses of wheels and axles, and clear, step-by-step instructions show children how to make their own. Readers are then provided with stategies to start their own creative projects using the wheel and axle they made. Part of the Simple machines in my makerspace series.
The big book of maker skills: Tools & techniques for building great tech projects, by Chris Hackett and the editors of Popular Science
Grades: 10-12. This tip-packed guide will help take students and teachers take do-it-yourself projects to the next level: from basic wood- and metalworking skills to plugged-in fun with power tools, and from cutting-edge electronics play to 3-D printing wizardry.
Make: magazine 
Grades: 11-12. A magazine all about making and makers. Each issue includes project ideas with instructions on topics such as robots, drones, 3D printing, craft, and more based around a theme such as climate change or space.
---
Finding More Resources
To find more resources in this area, try the following:
Search using the General tab on the UBC Library website to look for material in all UBC Library branches.
Search using "Search Education Resources" box in the left hand bar on the Education Library website to limit your results to materials in the Education Library.
Use specific search terms to narrow your results, such as "makerspaces", "do-it-yourself work", "maker movement", or "maker movement in education".
To find lesson plans, include "lesson plans", "lesson planning", or "activity programs" in your search terms.
For more help with searching, please visit the Library Service Desk or e-mail ed.lib@ubc.ca.