Listed below are selected teacher resources, picture books, fiction, and non-fiction related to making and makerspaces.
Teacher Resources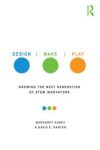 Design, Make, Play: Growing the Next Generation of STEM Innovators,
by Margaret Honey & David E. Kanter
Grades: K-12.
Aligned with the National Research Council's new Framework for Science Education, with an explicit focus on engineering, design, and integration across disciplines. Design, Make, Play explores real world examples of innovative programs taking place in a variety of settings, landscapes, and communities; kindling children's motivation and curiosity about STEM fields. [eBook only]
Re-making the Library Makerspace: Critical Theories, Reflections, and Practices,
by Maggie Melo & Jennifer T. Nichols
Grades: K-12.
A critical literature review and look at the Maker Movement. Critical discussion on limitations and challenges emerging from this brand of 'maker culture' and emphasizing the crucial work that is being done to cultivate anti-oppressive, inclusive and equitable making environments.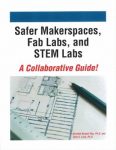 Safer Makerspaces, Fab Labs, and STEM Labs: A Collaborative Guide!,
by Kenneth Russell Roy & Tyler S. Love
Grades: K-12.
An essential guide on safer hands-on STEM for instructors and students. The latest information on how to design and maintain safe makerspaces, Fab Labs and STEM labs in formal and informal educational settings. Details federal safety standards, negligence, tort law, and duty of care for easier understanding and implementation.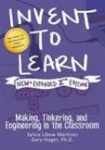 Invent to learn: Making, Tinkering, and Engineering in the Classroom,
by Sylvia Libow Martinez and Gary Stager
Grades: K-12.
Children are natural tinkerers, and the maker movement overlaps with both their natural inclinations and the power of learning by doing. This book helps educators bring the opportunities of the maker movement to every classroom. Even without expensive hardware, the classroom can become a makerspace where students and teachers learn together through direct experience with an assortment of high and low-tech materials.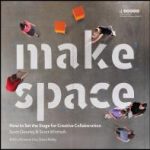 Make Space: How to Set the Stage for Creative Collaboration,
by Scott Doorley
Grades: K-12.
A guidebook on intentionally manipulating spaces to encourage creativity and provide collaborative environments to students. Within the book are sections pertaining to Tools, Situations, Insights, Space Studies, and Design Templates intended to bring innovation to institutions and schools alike.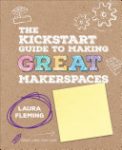 The Kickstart Guide to Making Great Makerspaces,
by Laura Fleming
Grades: K-12.
A resource to help educators plan and create a makerspace learning environment that students need, want, deserve, and value. With a workbook style to ensure educators will be ready to implement a personalized plan for their classroom, school, or district after they are done reading.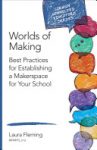 Worlds of Making: Best Practices for Establishing a Makerspace for Your School,
by Laura Fleming
Grades: K-12.
This book explores the knowledge, planning and practices to take into account when starting a school makerspace, including background on the maker movement, planning and setting up the space, creating a maker culture in the school, and showcasing students' work from the makerspace.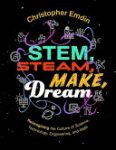 STEM, STEAM, Make, Dream: Reimagining the Culture of Science, Technology, Engineering, and Mathematics,
by Christopher Emdin
Grades: K-12.
An exploration and reinventing of STEM by making it more accessible and inclusive than it has been previously. With a critical look at its beginnings and use for marginalizing many children, demystifying the field itself, and combining real-world stories, observations, and research to nurture creativity in all children.
by Lacy Brejcha
Grades: K-12.
Providing field-tested and research-based knowledge in a step-by-step guide for serving educators and students in the creation and maintenance of dedicated makerspaces. A promotion of innovative thinking and enabling the educator to finish with a plan on how to create a Makerspace in their classroom, school, or district. [eBook only]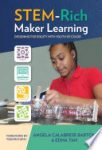 STEM-Rich Maker Learning: Designing for Equity With Youth of Color,
by Angela Calabrese Barton & Edna Tan
Grades: 8-12.
In recent years, maker-centered learning has emerged in schools and other spaces as a promising new phase of STEM education reform. With a sharp focus on equity, the authors investigate community-based STEM making programs to determine whether, and how, they can address the educational needs of youth of color. The book features examples that show how youth of color from low-income backgrounds innovate and make usable artifacts to improve their lives and their communities.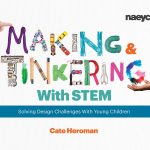 Making and Tinkering With STEM: Solving Design Challenges With Young Children,
by Cate Heroman
Grades: Preschool-3.
A practical, hands-on resource containing 25 engineering design challenges and a list of 100 picture books that encourage STEM-rich learning. There are suggestions for the creation of the makerspace environment and a planning template to create your own design challenges with a focus on engaging children with books, guidance, and ideas to cultivate problem-solving skills and creative thinking.
Picture Books
written by Andrea Beaty, illustrated by David Roberts
Grade Level: K-2.
Rosie seems quiet during the day, but at night she's a brilliant inventor of gizmos and gadgets. When her great-great-aunt Rose comes for a visit and mentions her one unfinished goal—to fly—Rosie sets to work building a contraption to make her aunt's dream come true. When her contraption only hovers for a moment and then crashes, Rosie deems the invention a failure – but was it really?
The dot,
by Peter H. Reynolds
Grade Level: K-4.
Vashti is glued to her chair in front of a blank piece of paper. Words of encouragement from her teacher invite expression but Vashti doesn't believe herself to be an artist or that she has the ability to draw. To prove her point she jabs the paper in anger but doesn't realize that in this moment is when Vashti's journey of surprise and self-discovery starts.
by Kim Smith
Grade Level: Preschool-2.
Meg is a boxitect. Creative, brilliant, and with a passion for building things out of cardboard boxes to impress her classmates at Maker School. But then a new kid named Simone joins, who appears to be good at everything and worst of all is also a boxitect. Will they be able to set aside their rivalry and create together?
written by Kobi Yamada, illustrated by Mae Besom
Grade Level: Preschool-3.
A boy has an idea which makes him uncomfortable at first, but he discovers it is magical and that, no matter what other people say, he should give it his attention.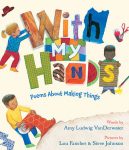 With My Hands: Poems About Making Things,
written by Amy Ludwig VanDerwater, illustrated by Lou Fancher and Steve Johnson
Grade Level: Preschool-3.
Building, baking, folding, drawing, shaping: making something with your own hands is a special, personal experience. Taking an idea from your imagination and turning it into something real is satisfying and makes the maker proud.
Fiction
written by Liam O'Donnell, illustrated by Aurélie Grand
Grades: 1-5.
Jordan and Danielle had been working on a robot for weeks for the upcoming Maker Faire Robot Maze Challenge. When the robot is stolen, Myron and his partner Hajrah pin down two suspects: Sarah "Smasher" McGintley, the school bully, and Lionel Amar, another robot builder who was caught with Jordan and Danielle's plans. But after investigating the case further, they find out the thief is someone entirely unexpected.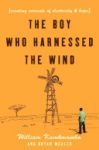 The Boy who Harnessed the Wind,
by William Kamkwamba & Bryan Mealer
Grades: 9-12.
A story of innovation and intrigue where a drought hit William Kamkwamba's village in Malawi, destroying all the season's crops. With nothing to eat and sell, William turned towards the science books in his village library for a solution.
Non-Fiction

The Be a Maker! series has 16 books for students in grades 4-6 with various making-related interests, including photography, animation, electronics, fashion, and more.
The Art of Tinkering: Meet 150+ Makers Working at the Intersection of Art, Science & Technology,
by Karen Wilkinson & Mike Petrich
Grades: 10-12.
A collection of exhibits, artwork, and projects to celebrate a whole new way of learning through creation, collaboration, and problem-solving. Artists spaces are featured showing the process and inviting the readers into them to inspire and discover glimpses of today's maker scene.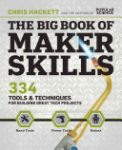 The big book of maker skills: Tools & techniques for building great tech projects,
by Chris Hackett and the editors of Popular Science
Grades: 10-12.
This tip-packed guide will help take students and teachers take do-it-yourself projects to the next level: from basic wood- and metalworking skills to plugged-in fun with power tools, and from cutting-edge electronics play to 3-D printing wizardry.
---
Finding More Resources
To find more resources in this area, try the following:
Search using the General tab on the UBC Library website to look for material in all UBC Library branches.
Search using "Search Education Resources" box in the left hand bar on the Education Library website to limit your results to materials in the Education Library.
Use specific search terms to narrow your results, such as "makerspaces", "do-it-yourself work", "maker movement", or "maker movement in education".
To find lesson plans, include "lesson plans", "lesson planning", or "activity programs" in your search terms.
For more help with searching, please visit the Library Service Desk or e-mail ed.lib@ubc.ca.