Listed below are dual and multi-lingual picture books in Indigenous languages.
Bilingual and Multilingual books in Cree

Black Bear Red Fox: Colours in Cree, by Julie Flett
A book demonstrating colors in English as well as in Cree, along with the pronunciation. Julie Flett is a Cree-Metis author, illustrator, and artist. She has received many awards including the 2017 Governor General's Award for Children's Literature.
–
Nipêhon: I Wait, by Caitlin Dale Nicholson with Leona Morin-Neilson
A young child, her grandmother and mother are going out to pick wild yarrow. As Grandmother gets ready, the child and her mom wait. Grandmother leads the way to the field of blossoms, where they can finally start to pick … only now they have to wait for Mom! The simple story, written in Cree and English and accompanied by rich acrylic illustrations, shows the patience, love and humor involved as three generations accommodate one another on a family outing. Text is in Cree (Romanized and syllabic characters) and English.
–

Dragonfly Kites, by Tomson Highway; illustrations by Julie Flett
Dragonfly Kites refers to "kites" made by tying a string around the middles of dragonflies. Two Cree brothers in northern Manitoba fly these kites during the day, but at night fly themselves in their dreams. This is the second book in the Magical Songs of the North Wind trilogy.
–

We All Count: A Book of Cree Numbers, by Julie Flett
A counting book demonstrating numbers in English as well as in Cree, along with the pronunciation. Whether in the country or the city, creature or insect, plant or animal, a part of a big family or a small family, we all live together and we all take care of one another. We all count. (from back cover) In this board book, Cree/Metis author Julie Flett beautifully illustrates simple English phrases demonstrating Cree Culture. Along the way, readers can practice counting using the Cree language.
–

Wild Berries: Pikaci-Mīnisa, by Julie Flett; translated by Earl N. Cook
Spend the day picking wild blueberries with Clarence and his grandmother. Meet ant, spider, and fox in a beautiful woodland landscape, the ancestral home of author and illustrator Julie Flett. This book is written in both English and Cree, in particular the n-dialect, also known as Swampy Cree from the Cumberland House area. Wild Berries is also available in the n-dialect Cree, from the Cross Lake, Norway House area, published by Simply Read Books.
–

Caribou Song, by Tomson Highway; illustrations by John Rombough
Joe and Cody are young Cree brothers who follow the caribou all year long, tucked into their dog sled with Mama and Papa. To entice the wandering herds, Joe plays his accordion and Cody dances, whirling like a young caribou. They are so busy playing and dancing, they don't hear the rumble of the caribou. Bursting from the forest, ten thousand animals fill the meadow. Joe is engulfed; he can barely see Cody a few yards away. Their parents seem to have disappeared. And yet what should be a moment of terror turns into something mystical and magical, as the boys open their arms and their hearts to embrace the caribou spirit.
–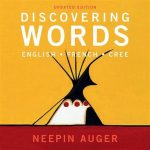 Discovering Words: English, French, Cree,
by Neepin Auger
Playful and bold, this dynamic series will educate and entertain preschoolers, parents, and teachers alike on the discover of words. In addition to the English words presented, the French and Cree equivalents are also given, making these some of the most dynamic and useful board books on the market, perfectly suitable for the classroom, library, and nursery.
–
Discovering People: English, French, Cree,
by Neepin Auger
Part of the series of Neepin Auger's board books focused on educating preschooler, parents, and teachers alike. Includes English words as well as French and Cree equivalents on the topic of people.
–

Discovering Animals: English, French, Cree,
by Neepin Auger
The third book in this colourful and unique series introduces preschool and kindergarten classrooms interested in learning English, French or Cree as a second language to everyday words related to animals, by using original and vibrant illustrations.
–

Discovering Numbers: English, French, Cree,
by Neepin Auger
Another book in Neepin Auger's series steeped in multilingual and bilingual support. This board book details numbers in Arabic numerals alongside English, French, and Cree translations for ease of learning.
–
Bilingual books in other Indigenous languages and English
How the Cougar Came to Be Called the Ghost Cat: Ta'n petalu Telui'tut Skite'kmujewey Mia'wj, by Michael James Isaac; illustrated by Dozay Christmas; translated by Yolanda Denny
Caught between two worlds, Cougar struggles to find a place of belonging. As the Ghost Cat, Cougar lives as he must — in the forest but apart from his friends. Text is in English and Mi'kmaw.
–
Byron Through the Seasons: A Dene-English Story Book, by the children of La Loche and friends.
This book was created by the students, teachers, and elders of Ducharme Elementary School in La Loche, Saskatchewan. An excellent perspective on the continuity of native traditions and the possibilities available in school collaborations. Schools can use this as a guide for their own collaborative projects. Text is in English and Chipewyan.
–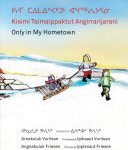 Kisimi Taimaippaktut Angirrarijarani: Only in My Hometown, by Angnakuluk Friesen; pictures by Ippiksaut Friesen; translated by Jean Kusugak
The northern lights shine, women gather to eat raw caribou meat and everyone could be family in this ode to small-town life in Nunavut, written in English and Inuktitut. Sisters Angnakuluk Friesen and Ippiksaut Friesen collaborate on this story about what it's like to grow up in an Inuit community in Nunavut. Every line about the hometown in this book will have readers thinking about what makes their own hometowns unique. With strong social studies curriculum connections, Only in My Hometown introduces young readers to life in the Canadian North, as well as the Inuit language and culture. Angnakuluk's simple text, translated into Inuktitut and written out in syllabics and transliterated roman characters, is complemented by Ippiksaut's warm paintings of their shared hometown. Text is in Inuktitut (romanized and syllabic characters) and English.
–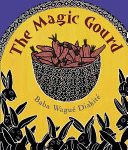 The Magic Gourd, by Baba Wagué Diakité
Drought and famine have come to the parched forest. And when a hungry Rabbit rescues Brother Chameleon from a thorny bush, Chameleon repays him tenfold with a magical gourd that always stays filled with food and water. But soon a greedy king steals the gourd to make gold and food for himself. Cleverly, Rabbit recovers his gourd, but still leaves plenty for the King. Surprised by Rabbit's kind act, the king begins to learn the importance of generosity and friendship. Text in English and Bambara.
–

Dog-of-the-Sea-Waves, by James Rumford
Manu, one of five brothers who are the first humans to set foot on Hawaii, is unhappy until he saves the life of a strange creature he calls Dog-of-the-Sea-Waves, and they become fast friends. English and Hawaiian.
–
The lonely Inukshuk, written and illustrated by students from Inuglak School, Whale Cove, Nunavut
An Inukshuk all alone on a hill is very sad until he learns how very important and special he is to the community. Text is in English and Inuktitut.
–
Finding More Resources
To find more Dual-Language (Bilingual) Picture books, try the following:
Search using the General tab on the UBC Library website to look for material in all UBC Library branches.
Choose Subject Terms from the drop down menu and type "bilingual"
On the next line, choose AND and find Subject Terms from the drop down menu again and type "fiction"
Click Search
To limit your results to materials in the Education Library, use "Search Education Resources" box in the left hand bar on the Education Library website and search for "bilingual" AND "fiction"
For bilingual books in Cree and English use the subject heading Cree language materials–Bilingual.
For more help with searching, please visit the Library Service Desk or e-mail ed.lib@ubc.ca.