4 weeks pre-departure: thoughts
This summer has really gone by in a flash, wow.
Although I don't really consider myself a 'blogger' (although what makes one a 'blogger' anyway?), I've decided that the only way to make the most of my amazing opportunity is to blog it.
For those who are not filled in on my amazing opportunity: I am doing a semester abroad (September to December) at the University of Edinburgh through the Go Global program. I'll be taking classes, but not working – so tons of free time to explore!
The basics (since the only people who read my blog before were classmates and professors, when it was for an assignment, plus my mom!):
-I'm Hannah, half Scottish, all Canadian, heading into fourth year at UBC, not graduating on time (who does, these days?)
-I am an English major, and before you ask, yes, I really love Shakespeare
-Also partial to dark chocolate, white wine, and really great salads
-I'm a Vancouverite through and through (ie. I like kale, yoga, and biking the seawall)
-I have a sister who will likely be mentioned frequently as she is my best friend; she was born in Edinburgh when we lived there (I was 6)
Things you can look forward to in the next five-ish months: rambling, travel photos, travel stories, the occasional rant, interesting quotes, food, family, and hopefully some kind of educational experience.
A preview of my history in Edinburgh – dug through the photo albums and found some gems:
–
Me hiking Arthur's seat! I will have to recreate this one, but minus my childhood doll – she won't be making the trek over with me this time 🙂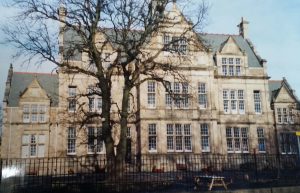 My primary school in Edinburgh! I went there for about six months and learned cursive, then came back here and was told I couldn't use it since we don't learn it in Canada until grade 3 (two years later).
If anyone has any travel tips, words of wisdom, or favourite spots in Edinburgh, let me know! I'll be back shortly before I leave!