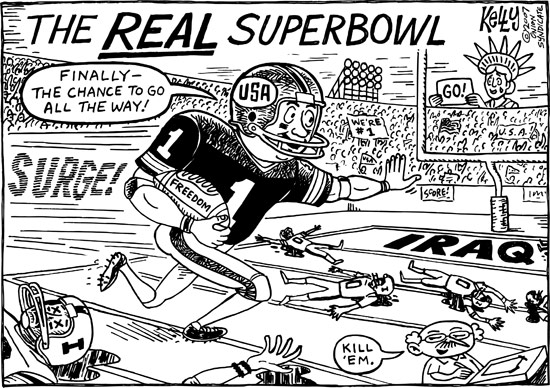 Spectacle Schmectacle: Remember the March 4th Strike!
Check Out Miami's Paul Moore on the Superbowl:
"The poverty of our century is unlike that of any other. It is not, as poverty was before, the result of natural scarcity, but of a set of priorities imposed upon the rest of the world by the rich. Consequently, the modern poor are not pitied but written off as trash. The twentieth-century consumer economy has produced the first culture for which a beggar is a reminder of nothing." John Berger
On the Little Rouge School Front:
A Rouge Forum Broadside on March 4th, Resistance, and Fear
Call For Proposals–Rouge Forum Conference August 2-5, 2010
Critical Education—Call for Manuscripts: A Return to Educational Apartheid? >: "This current series will focus on the articulation of race, schools, and segregation, and will analyze the extent to which schooling may or may not be returning to a state of educational apartheid."
Whose School? Our School? Occupations in Glasgow: "Parents in Glasgow occupied yet another primary school this week; the latest in a series of school occupations which have taken place over the past year."
Harvard Initiates Educational Leadership-Business Partnership (this is new?): " The Harvard doctorate broadens the reach of traditional programs by collaborating with the Harvard Business School and the John F. Kennedy School of Government, he said. The first year of studies is devoted to a rigorous core curriculum. The next year, students chose from a slate of courses at the three schools–such as "Managing Human Capital" at the business school or "Marketing for Non-Profits and Public Agencies" at the Kennedy school."
What They Do With The Kiddies After High School–Pedagogy With Those Fun Loving Marines
Arne Duncan: "Atta Boy Detroit Bobb (Broad): "Duncan praised Bobb and what he's done in the district, calling him "a breath of fresh air."
SF City College Cancels Summer Sessions: "Thousands of students who expected to make up missed courses or simply move their education forward will have to put those plans on hold this year because City College of San Francisco is canceling its popular summer session."
Read more:
LA Times Exams the Explosion of Charters in the Second Largest School District: "Los Angeles is home to more than 160 charter schools, far more than any other U.S. city. Charter enrollment is up nearly 19% this year from last, while enrollment in traditional L.A. public schools is down."
Read the full RF Update here.