News from our volunteers 2017-18

My mom always talked to me about the importance of volunteer work, taking a moment of your time and devoting it to serving someone who needs it. It serves to help us step out of our privileged realities and see, every now and then, how a smile or a simple "good morning" can change a person's day. While I have taken a break from weekly commitments a while ago, the visit to the South Granville Senior Centre was a warm reminder of the good anyone can do, the importance of a simple hug or of listening to a story.
Interacting with the seniors at the shelter has to be one of my highlights of this year, as I learned first-hand of stories worthy of being made into feature films. Luz, the lady I was fortunate to be paired with, was a woman ahead of her time. She was a militant in Chile who left her husband to flee to Argentina with her fellow militant (who she later married), and then subsequently to Canada and later to Vancouver. She has had to overcome so much in life and has a fire to her that you don't see in many young people of today. Not only that, but the conversation with Luz (totally in Spanish) was a great exercise to develop and polish mine and my colleagues' skills.
The people at the center are all filled with exciting and awe-inspiring stories. But all the same, they are people who miss the excitement of meeting new people and having conversations, telling their stories and feeling appreciated and seen. I can say without a shadow of a doubt I'll be returning to the SGSC to have more chats with Luz and the others, and I hope that my testimony inspires you to do the same. Step out of the academic life and into the shoes of those who have done so much but are still so invisible. Give the ladies and gentlemen of the SGSC your attention and your ear, and they will gift you their life stories, their accomplishments, failures and wise advice. And these, I can assure you, are priceless.
Ricardo Zatz, Spanish 207 student
Small project, Vancouver Co-op Radio, bilingual broacasting America Latina al Día
I have been learning and participating at a local cooperative radio station, on a program named América latina al día. The station serves as bilingual outlet for Vancouver, talking about news and community events which Spanish-speakers can tune into for a source of information, as well as curious English speakers. I've had the opportunity to learn a lot and work with great people.
 Jacob Hotz, Spanish 302 student
Small project at Little Mountain Neighborhood House, Computer Literacy Course for Spanish Speakers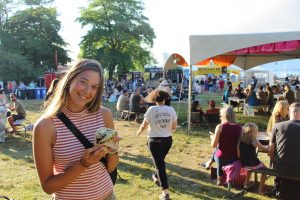 I helped out with a computer literacy program for Spanish speakers through the Little Mountain Neighborhood House, where we were giving one-on-one help with basic computer skills such as Microsoft Word. I learned a lot of new words that had to do with computers and clicking buttons, but also found myself appreciating the practice I got with using my Spanish in general in a real conversation setting. It was a unique opportunity having to speak Spanish, because most of the ladies in the program did not speak English very well. I haven't come across this in my life very much growing up in Vancouver, so it was a real treat for me to be able to practice with them. The ladies in the program varied in age, and were from all over Latin America. Navigating their accents was sometimes a challenge, but it was so funny seeing all of them crack jokes at each other for the variations in words or pronunciations that they each had. All of the women were extraordinarily kind, and it was a highlight for me being able to interact with all of them. When I think about the fact that without Spanish I could not have connected with them, I just can't help but think that it is such a beautiful thing! I also found it a humbling experience. It is easy to forget that I live in a 'university bubble' every day, and to connect with these women gives me a peek outside of that. I think connecting with people that you might on the surface have less in common with lends new perspectives to all, and builds a strong community. I would recommend something like this to anyone.
Juliana Kaufmanis, Spanish 206
This month I had the opportunity to volunteer at Little Mountain Neighbourhood House, which is a community centre that aims to empower community members through a variety of programs. My job was to help new immigrants to learn computer skills, and I got to work with eight women from different parts of LatinAmerica; including Venezuela, Argentina, El Salvador and Mexico. It has been a highly valuable experience as I learnt so much about their culture while improving my Spanish conversation skills. 
Cemre Naz Barsbay, Spanish 206
Our student's reflections on their learning and service experience after the interviews sessions held at the South Granville Senior Center the "Gift from our lives" in March
As university students, it's easy to seal ourselves away, to immerse ourselves in bubbles of only studying and socializing with people of our own age. I've found that we tend to forget the world around us, forget the complex struggles people have faced and the rich history that our community shares. The interviews at the South Granville Senior Centre reminded me of this history, and of the power that sharing stories has to make our world a better place. Interviewing Esmeralda, a Chilean exile, was shocking and inspiring. I was impressed at the strength she showed, both in her difficult and violent life back in Chile, and in choosing to tell us her story to us. I was amazed by the extent of her pride towards her family, and inspired by how hard she had worked to give them a better life. And I was honored to be trusted with her story, spoken in her own language and told on her own terms
Laurel Neufeld, Spanish 207
I have thoroughly enjoyed the Spanish CBEL project I took part in
and hope to continue visiting the senior center in the future. Unsure what to expect from this project, I went in eager but also slightly hesitant as our Spanish teacher warned us that some of the stories the interviewees may share had the potential to be emotional and bring you to tears. However, this hesitation was quickly removed after interviewing the first of two Chilean women (on separate occasions). Not only did the interview seem to be an enjoyable experience for the interviewees, but it was also an incredible learning opportunity for myself (practicing my Spanish outside of a classroom and, also learning about their experiences under the Pinochet dictatorship in Chile). When I asked the women at the end of the interview what advice they had for me (seeing as they are both filled with wisdom and experiences), their replies both inspired me and brought me to tears. The first woman told me to work very hard in school and to gain as much knowledge as I can because no one can ever take your knowledge away from you, and the other woman told me to take risks and to question everything. It was inspiring hearing these suggestions from women who had been through so much hardship, yet were still happy and grateful to be alive."
Becky Bradley, Spanish 207
I thoroughly enjoyed the visit to the senior center with my Spanish class. A large part had to be due to our wonderful interviewee, Carmen. She has to be one of the most interesting women I have ever met. Being married to a diplomat, she had traveled all her life accompanied by a growing family of eventually seven children. The most shocking part was that each child was born in a different country. Coming from the country of Venezuela, it was pleasant to hear that she had left her birthplace by choice and not by obligation. After years of travelling around the world, she grew fond of Canada and convinced her husband to reside in Vancouver, a decision she has never regretted. Personally, I found her impeccably smooth Spanish made it extremely easy to understand her story. However, if that does not convince to talk to her, then her tips on how to maintain a healthy lifestyle definitely will. Carmen is such a wise individual, with a passion to live life to its fullest, who made my visit a very memorial one.
Romain Derguini
Having the opportunity to conduct interviews with seniors at South Granville Seniors Centre was unlike any experience I've had so far at university. Not only did the project facilitate the chance to practice my Spanish skills outside of the classroom, but it also opened my eyes to the wealth of knowledge and advice that can be gained by interacting with older generations. The experience was thoroughly enjoyable, and the room was buzzing with noise as the different generations interacted together. The willingness of the seniors to talk to us and share their experiences of immigrating to Canada was incredible, particularly given the sensitive context that can accompany these stories. Overall, participating in the project was a great opportunity, and certainly one I would do again!
Isabella Stwart
"Our interview with Zunilda at the senior center was really an eye-opening experience. While initially she refused to be interviewed, as soon as we began talking she opened up about her life in both Chile and Vancouver. Her story of her life as an emigrant to Canada was inspiring to listen to, and she provided a lot of insight into a scary time in Chile's history that I had previously not known too much about. However, her most interesting comments by far came in the form of advice to me, my classmates, and the future generation. She told us to question everything within our lives, and not to be afraid to challenge beliefs that even we ourselves hold dear. She also said that maintaining our independence would be very important as we got older. When asked about her legacy and what she hoped to leave in this world, she replied that she hoped she left a "semilla" in the lives of all the people she has known. Her wisdom, tolerance, and thoughtfulness left me with a newfound hope for closing the gap between her generation and ours, as well as optimism for the future."
Grace Lindsay
Spanish for Community "Gifts of our Lives" on memory and oral history, its relevance today
One might ask what it means to be working on a small documentary project with a handful of students and perhaps some 15 or 20 subjects in Vancouver at this moment when the United States is living its most difficult political crisis in living memory. It's a fair question, but it's easy to answer. In difficult moments each of us must do what we can, even if it seems insignificant, even if we feel our range of influence is small. The rising wave of rash nationalist politics that caused first the seismic shock of "Brexit" and then the tsunami of the 2016 US elections could easily engulf Canada. One only has to look at last night's events in Quebec to see that. Those who said nothing like that could happen here are willfully ignorant or naïve, and will join the crowd of politicians and political analysts cast aside by their inability to gauge the current climate.
Although our action here lacks the drama of a supreme court decision or a protest with flash-bangs and gas and bullets, plastic or real, swirling about, it is important. We are in the hecatomb of North American public discourse, and our work has the potential to leave a mark on the way the Vancouver and UBC community understands Pan-American relations. Unlike where I grew up, the Latin American experience and voice are not so obvious in Vancouver or at UBC. For some students and members of the community, we may be their point of contact and understanding with the Spanish-speaking community. This is a serious charge. To be Spanish-speaking or Bilingual in the United States is incredibly difficult at the moment.
Even here there are vestiges of the last time that an ignorant and violent US foreign policy shook the hemisphere. There are those who left Chile because of Pinochet, those that left Nicaragua because of the Contras, those who left Colombia because of the cartel violence funded (as the Mexican cartel violence is) by the purchase of illegal drugs in large quantity in North America.
To witness this is to look hard at the legacies left by years of irresponsible action by one country of the Americas against the others (and it is not always state action, nor the United States against all others), and it is important to see this and think critically about this as we move forward into a period of deepening crisis in the Americas.
It's true, then, that we may not be standing at the center of some dramatic moment of this crisis. We're standing at an edge, and that means we have the ability to show how far-reaching questions of foreign policy and coup and civil war can be, even thirty years after the fact. One can find those whose lives have been permanently changed even decades later and thousands of miles away. The stories these people have to tell are a small detail illustration of the human experience of emigration and of major crisis in the Americas. One must remember all of those who are left on the periphery, all those who may never get to tell their story.
That's why it is important to record the ten or twenty stories that we can, and for UBC's community to hear them.
Patrick Gillin
Rhythm is in my blood. One of the phrases that a senior told me as she looked up at me with her teary eyes and explained how the rhythm just moves her and she can't help it. She also explained how when she walks there's always a beat in her step. She told me the importance of music to her, in her poetic Spanish words. Even if I don't fully understand 100% of the Spanish conversation, I can feel her passion and genuine sincerity. I see myself in her and the way she identifies herself a dancer. I always took pride in my own rhythm and I too have an inability to sit still when music comes on. I am happy I'm not the only one.
Visits to the senior centre are always so heart warming. The community that they have built in this small space feels different from typical Vancouver. As soon as you enter, you can feel the warmth and welcomeness from people who have so much wisdom, history and heart.
They have a presence in the room, some louder than others. Regardless, you can feel that every single one of them has a story and an unbelievable journey.
Berlin Capalad