We are thrilled to announce our 2021 Translation Team, a group of professional, enthusiastic, talented, and truly generous students working on projects for the following organizations: Collingwood Neighbourhood House (CNH) (Vancouver, Canada) and Fundación Ratón de Biblioteca (Medellin, Colombia).
Meet Cristina Lee, Translation Team Coordinator
My name is Cristina. I'm currently a 5th year majoring in Linguistics. I'm involved in my department in two ways. I'm the president of the UBC Speech and Linguistics Student Association (SALSA), and also, I'm the Linguistics Programs Assistant at the department's admin office.
Aside from that, I've helped Dr. Maria Carbonetti with a few translations while taking SPAN 401 in 2018. After the class was over, I continued to help her with another project: Abreast in a Boat. I'm happy to be able to join in my final term as the Translation Team Student Coordinator!
A few fun facts about me are that I'm Argentinean with a Korean heritage. I speak Spanish, English and Korean fluently, and I'm learning French and American Sign Language (ASL). I love playing volleyball, which obviously includes being a fan of Haikyuu!
Meet Hannah Penner, Translation Team Member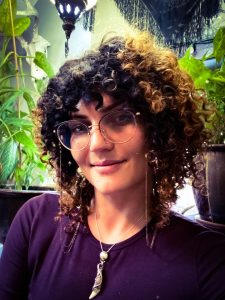 My name is Hannah. I am currently in my second year and plan on majoring in Sociology and minoring in Spanish. I am Canadian, but my love of Spanish began about 11 years ago when I embarked on a spontaneously unplanned 8 year-long journey around the world. I spent 5 years traveling in Latin America and 3 years between Europe, India, and Southeast Asia with a group of Latinos. As such, I was constantly immersed in the Spanish language and felt as though I could not come home until I had fully absorbed the beautiful rhythm of the language, music, and culture.
Now back in Canada, I have decided to dedicate my time to study and to solidify my knowledge of Spanish grammar and formal speech, with the hopes of becoming a Translator and working with disenfranchised and vulnerable populations towards positive and meaningful social change.
Meet Lorantiya Fernando-Geekiyanage, Student Liaison, Collingwood Neighborhood House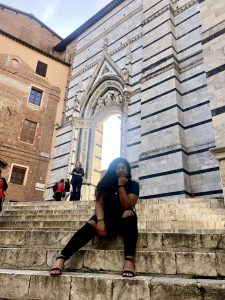 Hi everyone! My name is Lorantiya and I am a recent graduate from UBC after majoring in psychology and minoring in Spanish. I've known Maria for a few years now and recently took her Spanish translation course last term, I thoroughly enjoyed translating targeted for one audience to a completely different one. It truly is a powerful ability, and after translating documents for my work for at Collingwood Neighbourhood House for my final project last term, I was asked if I could assist in establishing a partnership with CNH as a large portion of its members across various programs are native Spanish speakers. So here I am this semester, excited to say that I will be the Student Liaison for SFC with Collingwood Neighbourhood House. I am especially thrilled to say that we will be working on a few documents provided by the recently opened RISE Community Health Centre operated by CNH.
For a little bit about me, I am Sri Lankan-Canadian and the particular region my family is from was colonized by Portugal, hence my surname Fernando-Geekiyanage (people often get super confused by that haha). I am a lover a languages and currently speak six: English, Tamil, Sinhalese, Spanish, Portuguese and Italian and I'm currently tackling German and French. In my spare time I am an avid rugby player, power lifter and major dog mum of Ben and Loki or really any dog I encounter.
Meet Sophie Chevalier, SfC Translation Team Member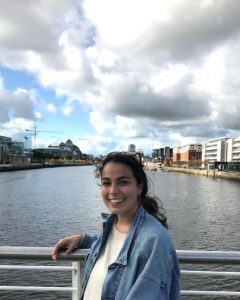 Hey everyone! My name is Sophie and I am in my 4th year majoring in Environment & Sustainability, and minoring in International Relations and Spanish. I am French and US-American and have grown up in both countries (Paris and Chicago). Although we lived in Paris, all of my French family is from the Alpes. My mum and her family are from Germany.
Similarly to some of you, I was in Maria's translation course (401) last semester. In working with Mosqoy and Raton de Biblioteca, I became captivated with the power of translation and the community that it can create. Additionally, I aspire to speak Spanish fluently one day and believe that working on translations is a great way to strengthen my abilities.
Outside of classes, I love spending time with my family and friends, and being outdoors. I especially love the mountains which is one of the many reasons I am thrilled to be back in Vancouver for my last semester!
I feel so excited and grateful to be a part of the strong team of translators and look forward to meeting and working with all of you! Cheers.
Meet Michael Cunanan, Student Liaison, Fundación Ratón de Biblioteca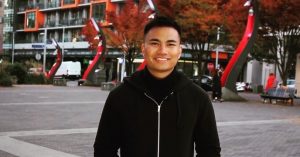 Hi everyone. My name is Michael, but when I speak Spanish I usually call myself Miguel. I am Filipino-Canadian, meaning that both my parents are Filipino, but I was born in Canada. I'm currently in between my third and fourth year. My major is Spanish and I'm minoring in Psychology. I am an Undergraduate Teaching Assistant at UBC, helping out in SPAN 206, Conversational Spanish. I am also a Spanish Tutor within the French, Hispanic, and Italian Studies Department.
I have a goal of speaking Spanish as well as I speak English. I would also like to visit all the countries in Latin America and Spain. I find Spanish such a fascinating language, I can proudly say that I am in love with it.
In the future I hope to be a highschool teacher. Perhaps I'll teach Spanish, English, (and maybe French). I am also thinking of having a private counselling practice on the side.
Meet Julia Miller, SfC Translation Team Member
I'm Julia Miller. I'm from a little town called Mission in British Columbia. I am a third-year kinesiology student at UBC and I love the Spanish language and culture. I worked as a teacher's assistant in Barcelona for a year and a half and discovered my passion for teaching. I hope to become a physical education and Spanish teacher in the future.
Meet Gabriela Lopez Gonzalez, SPAN 302 Translation Team Coordinator, Ratón de biblioteca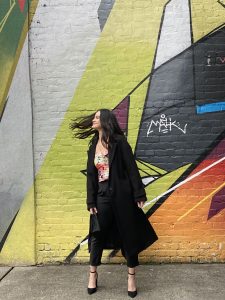 My name is Gabriela. I'm a recent Accounting graduate from the UBC Sauder School of Business. Throughout my career I was involved as a student leader in the UBC Sauder Health and Wellness Committee and the UBC Sauder Leading with Confidence program. My passion for people has not only expanded in the Commerce faculty but also through the Arts. As someone in Mexico City, I enjoyed learning Spanish, Portuguese and French throughout my undergrad. This experience allowed me to enrich my knowledge of my Latinoamerican culture, something I am very proud of.
In SPAN 302, I had the opportunity to work with Maria Carbonetti and Lorenia Salgado in partnership with Ratón de Biblioteca, a Colombian community library organization. I was so blessed to have the opportunity to do a research project in which we explored community libraries throughout Central America to implement new services and programs. I also assisted with the translation of fundraising presentations to help collect funds for future projects. I hope to continue volunteering for Spanish for Community in the near future, and ultimately give back to my home-away-from-home community.
A fun fact! I always enjoy meeting new people, specially if it involves a hike and good food (oh and bonus if there's a pupper in the mix).
Meet Eitan Feiger, English/Spanish Workshop Facilitator, Translation Team Member, Ratón de biblioteca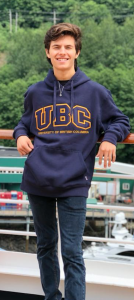 My name is Eitan and I hail from San Francisco. I'm in the Faculty of Arts and looking forward to possibly majoring in either Linguistics or Psych.
This past semester, I volunteered as a member of the Ratón de Biblioteca (RDB) group, where I gave a couple virtual presentations with the students from the RDB site in Medellín and taught them English, produced a report comparing RDB and a local volunteer organization, and contributed to the translation team's efforts.
It was a pleasure to participate in the Spanish for Community group. As I've mentioned before, I already have had several years of experience tutoring and mentoring children, so signing up to be a member of this group was a given. The fact that we could connect and communicate with the students from Ratón de Biblioteca at the click of a button goes to show amazing technology can be and how they can continue their education despite the pandemic. During both times that Enchie and I led two virtual workshop presentations, the kids were very engaged, asking us many questions and enthusiastically answering our questions to them. I hope they take opportunities like these to continue to learn and grow not just as students, but as individuals. I wish them all the best.
As for me, I would describe myself as friendly, open-minded, and conscientious. I enjoy playing many types of sports, but love baseball above all. My all-time favorite food is sushi. In my free time, I love to learn languages, take naps, and listen to podcasts.
Meet Katie Marchant, English/Spanish Workshop Facilitator, Translation Team Member, Ratón de biblioteca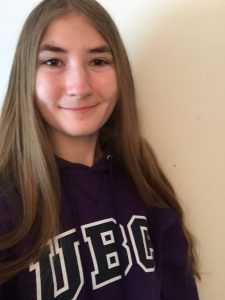 My name is Katie Marchant and I have just completed my second year. I plan to major in French and minor in Spanish. Living just outside of Vancouver, I have limited opportunities to speak French and Spanish outside of class. For this reason and several others, I thoroughly enjoyed working with Ratón de Biblioteca in SPAN 302.
I investigated community libraries and helped translate documents but the most rewarding experience for me was conducting virtual English sessions alongside my friend and classmate, Dylan Morin. We designed an activity in which the kids drew their "favourite person" as we taught them English words for parts of the body and clothing. Some of the eager ones started guessing how to pronounce the English words! We spent a lot of time simply talking with the kids in a mix of Spanish and English, learning about each other's entirely different worlds.
As someone who loves learning languages and hopes to become a language teacher, this was an extremely valuable experience.
Here's the entire team:
Collingwood Neighbourhood House (CNH) (Vancouver, Canada)

Translation Team Coordinator: Cristina Lee

TEAM: Sophie C., Lorantiya F., Aidan L., Michael C., Daniela G., Julia M., Hannah E., Hannah P.

Fundación Ratón de Biblioteca (Medellin, Colombia)

SPAN 302 Translation Team Coordinator: Gabriela Lopez Gonzalez

TEAM: Gabriela C. A., Dylan M., Enikoe S., Eitan F., Katie M., Lena S., Meg L., Mirabelle M., Coral S., Sana A., Mela B., Vladimir C., Ida K.