Slideshows
If you have several images you'd like to include, you can add them as a slideshow like the one below (Portfolio Slideshow 1.5.1). You can also create more visually appealing slideshows using online apps such as 'Slideshare', 'Flickr' or 'HaikuDeck' – you would then 'grab the embed code' from the website and paste it into the page. Be sure you are on the 'text tab' when pasting code. Visit the Scarfe Sandbox to learn more about Slideshows.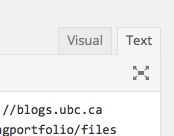 To use the built in slideshow in ubc blogs wordpress, Click Plugins in the left column navigation of your Dashboard.
Select Portfolio Slideshow 1.5.1  (it may be called something else depending on the version available)
Now go to the page or post where you'd like the slideshow to appear. Scroll down to "upload and manage images" and follow the upload instructions. 
To add this slideshow to a post, copy and paste the "shortcode" from the instructions into the page or post:
[portfolio_slideshow id=176]
*It can be a bit finicky. For detailed info on how to set up your slideshow, check WordPress Support pages