By popular request, the PDA is starting a Postdoc Seminar Series! Do you want to practice your presentation skills? Are you looking for a chance to share your latest results? Are you interested in communicating your research to a non-expert audience of postdocs across all UBC disciplines?
Sign up as a speaker for the new Postdoc Seminar Series! If selected, we will contact you to set up a date and time for your seminar. All you need to do is prepare a 30-40 minute presentation about your research geared toward a general audience, and we will take care of the rest!
___________________________________________________________________
Postdoc Seminar by Dr. Kevin Kung on July 14th at 12:00 pm
Join us on Wednesday, July 14th at 12:00pm for a presentation by Dr. Kevin Kung.
Trash to cash: Turning crop and forest residues into higher-value products
Abstract: Biomass (crop and forest residues) is often not regarded as "sexy" as other forms of renewable production such as solar and wind, given the inherent complexities of feedstock handling and logistics. Even a thorough techno-economic analysis that looks attractive on paper can quickly derail when implemented in the field. I will begin this talk by describing two anecdotes of biomass installations gone awry. Then I will summarize how that has informed my own research as well as the future vision.
Meet the Speaker: Kevin received his Ph.D. in the field of Biofuels and Renewable Energy from Massachusetts Institute of Technology (2017). Currently, in addition to being a Postdoctoral Research Fellow in the Department of Chemical and Biological Engineering at UBC, Kevin serves as the Chief Technology Officer of Takachar, a start-up company spun out of his MIT research. Takachar's mission is to dramatically increase the amount of crop and forest residues economically converted into useful biofuels and bioproducts in rural underserved communities, whether in India or California. Prior to founding Takachar, Kevin co-founded a biochar company (Safi Organics) in Kenya and scaled it to 15 full-time employees, 5,000 customers, and financial profitability.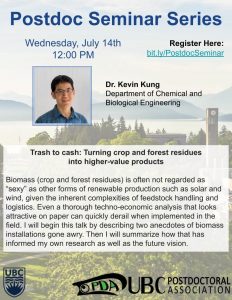 As an attendee, you will have a chance to win a $10 coffee shop gift card! (randomly drawn at the end of the seminar)
Join us for his seminar and learn more about Kevin and his research!!
Wednesday, July 14th at 12:00pm online. Register to attend and receive the Zoom link.