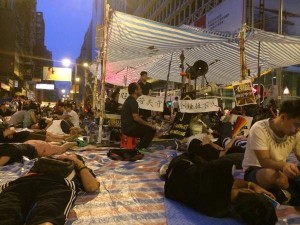 Eyder Peralta, NPR, October 5, 2014– Update at 10:35 a.m. ET. No Sign Of Dispersing: Watching a live feed from the Admiralty and Mong Kok areas of Hong Kong, one thing is for certain: It does not appear that protesters are going anywhere. In fact, it appears that crowds in those two areas have grown.
The South China Morning Post reports that Federation of Students secretary-general Alex Chow Yong-kang addressed the crowd this evening, saying they are preparing for talks with the government.
Chow, however, noted that their demands had not changed: The federation wants to be able to nominate whoever they want as the city's next chief executive.
Update at 8:15 a.m. ET. Confusion:
Reporting from Hong Kong, NPR's Anthony Kuhn says that just as some protesters announced they were leaving the area surrounding the Chief Executive's Office, other protesters came in.
This protest, he says, has, after all, been very decentralized.
The South China Morning Post has some detail:
"As the Mong Kok protesters were divided on moving out, there was similar confusion in Admiralty as dozens of protesters re-occupied the junction of Lung Wo Road and Tim Wa Avenue (the main entrance to CY Leung's office) just moments after the crowd voted to clear that area.

"'We strove hard to get this site. We shouldn't give up this site without any government decision in favour of us,' said Ben Liu Chi-fung, 20.

"'The chief executive's office is an important site,' said student Tanson Tsui. 'I think we cannot give up the basic principle of our demonstration: to press for the government to undo the unjust electoral reform framework.' "

Read More: NPR