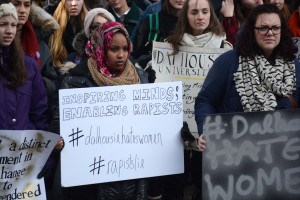 Jennifer Gosnell, DalGazette, January 6, 2014–"Hey hey, ho ho, misogyny has go to go," roared a crowd of about 200 people gathered at a rally yesterday afternoon outside Dalhousie's Henry Hicks Building.
The rally targeted Dalhousie administration's reaction to a misogynistic Facebook group made up of male dentistry students.
The rally came right after the announcement that Dalhousie University has suspended the clinical privileges of thirteen men in their fourth year of Dal's Doctor of Dental Surgery program.
These men were suspended as Dalhousie's ongoing response to complaints against the men's posts in a Facebook group called the Class of DDS 2015 Gentlemen where some of them posted comments about female classmates that included discussions of sexual violence.
The protestors rallied together against a lack of action on Dalhousie's part and a lack of justice on the part of victims of the posts and survivors of sexual assault.
Jennifer Nowoselski, Dalhousie Student Union Vice President (Internal), spoke of her experiences witnessing harassment on campus.
"I cannot tell you how many students across various faculties come to the Union with complaints of discrimination on a regular basis," said Nowoselski. "I am enraged."
"No options to address sexist comments? No options to address sexual harassment? No options to address sexist treatment of women students? Out of justified fear, individuals cannot demand action to make them feel safe on this campus. There is no safe internal process available to our members," Nowoselski said.
She turned her questions to the Henry Hicks building itself, which hosts university president Richard Florizone's office.
"Through a media storm, voiced concerns through students and community members, a community-organized rally, petitions, a formal complaint from faculty, threats of losing funding, concern from the government, and with the entire country watching, you created a task force?" Nowoselski asked.
Board members of South House, a student-funded sexual and gender resource centre in Halifax, spoke at the rally. They voiced issues of concern about underfunding for their volunteer-driven services that are often turned to for support by people who have experienced sexual violence.
Various survivors of sexual violence took to the megaphone to discuss the impact of their experiences.
One survivor said she was sexually assaulted by her dentist.
Others shared stories of going to Dalhousie's offices to report their abuse and being met with blame or disbelief.
Read More: DalGazette