Interview with the "well-seasoned librarian" Dean Jones, published in his ongoing series on Medium, the platform with 120 million curious readers.
Read the interview here.
Arianna Dagnino of Vancouver, British Columbia". Interview with Allan Hudson, 7 July 2019.
Il Mensile: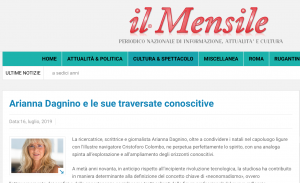 "Arianna Dagnino e le sue traversate conoscitive". Interview by Valerio Viale, 16 July 2019.
The Vancouver Sun, "Vancouver writer heads to South Africa for new novel," interview by Dana Gee, 26 April 2019.
UBC Newsletter/FHIS Dept.
"The Afrikaner" by Arianna Dagnino: Colonialism, Reconciliation & Transcultural Literature", August 2019.
"The Afrikaner" by Arianna Dagnino: Colonialism, Reconciliation & Transcultural Literature