There have been too many great #etmooc tweets to mention, and I'm trying to keep track of my favourite tweets and posts in a growing Storify board. But this particular post is focused on a conversation begun by the following tweet from Christoph Hewett:
.@wiltwhatman I know! Just came to me now. cMOOCs aren't learner-centric, They're crowd-centric – big difference. #etmchat

— Christoph Hewett (@ChristophHewett) January 24, 2013

Keith Brennan wrote a nice post on this issue, replying to Christoph's tweet, called The sense of self, how a MOOC can make or undermine you. Christoph's tweet, and Keith's reply, have got me thinking. Here are some results of that thinking.
Keith gives a nice definition of learner-centred learning:
Learner centred learning takes account of, and speaks to the differeing [sic] needs, requirements, and contexts of the students we engage with.
He then focuses on how taking into account students' prior knowledge (and variations therein) must be a major part of making courses student-centred. In addition, he explains the idea of "self-efficacy," from psychologist Albert Bandura, and how factoring in prior learning can enhance learner's sense of self-efficacy. As Keith puts it,
Self efficacy is, simply put, your confidence in your own ability, and capacity to succeed at a task, as well as belief that the task is achieveable due to the contexts, tools, constraints and the overall situation.
[As an aside, I am thankful to Keith for pointing me to this idea, as I hadn't heard it before and it's very useful for thinking about why some students seem to lose faith and heart and just drop out of courses, whether officially or unofficially. I need to look into the self-efficacy notion further to see if there is something about the way my courses are structured, or about how I'm teaching them, that could lower some students' self-efficacy.]
Keith then went into some suggestions for how to make etmooc more responsive to prior learning and thus more supportive to self-efficacy, such as: setting up a series of clear paths for learning and tasks to measure one's progress, being sure to have resources ready for common problems faced by novices to the technology being introduced, structuring the teaching into clear chunks (since novices often prefer specificity to freedom), and more.
These are all useful ideas for helping some people feel that the course is more learner-centric, and that they can succeed. And, as Keith notes, those of us who want less specificity or don't want to follow directed paths to learning can just ignore those things and learn what and how we wish.
Further thoughts
I want to think a little differently about Christoph's original tweet, the idea that cMOOCs are crowd-centric rather than learner-centric. When Christoph said that, I thought immediately of a MOOC I sat in on a little while ago, which was more the "traditional" type of MOOC, with very structured learning paths, videos to watch, quizzes to take, etc. It was most definitely a content-delivery course.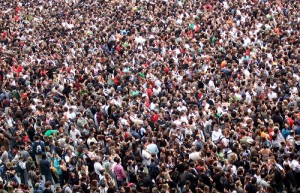 I can see that that sort of MOOC could be said to be more crowd-centric in the sense that the learning is the same for the crowd–the content is provided centrally, and it's the same for everyone. There is no individuation for specific learners, nor changing of the content according to how the class is going (though that is at least possible–one could monitor the questions and comments fora and decide to add new videos or tasks to the course as it goes along, so at least some of that is possible).
However, it really got me thinking because my experience so far in etmooc has been very, very different from the other MOOC I took, and I actually think of it as more learner-centred. This is because there is much less in the way of centralized guiding of learning in this MOC than in the other one. There are only a couple of presentations per week, and even in those (from what I've seen so far), the point is less to provide content than to provide tools for connecting with each other, our students, and with more people around the world through global and social media.
This seems to reflect the difference between an "xMOOC" (content-focused) and a "cMOOC" (connection-focused)as explained by Martin Lugton in a blog post. I like his description of a cMOOC, as it fits well my experience with etmooc so far:
It's a chaotic experience (as @RosemarySewart put it) and is inherently personal and subjective, as participants create their meaning and build and navigate their own web of connections. cMOOCs are not proscriptive, and participants set their own learning goals and type of engagement.
This is why I think of etmooc as actually learner-centred in its own way: learners focus on what is most meaningful to them, and they build their own connections through following the advice provided by the facilitators to blog, comment on blogs, read the discussions on Google+ sometimes, and read some of the Twitter feed. You can't do it all, all of the time, but doing just some begins, even if slowly, to help you build connections and start contributing to conversations.
But that's not what Christoph said
He said "cMOOCs" are crowd-centric, rather than learner-centric. I can see it for xMOOCs, but it didn't seem to be so for cMOOCs, to me, until I started thinking about it more for this blog post. How can cMOOCs be said to be crowd-centric?
Perhaps insofar as they offer many, many resources and tools for people to choose from, and can't possibly tailor those to each person's needs so individuals themselves have to find what they need out of the wealth of information. I don't know if that's what Christoph meant, but it's one way to think about it.
Still, of course, there is individual tailoring: partly by individuals themselves, but also from the community–others read one's questions and prompts for advice on Twitter, Google+, blogs, or elsewhere, and (hopefully) comment and provide help with one's specific issues. The individual has to centre the course for him/herself, with the help of others in the course. The course itself is, and must be if it's a MOOC at all, crowd-centric in the sense of offering information that could apply to the crowd, to anyone in the audience equally. No facilitator can hope to tailor it to each person in such a large course, so we all have to help each other do so.
Keith still has a point
But this means there's going to be much more information, tools, resources than is going to be digestible or really serve the needs of any individual participant. As many of us have noticed in blog posts, tweets, and more, numerous participants are feeling a bit at sea, overwhelmed, wondering how they can possibly do everything in etmooc, how they can keep up with all the conversations, etc. That theme has stood out to me over the past week or so, and it's something I've felt too. I've had to repeat to myself a line that I learned from a post by Gayle in her blog, Learning by Doing:
Don't feel guilty if you don't do everything — only feel guilty if you don't do anything.
I've tried to pass that sort of idea on to anyone I hear expressing a sense of drowning.
Providing a set of tools and lots of information, and allowing people to pick and choose what interests them most, may not work for all learners. Those with little prior knowledge, or who feel they don't have the same tech skills as many others in the course may get too lost in the swarm of new things they could be learning about, and, realizing they don't have time to do it all, could drown and drop out.
Also relevant is this post by Nick DiNardo at his blog, Live Curious. Nick notes that the style of learning in etmooc is such that, "What you put into it, you get out of it." This can be one way of thinking of etmooc as learner-centred, because learners can pick and choose what to do amongst the many things on offer. As Nick puts it, "Learners can come and go as they please throughout the course, participating socially as they see fit."
However, Nick also notes a downside to such a structure: it may be best for autodidacts, "learners who take an entrepreneurial approach to learning what they are curious about." What of those who do not learn this way?
Questions
Could Keith's suggestions above for etmooc or other cMOOCs work to help those types of learners? Or would they turn cMOOCs more towards xMOOCs in a problematic way? Is there a way to keep the focus on connection and the ability to leave people free to choose what to focus on, while structuring a cMOOC a bit more?
My fear is that if etmooc were more structured I personally would feel like I should follow the learning paths specifically, and then it would feel more crowd-centric, designed for a crowd, and less open for my own tailoring. Yet there are problems with the latter as well, as noted above.

I must admit I'm kind of stuck here. Maybe one should offer more structured learning in cMOOCs like etmooc and yet emphasize that that is not the only way to do the courses, that people can come in and out as they please, but those who wish it can do the more structured paths? Would those who choose not to feel like they are missing something important, and so ultimately the cMOOC experience turns into more like an xMOOC one?

Ideas? I am new to the whole xMOOC vs. cMOOC distinction, so perhaps there's something important I'm missing here!
Photo Credit: James Cridland via Compfight cc
Photo Credit: dameetch via Compfight cc