The 2022 Ideathon Challenge, first-ever virtual edition, brought into focus two locations ("Site A" and "Site B") as hypothetical test cases for considering equity-informed planning toward improving access to transit information and navigation of city infrastructure as a result of bus stop changes.
Site A: West 4th Ave at Yew St

Site B: West Broadway at Cambie St
---
HIGHLIGHTS
The virtual edition of the 2022 Ideathon Challenge opened avenues to experiment with new forms of engagement and collaboration.
Virtual Studio
Through the use of Miro, a virtual studio was designed to facilitate team-building activities and generate a sense of community. Additionally, each team had their own dedicated, password-secured, Miro board which they could choose to adopt as a platform for brainstorming and ideation.
Virtual Ideathon Launch
The Ideathon Challenge kicked off with special presentations by instrumental community partners from CityStudio Vancouver and City of Vancouver.
Virtual Fireside Chat
An informative fireside chat with TransLink staff ⁠provided extra context and background on the challenge.
Virtual Pitch Sessions
Teams presented and refined their ideas through pitch sessions that included planning students from SCARP, professional planners, industry experts, and domain researchers who contributed constructive feedback in varying capacities as reviewers and judges.
Site A // Jury Members
Denis Agar, Senior Planner, Rapid Bus Projects, TransLink
Oliver Hartleben, Director – Sr. Practice Lead, Placemaking, IBI Group
Dr. Jasmin Ma, Assistant Professor of Teaching, School of Kinesiology, UBC
Site B // Jury Members
Carol Kong, Senior Transit Engineer, Transit Integration & Projects, City of Vancouver
Shilpa Panicker, Senior Transportation Planner, WATT Consulting Group
Chris French, Transportation Planning Assistant, City of North Vancouver (and MCRP candidate, SCARP UBC)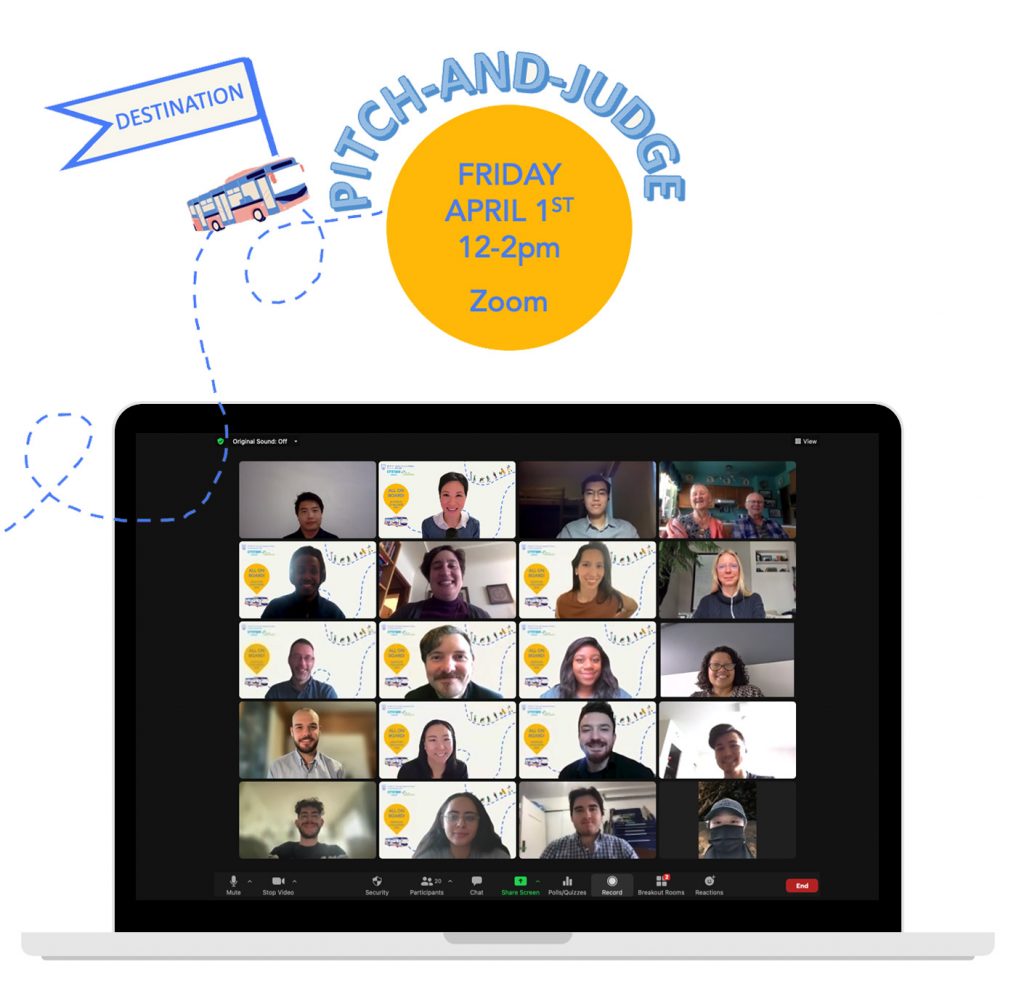 [Postscript: The virtual format of all these sessions (with breakout room capabilities) presented a refreshing change of pace from the in-person experience of previous Ideathon Challenges.  It also enabled external guests of different abilities and located in different geographies to participate remotely. In spite of these positives, the kinesthetic elements and social qualities of experiential learning were recognizably absent — and that loss, most certainly, was collectively felt in the virtual realm.]
2022 Ideathon Challenge (Virtual Edition) — Judges' Choice Projects
Two judges' choice projects selected through the in-class Pitch-and-Judge session advanced to the virtual edition of HUBBUB 18 — a showcase event organized and hosted by CityStudio Vancouver on April 8th 2022.
Site A: West 4th Ave at Yew St
Project Title: "Informobility" — Equitable and Timely Access to Information and Help During Transit Route Changes
Team: Bussin'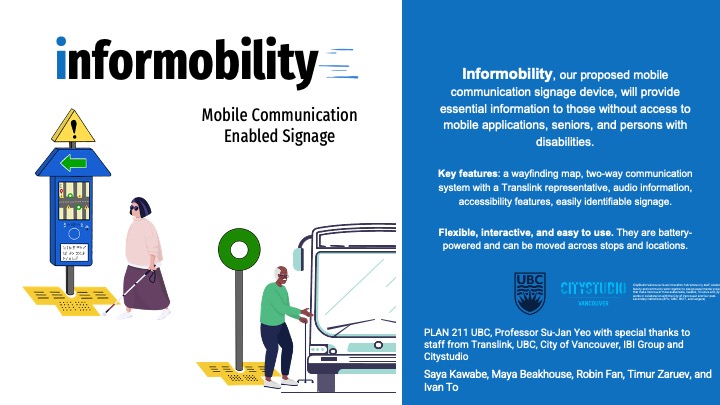 Site B: West Broadway at Cambie St
Project Title: "Navigate Broadway" — Addressing Accessibility at Temporary Transit Stops.
Team: B5 B-Line
Congratulations to Team Bussin' for the "Informobility" project idea which won 3rd Place Award at HUBBUB 18! Read more about it here.
---
SPECIAL ACKNOWLEDGEMENTS
Implementation of the 2022 Ideathon Challenge was made possible by the support and commitment of these following key individuals:
COMMUNITY PARTNERS
The project theme and scope of the 2022 Ideathon Challenge was made possible through a collaboration with CityStudio Vancouver and the Transit Integration & Projects team at City of Vancouver.
Emily Gorham, Projects Coordinator, CityStudio Vancouver
Carol Kong, Senior Transit Engineer, City of Vancouver
TEACHING ASSISTANTS
Lauren Brown, PhD Graduate 2022, SCARP, UBC
Savonnaé Street, Research Masters Student, SCARP, UBC
The 2022 Ideathon Challenge wrapped up on April 1st 2022 with a special surprise for Lauren and  Savonnaé — a memorable way to celebrate the conclusion of PLAN 211!