How many hours in a day do you spend sitting down? You may not have put much thought into how much you sit, but the amount of time you spend sitting has been linked with several health risks – including death. That's enough to get even the university student and office employee up and moving.
Science has linked sitting to many health problems which include diabetes, weight gain, heart disease, and cancer. The human body isn't meant to be sitting all day, but our day-to-day lives have changed to incorporate more and more sitting as the years have gone by. We go to work and sit. We study while sitting. We eat while sitting. We often even sit while commuting to our respective homes. It seems all the sitting in our lives takes a large toll on our bodies.
Take a look at this video that creatively depicts the issue of excessive sitting: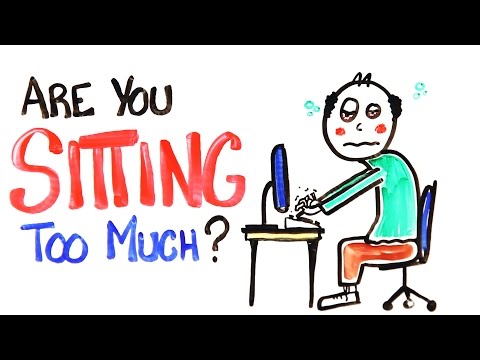 Video source: AsapSCIENCE
Research shows that sitting contributes to a decreased life span because of a lack of muscle contraction. Muscle contractions help stimulate blood flow, which aids in clearing toxins from the body as well as removing sugar and fat from the bloodstream. This is why sitting is linked with so many health issues.
In an attempt to offset the large amount of time spent sitting every day, many motivate themselves to head to the gym. Shockingly, research shows that adding exercise just doesn't cut it.  Global studies indicate people spend anywhere from 7-15 hours a day sitting on average. Ultimately, it's the weight gain and muscle inactivity which result from sitting that renders exercise an ineffective solution. Thirty minutes of exercise simply isn't enough to make up for hours of sitting.
Alternatives to sitting are coming up more and more as people begin to realize how standing can benefit them. Some offices have standing desks, while some employees opt for a laptop or desktop stand that allows them to switch back and forth between sitting and standing while working.
 What can we do about all of this? While we may be  tempted to combat the greater amount of sitting we are accustomed to with more exercise, we should aim not only to exercise more, but to sit less. It's as simple as taking frequent standing breaks. Find ways in your daily life to stand when you could be sitting. You'll feel better and your health will thank you.
– Selamawit Joseph