Caffeine, for a lot of people is the start of their day. Have you ever heard that it can boost your mood though? It has been proven that caffeine affects the central nervous system and has other advantages to brain functions.
When we wake up, our brain starts the production of the chemical adenosine which promotes sleep and suppresses arousal. In a nutshell, when caffeine is present in the brain, it inhibits the functionality of adenosine, therefore making you feel less drowsy. However, adenosine eventually realizes this and new receptors get produced which is why people who have long nights drink 4-5 cups of coffee to continue to block the brain's signal telling you to sleep. During this same process, caffeine allows other promoting compounds such as dopamine and glutamine freely circulate the body. Dopamine, the "feel-good" drug and glutamine assists in the functionality of the nervous system thus results in an elevated mood.
Personally, I do not find the effects of caffeine as strong as it is perceived to be, but I feel it differs depending on how each individual's body deals with caffeine intake. Some drink coffee and tea to start their day or push through a stressful week or maybe simply because it tastes good.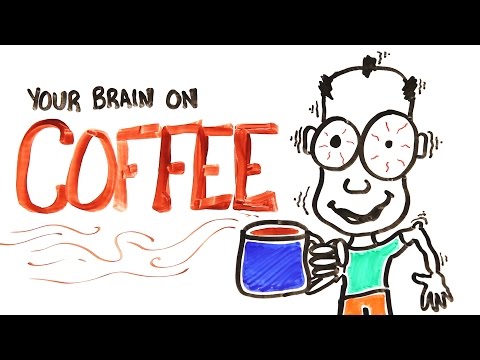 Source: ASAPScience
It was found that in Canada and the US, people drink about 1 cup of coffee per day, the largest coffee drinking nation was found to be the Netherlands averaging about 2.5 cups per day. Too much caffeine leads to a variety of factors such as anxiety and addiction. Light caffeine intake will allow the most health benefits that come from one of the world's most popular beverages.
-Nicholas Wu