Listed below are selected resources for teachers related to Active Learning.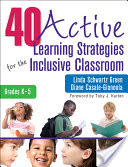 40 active learning strategies for the inclusive classroom, grades K-5, by Linda Schwartz Green and Diane Casale-Giannola
Grades: K-5. The authors provide strategies for incorporating active learning in the inclusive classroom, including directions for use, sample applications across content areas, and how-tos.
–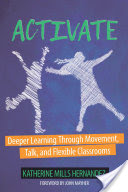 Activate: Deeper learning through movement, talk, and flexible classrooms, by Katherine Mills Hernandez
Grades: K-12. The book describes practical ways to incorporate movement into the classroom routine, based on research on how an active brain generates true learning, to help create classrooms optimized for deeper engagement and lasting learning. (E-book only)
–
Teaching in the fast lane: How to create active learning experiences, by Suzy Pepper Rollins
Grades: K-12. The author details how to design, manage, and maintain an active classroom that balances autonomy and structure. The book offers student-centered, practical strategies on sorting, station teaching, and cooperative learning that will help teachers build on students' intellectual curiosity, self-efficacy, and sense of purpose.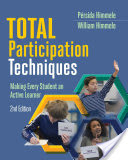 Total participation techniques: Making every student an active learner, by Persida Himmele and William Himmele
Grades: K-12. The authors provide detailed descriptions of the Total Participation Techniques (TPTs) with step-by-step instructions, plus reproducible blackline masters for student response cards as well as posters to remind teachers to use the techniques. They also suggest how teachers can adapt and personalize the techniques to fit specific contexts and content.
17,000 classroom visits can't be wrong: Strategies that engage students, promote active learning, and boost achievement, by John V. Antonetti and James R. Garver
Grades: K-12. The authors share salient lessons that provide insight into how to smooth the transition from simply planning instruction to designing high-quality student work, along with stories of successful practice and practical tools ready for immediate classroom application. (E-book only)
The active classroom: Practical strategies for involving students in the learning process, by Ron Nash
Grades: K-12. This resource shows how to turn passive students into enthusiastic participants in their own learning. The author illustrates how teachers can become facilitators who establish an interactive and safe environment for learning, manage movement in the classroom, and teach to all learning modalities.
–
The active teacher: Practical strategies for maximizing teacher effectiveness, by Ron Nash
Grades: K-12. Emphasizing routines, rules, and relationships, this book helps teachers lead students in a clear, consistent manner that wins their trust and develops their personal responsibility. Readers will find guidance on creating and sustaining a classroom community that promotes respect and achievement, fully involving students in learning while addressing a wide range of cognitive styles, and collaborating with students, colleagues, and parents.
100 experiential learning activities for social studies, literature, and the arts, grades 5-12, by Eugene F. Provenzo Jr., Dan W. Butin, and Anthony Angelini
Grades: 5-12. Active learning promotes critical thinking, deep understanding, and transfer to real-life situations of knowledge about such important issues as social justice, culture, language, diversity, the arts, economics, and science and technology. The authors have compiled 100 ready-to-use units that address critical social issues, which emphasize comprehension, comparison, and transfer across disciplinary boundaries.
Joyful learning: Active and collaborative learning in inclusive classrooms, by Alice Udvari-Solner and Paula Kluth
Grades: K-12. This resource is intended to help build inclusive classrooms serving all learners, including those with cognitive, sensory, cultural, learning, and/or linguistic differences. The authors present strategies for engaging students in discussion, debate, creative thinking, questioning, and teamwork. The book gives teachers the tools to promote relationship building and interdependence, help students teach one another as they make discoveries about course content, and engage in whole-class learning while assisting students who need personalized instruction.
---
Finding More Resources
To find more resources in this area, try the following:
Search using the General tab on the UBC Library website to look for material in all UBC Library branches.
Search using "Search Education Resources" box in the left hand bar on the Education Library website to limit your results to physical materials in the Education Library.
Use specific search terms, such as "active learning", "group work in education", or "experiential learning".
To find lesson plans, include "lesson plans", "lesson planning", or "activity programs" in your search terms.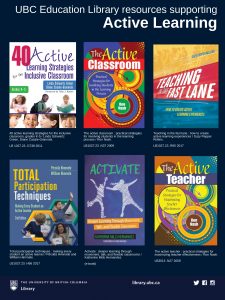 PDF Booklist
For more help with searching, please visit the Library Service Desk or e-mail ed.lib@ubc.ca.