Listed below are selected teacher resources, picture books, and non-fiction related to biodiversity and biomes.
Teacher Resources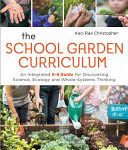 The school garden curriculum: An integrated K-8 guide for discovering science, ecology, and whole-systems thinking, by Kaci Rae Christopher
Grades: K-8. The author offers a comprehensive framework enabling students to grow their knowledge throughout the school year and build on it from kindergarten to grade eight. From seasonal garden activities to inquiry projects and science-skill building, children will develop organic gardening solutions, a positive land ethic, systems thinking, and instincts for ecological stewardship.
Explaining primary science, by Paul Chambers and Nicholas Souter
Grades: K-6.  The authors cover all the major areas of science relevant for beginning primary/elementary school teachers, explaining key concepts from the ground up. Topics include forces, matter, energy, biodiversity and ecosystems, water, light, sound, and more.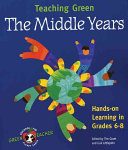 Teaching green: The middle years, edited by Tim Grant and Gail Littlejohn
Grades: 6-8. Offers a wide range of hands-on activities to get middle school students thinking about the environment and the world around them. Includes sections on wetlands, rainforests, habitat fragmentation, food systems, protected areas, and more.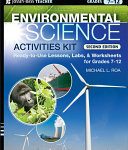 Environmental science activities kit: Ready-to-use lessons, labs and worksheets for grades 7-12, by Michael L. Roa
Grades: 7-12. This book includes more than 35 lessons for middle and high school science teachers on the most compelling and relevant environmental topics, such as global warming, food and water production, alternative energy sources, endangered species, land-use issues, and many more.
Teaching green, the high school years: Hands-on learning in grades 9-12, edited by Tim Grant and Gail Littlejohn
Grades: 9-12. This book offers fifty teaching strategies that promote learning about natural systems and foster critical thinking about environmental issues, both local and global. Readers learn how best to apply systems thinking, teach about controversial issues, and use a step-by-step approach to creative problem-solving in environmental projects. Includes several chapters related to ecosystems and biomes.
Picture Books
Wolf Island, by Ian McAllister and Nicholas Read
When wolves disappear from an island in the Great Bear Rainforest, the ecosystem is thrown out of whack. Too many deer graze on the plants, leaving not enough food for the other animals. When a lone wolf swims from the mainland to the island, the ecosystem starts to change again.

No monkeys, no chocolate, written by Melissa Stewart and Allen Young, illustrated by Nicole Wong
Chocolate comes from cocoa beans, which grow on cocoa trees in tropical rain forests. But those trees couldn't survive without the help of a menagerie of rain forest critters. Monkeys, a pollen-sucking midge, an aphid-munching anole lizard, brain-eating coffin fly maggots: they all pitch in to help the cocoa tree survive.
Carl and the meaning of life, by Deborah Freedman
Carl the earthworm spends his days happily tunneling in the soil until a field mouse asks him a simple question that stops him short: "Why?" Carl's quest takes him on an adventure to meet all the animals of the forest, each of whom seems to know exactly what they were put on this earth to do, unlike Carl. Will Carl find his purposes?
Non-Fiction
Can we save the tiger?, written by Martin Jenkins, illustrated by Vicky White
Grades: K-3. The tiger is just one of thousands of animals — including the ground iguana, the white-rumped vulture, and the partula snail — currently in danger of becoming extinct. This book looks at the ways human behaviour can either threaten or conserve the amazing animals that share our planet.
What are Earth's biomes?, by Bobbie Kalman
Grades: 2-3. Earth has six major types of environments with different climates and containing complex communities of plants and animals that have adapted to the special conditions in each. These types of environments are called biomes. This book explains what biomes are and explores the importance of conserving them and the life forms that inhabit them.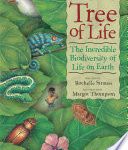 Tree of life: The incredible biodiversity of life on earth, written by Rochelle Strauss, illustrated by Margo Thompson
Grades: 3-7. If every known species on Earth were a leaf on a tree, that tree would have 1,750,000 leaves. Since humans count for just one leaf on the tree, we have a lot to learn about the millions of other forms of life with which we share the world. This book shows how living things are classified into five kingdoms, and how each has much to tell us about all aspects of life on our planet. Part of the CitizenKid series.
Planet Ark: Preserving Earth's biodiversity, written by Adrienne Mason, illustrated by Margo Thompson
Grades: 3-7. For billions of years, life on Earth has been evolving. The resulting rich biodiversity is the foundation of life on our planet. Notable features of Earth's unique biodiversity are described, with a focus on the delicate and threatened interdependencies between species, habitats, climate and more. Part of the CitizenKid series.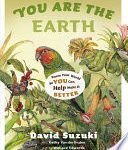 You are the earth: Know your world so you can make it better, written by David Suzuki and Kathy Vanderlinden, illustrated by Wallace Edwards and Talent Pun
Grades: 4-6. This collection of fascinating facts and fables, colorful cartoons, and dynamic illustrations explains how everything on Earth is connected.The book discusses environmental issues and new technologies, and offers many activities. Sidebars offer extra facts, tips, and real-life examples of things other budding ecologists have done to make the world a better place.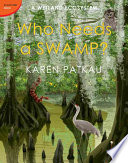 Who needs a swamp? A wetland ecosystem, by Karen Patkau
Grades: 2-5. Swamps are often seen as a dangerous and useless. They are often drained to create farmland or to reduce diseases. But such measures can be disastrous. This book explores wetlands and their importance in the food chain and in preserving our soil and clean water. Part of Karen Patkau's Ecosystems series.
Ecosystems, by Debra J. Housel
Grades: 4-6. Plants and animals interact with each other to form an ecosystem. The ecosystems are found all over the world, in areas called biomes. The biomes have different climates, which in turn determine what kind of plant and animal life make up the ecosystem. Biomes and ecosystems are a part of Earth's delicate balance.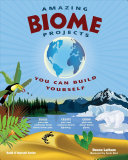 Amazing biome projects you can build yourself, written by Donna Latham, illustrated by Farah Rivzi
Grades: 4-7. From wandering through forests and sizzling in deserts to shivering in the tundra and plunging beneath the seas to explore coral reefs, children can explore each unique climate zone as well as the native flora and fauna's skills for survival. In each biome, those who use science in their jobs are highlighted, whether at the site of a disastrous oil spill or an archaeological mastodon dig. Projects and activities include making lightning, building an erupting volcano, testing air quality, and creating a tornado in a bottle.
Exploring Earth's biomes, by Claire O'Neal
Grades: 4-8. Have you ever wondered how plants survive in the desert? Or what happens to worms in the winter? Or where you fit in a food web? Throughout Earth's six major biomes–tundra, taiga, rain forest, temperate deciduous forest, grassland, and desert–plants and animals use special strategies to cope with challenges in their environment.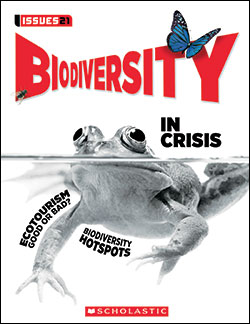 Biodiversity, by Sandy Szeto
Grades: 6-9. Part of the Issues 21 series, which examines contemporary issues in society in order to develop students' skills in the areas of critical thinking, creativity, communication, collaboration, ethical citizenship and activism. Includes 6 student books and a teacher's guide.
---
Finding More Resources
To find more resources in this area, try the following:
Search using the General tab on the UBC Library website to look for material in all UBC Library branches.
Search using "Search Education Resources" box in the left hand bar on the Education Library website to limit your results to materials in the Education Library.
Use specific search terms to narrow your results, such as "biodiversity", "wildlife conservation", "environmental education", "biotic communities", or "extinction (biology)".
To find lesson plans, include "lesson plans", "lesson planning", or "activity programs" in your search terms.
For more help with searching, please visit the Library Service Desk or e-mail ed.lib@ubc.ca.