Listed below are selected teacher resources, picture books, fiction, and non-fiction related to energy.
Teacher Resources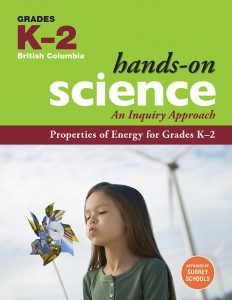 Hands-on Science: An Inquiry Approach – Properties of Energy for Grades K-2 by Jennifer Lawson
Grades: K-2. This book covers how to teach about the properties of energy in alignment with the current BC curriculum. Uses the Know-Do-Understand model, First Peoples Principles of Learning, and an inquiry approach. Part of the Hands-on Science series.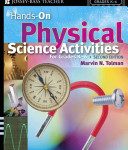 Hands-on physical science activities for grades K-6, by Marvin N. Tolman
Grades: K-6. This book's activities follow the discovery/inquiry approach and encourage students to analyze, synthesize, and infer based on their own hands-on experiences. Topics include the nature of matter, energy, light, sound, simple machines, magnetism, static electricity, and current electricity.
Explaining primary science, by Paul Chambers and Nicholas Souter
Grades: K-6.  The authors cover all the major areas of science relevant for beginning primary/elementary school teachers, explaining key concepts from the ground up. Topics include forces, matter, energy, biodiversity and ecosystems, water, light, sound, and more.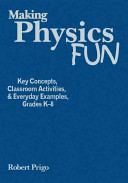 Making physics fun: Key concepts, classroom activities, & everyday examples, grades K-8, by Robert Prigo
Grades: K-8. The author provides fun and engaging activities using safe, available materials that educators can easily incorporate into lesson plans. Extensive examples, sample inquiry questions, and ideas for initiating units are available for teachers to pick and choose from to meet student needs. This resource addresses specific areas of physical science, including motion and force, waves and sound, light and electromagnetic waves, and more.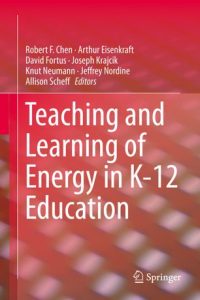 Teaching and learning of energy in K-12 education, edited by Robert F. Chen et al.
Grades: K-12. Energy is one of the most important ideas in all of science and it is useful for predicting and explaining phenomena within every scientific discipline. Teaching energy as a crosscutting concept can equip a new generation of scientists and engineers to think about the latest cross-disciplinary problems, and it requires a new approach to the idea of energy. This book examines the latest challenges of K-12 teaching about energy, including how a comprehensive understanding of energy can be developed. eBook only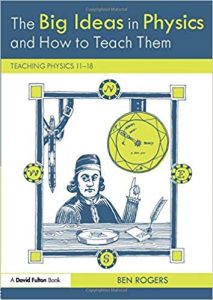 The big ideas in physics and how to teach them: Teaching physics 11-18, by Ben Rogers
Grades: 7-12. Each chapter of this book provides the historical narrative behind a Big Idea, explaining its significance, the key figures behind it, and its place in scientific history. Accompanied by detailed ready-to-use lesson plans and classroom activities, the book contains not only a thorough explanation of physics, but also the applied pedagogy to ensure its effective translation to students in the classroom. Each of the five big ideas in physics are covered in detail: electricity, forces, energy, particles, and the universe. eBook only
Picture Books
My light, by Molly Bang
The sun itself narrates an explanation of light and energy in which the generation of electricity can be traced back to it. Tiny yellow dots represent the sun's power as it streams from light, water, wind, and electricity. Endnotes are used to illuminate everything from dark matter to atoms to pollution.
Energy Island: How one community harnessed the wind and changed their world, by Allan Drummond
Hold onto your hats! It's windy on the Danish island of Samsø. At a time when most countries are producing ever-increasing amounts of CO2, the rather ordinary citizens of Samsø accomplished something extraordinary: in just ten years they reduced their carbon emissions by 140% and became almost completely energy independent. With a little hard work and a big idea, anyone can make a huge step towards energy conservation.
Fiction
 A refreshing look at renewable energy with Max Axiom, super scientist, written by Katherine Krohn, illustrated by Cynthia Martin and Barbara Schulz
Grades: 3-9. Charge up with Max Axiom as he explores the globe to understand renewable energy. Learn about all kinds of renewable energy sources and the benefits of using them. Max helps young readers understand how renewable energy could change our lives and take care of our world. Part of the Graphic Library series.
Non-Fiction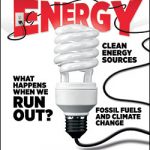 Energy, by Amy Farrell-Morneau
Grades: 6-9. Part of the Issues 21 series, which examines contemporary issues in society in order to develop students' skills in the areas of critical thinking, creativity, communication, collaboration, ethical citizenship and activism. Includes 6 student books and a teacher's guide.
Energy from the sun: Solar power, by James Bow
Grades: 5-8. The endless and enormous power of the sun provides life to all organisms on Earth, from the smallest plant to the largest animal. This awesome power is being used today to provide a rich and abundant source of energy in many parts of the world, and to operate machinery and heat and light buildings. Discover how the sun is powering our planet, the technology used to harness it, and what the future of solar power could be. Part of the Next generation energy series.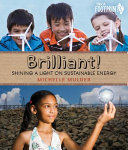 Brilliant! Shining a light on sustainable energy, by Michelle Mulder
Grades: 3-7. Did you know that cars can run on french fry grease, or that kids in Mexico help light up their houses by playing soccer? This book is full of examples of unusual (and often peculiar) power sources, and encourages kids to look around for sustainable ways to light up the world. Part of the Orca footprints series.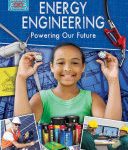 Energy engineering and powering the future, by Jonathan Nixon
Grades: 5-9. Readers will learn how energy engineers help make sure that our energy demands are met in a number of different ways. Real-life examples and a design challenge help students understand key concepts related to the engineering process, and how energy engineers will play a vital role in our future.
Power up! A visual exploration of energy, written by Shaker Paleja, illustrated by Glenda Tse
Grades: 4-7. It's impossible to imagine our lives without energy, but how often do we really think about where it comes from? This book illustrates cool facts about energy use with colorful infographics, including charts, diagrams, and maps. Topics include the pros and cons of the top energy sources, like fossil fuels, nuclear energy, and hydropower; information on hot issues like oil sands, fracking, and greenhouse gases; and discussions of where energy of the future will come from.
---
Finding More Resources
To find more resources in this area, try the following:
Search using the General tab on the UBC Library website to look for material in all UBC Library branches.
Search using "Search Education Resources" box in the left hand bar on the Education Library website to limit your results to materials in the Education Library.
Use specific search terms to narrow your results, such as "renewable energy sources–juvenile literature", "physics–study and teaching", "inclusion", "equitable", "diversity", or "supportive".
To find lesson plans, include "lesson plans", "lesson planning", or "activity programs" in your search terms.
For more help with searching, please visit the Library Service Desk or e-mail ed.lib@ubc.ca.