Listed below are selected teacher resources, picture books, and non-fiction related to life sciences.
Teacher Resources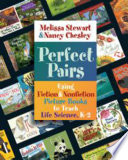 Perfect pairs: Using fiction and nonfiction books to teach life science, K-2, by Melissa Stewart and Nancy Chesley
Grades: K-2. Children can't follow a lion as it stalks a gazelle, visit the exotic kapok tree in a rain forest, or swim alongside the underwater life in a pond. But they can explore a whole world of animals, plants, and ecosystems through the pages of science-themed picture books. Each of the lessons in this book is built around a pair of books that introduces a critical life science concept and guides students through an inquiry-based investigative process to explore that idea.
Hands-on life science activities for grades K-6, by Marvin N. Tolman
Grades: K-6. This book offers activities that help teach students thinking and reasoning skills along with basic life science concepts and facts. The activities follow the discovery/inquiry approach and encourage students to analyze, synthesize, and infer based on their own hands-on experiences.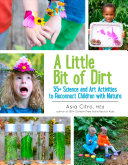 A little bit of dirt: 55+ science and art activities to reconnect children with nature, by Asia Citro
Grades: K-6. Through activities such as investigating the health of local streams, making acrylic sunprints with leaves and flowers, running an experiment with backyard birds, or concocting nature potions, this book suggests a range of ways to foster children's connection with nature.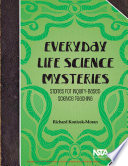 Everyday life science mysteries: Stories for inquiry-based science teaching, by Richard Konicek-Moran
Grades: K-8. How do tiny bugs get into oatmeal? What makes children look like–or different from–their parents? Where do rotten apples go after they fall off the tree? By presenting everyday mysteries like these, the 20 open-ended stories in this book will motivate students to carry out hands-on science investigations and actually care about the results.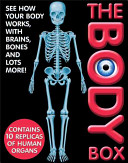 The body box: see how your body works, with brains, bones, and lots more!, by Anita Ganeri
Grades: 2-6. A kidney, a brain, a heart, an eyeball, and a plastic skeleton with removable parts are assembled in this kit, along with a book describing the human body in 14 two-page spreads.
–
Perfect pairs: Using fiction and nonfiction books to teach life science, grades 3-5, by Melissa Stewart and Nancy Chesley
Grades: 3-5. The follow-up to the previous title for older elementary students.
–
–
Picture Books
The amazing life cycle of butterflies, written by Kay Barnham, illustrated by Maddie Frost
Two children discover the incredible life cycle of butterflies, from caterpillar to chrysalis to adult.
–
The amazing life cycle of plants, written by Kay Barnham, illustrated by Maddie Frost
Children explore the life cycle of plants, from seed to shoot to full-grown plant.
–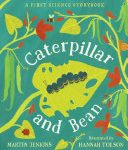 Caterpillar and bean, written by Martin Jenkins, illustrated by Hannah Tolson
A newly-sprouted plant has a newly-hatched caterpillar on one of its leaves. Together they grow and grow throughout the year.
–
–
How a seed grows, written by Helene J. Jordan, illustrated by Loretta Krupinski
How does a tiny seed grow into a flower, or a bush, or a tree? Explore and find out.
–

 A butterfly is patient, written by Diana Hutts Aston, illustrated by Sylvia Long
From the world's tiniest butterfly (Western Pygmy Blue) to the largest (Queen Alexandra's Birdwing), and throughout their complex life cycle, an incredible variety of butterflies are shown and described here in all of their magnificence.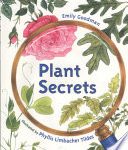 Plant secrets, written by Emily Goodman, illustrated by Phyllis Limbacher Tildes
Plants come in all shapes and sizes, but they go through the same stages as they grow. Using four common plants, young readers learn about a plant's life cycles: from seed to plant to flower to fruit and back again.
–

Tree song, written by Tiffany Stone, illustrated by Holly Hatam
Follow the life cycle of a tree as it grows from seedling to mature tree, and finally gives way to a new sapling. The tree provides a canopy for a summer picnic, a home for animals, and a perfect place to hang a swing. When old age fells the tree, it leaves an acorn from which a new tree will grow.
–
First the egg, by Laura Vaccaro Seeger
Which came first: the chicken or the egg? Simple die-cuts magically present transformation– from seed to flower, tadpole to frog, caterpillar to butterfly. Seed becomes flower, paint becomes picture, word becomes story–and the commonplace becomes extraordinary.
–

Lifetime: The amazing numbers in animal lives, written by Lola M. Schaefer, illustrated by Christopher Silas Neal
In one lifetime, a caribou will shed 10 sets of antlers, a woodpecker will drill 30 roosting holes, a giraffe will wear 200 spots, and a seahorse will birth 1,000 babies. Count each one and many more while learning about the wondrous things that can happen in just one animal's lifetime.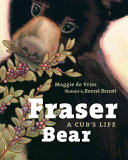 Fraser bear: A cub's life, written by Maggie de Vries, illustrated by Renné Benoit
Follows a black bear cub's life in the Pacific Northwest from his birth to his first salmon catch at the Fraser River, uniting the cycles of bear and fish. A map and further information about bears and salmon are included.
–
Non-Fiction

How and why do animals change?, by Bobbie Kalman
Grades: K-3. This book compares and contrasts the different characteristics of animals as they change and grow from babies to adults, as well as through the seasons.
–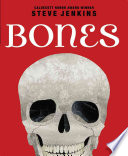 Bones: Skeletons and how they work, by Steve Jenkins
Grades: 1-5. In this visually driven volume, kids come face-to-face with some head-to-toe boney comparisons, many of them shown at actual size. Here you'll find the differences between a man's hand and that of a spider monkey; the great weight of an elephant's leg, paired with the feather-light femur of a stork; and rib-tickling info about snakes and sloths.
–
The animal book: a collection of the fastest, fiercest, toughest, cleverest, shyest–and most surprising–animals on earth, by Steve Jenkins
Grades: 1-5. Animals smooth and spiky, fast and slow, hop and waddle through the two hundred plus pages of this book. Sections such as "Animal Senses," "Animal Extremes," and "The Story of Life" burst with fascinating facts and infographics. Includes more than 300 animals, an animal index, a glossary, and a bibliography.
Human body mysteries revealed, by Natalie Hyde
Grades: 3-6. This book explains how our bodies work and throws light on how the brain controls the body with electricity; why we get tired after running fast; how our body knows when to feel sleepy; and whether humans will one day be able to clone themselves. Part of the Mysteries revealed series.
–

Billions of years, amazing changes: The story of evolution, written by Laurence Pringle, illustrated by Steve Jenkins
Grades: 3-7. Ever since Charles Darwin revealed his landmark ideas about evolution in 1859, new findings have confirmed, expanded, and refined his concepts. Field biology, genetics, geology, paleontology, and medicine all add to the impressive structure of evidence. More than fifty photographs capture natural marvels, including fossils, life forms, and geological wonders.
–
---
Finding More Resources
To find more resources in this area, try the following:
Search using the General tab on the UBC Library website to look for material in all UBC Library branches.
Search using "Search Education Resources" box in the left hand bar on the Education Library website to limit your results to materials in the Education Library.
Use specific search terms to narrow your results, such as "life sciences–study and teaching", "nature–juvenile literature", "children and the environment", "nature study–activity programs", "plants–juvenile literature", or "animals–juvenile literature".
To find lesson plans, include "lesson plans", "lesson planning", or "activity programs" in your search terms.
For more help with searching, please visit the Library Service Desk or e-mail ed.lib@ubc.ca.